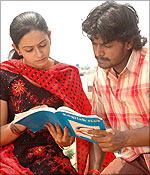 Kannada film Gilli directed by Raghava Loki is a frame by frame remake of Selvaraghavan's Tamil film 7G Rainbow Colony. It introduces Gururaj, son of veteran actor Jaggesh.
Gururaj had scripted Make Up featuring his own father and directed by Singeetham Sreenivasa Rao. This original film deep rooted in the native frontiers could have been a better debut for this young actor, but somehow the producers of Gilli and Jaggesh felt otherwise.
A complex subject like 7G, Rainbow Colony is always difficult to remake. But to be fair to young director Raghava Loki, he tried his best. However he fails in narrating the film in an interesting way. The proceedings in the first half are so slow that you feel sleepy.
Girish alias Gilli is a wayward son of a hardworking father. He is in love with Arati from the same colony. Arati refuses his offer of love and even teaches him a lesson. An agitated Gilli makes amends and takes the advice of his lover to improve. Later Arati starts loving him, but fears that her ailing father may not take kindly to her love affair with Gilli. Needless to say there is a twist in the tale.
Gururaj shows promise in his first film and fits in the role. Rakul Preethi Singh looks static in many important sequences and has the same expressions. Gururaj's younger brother Yethiraj is impressive, though. But it is Sreenivasa Murthy who scores well in the father's role.
Yuvan Shankar Raja's entire music composition has been lifted from the original. S.Krishna's camera work is top class.
Gilli is a remake which is good in parts.
Rediff Rating: