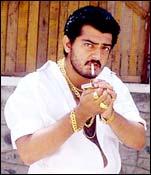 How would you feel if most scenes in a film are foolish and devoid of any intelligence, yet, to your shock, people around you clap in appreciation. It makes you wonder whether there is something wrong with your sensibilities.
I felt the same when I watched the Lingusamy directed Ajith starrer Ji. One may find a typical masala filled commercial film, labelled with the 'action' tag despicable. But when the same film succeeds at the box-office, on what basis can one criticise the sensibilities of the majority? After all, why does a producer make a film? Filmmaking, above all, is business.
The director's role: Though Lingusamy has executed the film well (except the dance sequences where Ajith sports long hair which inexplicably grows short when he isn't dancing), it appears that he wants to take a backseat and give all the mileage and credit to his actor.
It starts with the titles rolling, with Ajith's name in glittering letters, describing him as the 'ultimate star'. It continues with Ajith filling (literally) all the scenes, eclipsing not only the director, but other actors as well.
The story, screenplay and dialogues of Ji are by Lingusamy himself. As a director, he appears to have done his job quite well, but, as a writer, he fails miserably. One wonders whether he is the same person who made the decent Mammootty film, Anandam. There is technical brilliance, but can just that help a film bereft of soul?
Ajith, Ajith and Ajith: The film opens with a bearded Ajith entering his village, Kumbhakonam, and the subsequent scenes give one the feeling of impending sensitivity. Alas, this is not to be! From the time the flashback starts, everything turns topsy turvy. Except for Ajith fans, nobody can visualise an ageing Ajith as a college student, especially with that waistline! The first half drags on with Ajith smitten by a schoolgirl (played by Trisha who, mercifully, looks it!).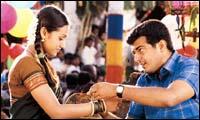 Then college elections follow, ensuring a melee of mindless violence, thanks to a few local politicians. Ajith's character is so involved in political and college activities, he hasn't been given enough time for romance. There isn't a single good moment between Ajith and Trisha, just a few mass-drill type dance sequences.
The dialogues, loaded with messages ridiculing politicians and the system seem written especially for Ajith. In fact, one gets a suspicion that Ajith is looking to head in that direction.
Ajith has really worked hard for his role as Vasu. One scene that will linger in the minds of all is where he cries his heart out on seeing his father's charred body. The entire cast has done its job well, but the most memorable performance is from Vijayakumar, acting as Ajith's father, the owner of a teashop.
As one walked out of the theatre, one espied a huge bevy of women waiting outside. Yes, if you are an Ajith fan., you will be satisfied. If not…