He's been there, done that, bought (and auctioned off) the T-shirt, and there's scarcely an emotional arc the lead character hasn't traversed. Sure. Nobody denies that The Amitabh Bachchan Story is terrific meat for a crackling book -- it's just that we've been chewing on that long Bachchan leg of lamb for decades now.
Jessica Hines tries again, and this non-biography is decidedly the most irreverent book about The Big B -- not counting Shashi Tharoor's fantastic Show Business, but that's a whole different kind of story. Fiction, I mean. Jessica's book is a memoir, a slapdash collection of Amitabh encounters bunged into a blog, something that could well be titled 'How I Wrote A Book About This Massive Movie Star I Love.'
'Love' is not an exaggeration. Jessica gushes over Bachchan, likening him to Al Pacino and Clint Eastwood, while saying in the same breath that he can carry off white flared pants better, even, than Elvis. Entire passages are devoted to his raw, 'ironic' sex appeal, and while it is interesting to read about his action scenes described as possessing the tenseness of a tightened coil about to spring -- it gets tiring rather soon.
Jessica Hines: A very little bit of Bachchan goes a long way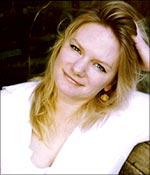 The book has been criticised for not having anything new to say. It doesn't, true, in case you're a gossip-hound. But it's very clear that it doesn't aim at being a scandalous expose, or a tell-all Ultimate Amitabh account. Instead, this is The Accessible Amitabh, a Bachchan for Dummies. Jessica's book is a remarkably breezy read -- four hours should do you fine -- and while there isn't anything spectacular to cull from the large-typed pages, there is the occasional smile brought forth by nostalgia ('ah, she mentioned that') and sudden, rare flashes of substance -- casually we learn that Harivansh Rai took on 'Bachchan' (childlike) as his pen-name, and left it as his legacy. (Yes trivia enthusiasts, that does officially makes the Abhi-Ash relationship a Rai-Rai affair.)
The book is further marred by a severe lack of consistency. While on one hand Hines is enacting Deewar dialogues with fellow Brit-Bollywood writer Rachel Dwyer on the top roof of a Mumbai hotel, and gulping down huge mouthfuls of Manisha Koirala's lethally potent punch (red wine + vodka, apparently), she also goes into great detail about the Evian and luxurious hotel rooms she spends time in globally thanks to traveling with Amitabh.
Suddenly, as the book turns into a quest to make the channel-surfing superstar answer questions for the biography -- I, for one, am curious about what Jessica originally planned to ask the Big B -- we are left searching eagerly for stray nuggets. The book is now more about Jessica than Bachchan, and while we appreciate the earnest effort to document the actors' tractor ad, we could do without hearing about the writer's yoga classes.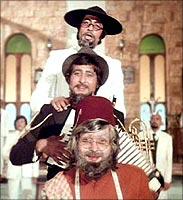 The fun of the book lies in her perspective. We're so used to deifying Amitabh as The Star, vilifying him as anti-Shah Rukh and, generally, taking him for granted, that we don't look back at him anymore. Hines does, and -- as she gushes, starry-eyed about how he broods sexily in Sholay or approaches the fight scene from his pelvis in Bombay To Goa -- we realise that while what she's saying might be obvious, they are truths we haven't admitted to ourselves for a while, and if it takes a British girl given to hyperbole and digression to make us smile about old Bachchan films, that's not so bad, is it?
Then comes the cynicism. Over the last decade, we've seen the once-invincible Bachchan fall from great heights to great ignominy, and it hasn't been a graceful trip. Things have oscillated rapidly, there's been much too much muddy scandal, and it's difficult for us, for India as a whole, to ever consider him the way we once did.
Perhaps, I thought, while finishing the book and thinking of what may have been, perhaps she's too hypnotised by the Amitabh hype. Nobody can ever be that good.
And then my airplane stranded in Jaipur plunged into darkness, a friendly co-passenger switched his cellphone music player to loudspeaker and the glorious Bachchan voice started off with the Kabhi Kabhie poem. The dark plane seemed to stiffen for a second. Okay, maybe someone can.
Rediff Rating:

Looking for the Big B: Bollywood, Bachchan and Me is available in paperback, from Bloomsbury.