Jawan springs a real surprise when it boldly and directly points fingers at the ineffective government and appeals to recognise the power of the finger and vote. Just months before the next general Indian election, this is no coincidence, observes Sukanya Verma.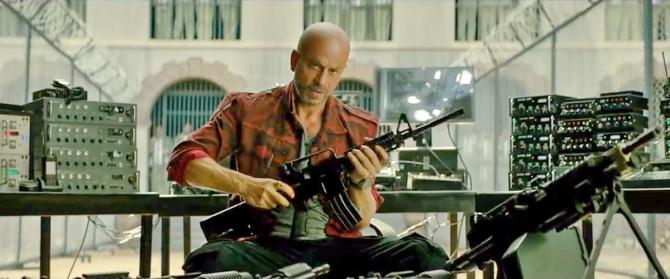 Shah Rukh Khan responding to criticism through his movies is a triumphant act.
When they said he's playing the same version of Raj and Rahul over and over again, he parodied his romantic monotony and signature pose to hilarious results in Om Shanti Om.
When they bullied him and called for his boycott and played dirty, divisive politics, he fought hate with Pathaan's patriotism of love that had India swarming to theatres in thundering unison.
When his kid was caught in the crossfire intended to shut him down, pats comes a rejoinder in Jawan's crackling line (dialogues by Sumit Arora), 'Bete ko haath lagane se pehle, baap se baat kar'.
Like Pathaan, his brand new action masala is a product of hype and hoopla that relies on SRK's stardom on screen and fandom off it to show what makes him King Khan.
As expected from an event movie of this stature, Jawan plays on the 'mass' sentiment, bells, whistles et al intended for people flocking the screens and having a good time.
Things aren't all popcorn.
Bollywood's ongoing blockbuster trend is telling of our desperate desire for a leader, a rescuer, a problem solver, which only epic extravaganzas high on fantasy fulfillment and escapist zing can provide.
Written and directed by Tamil film industry's whiz kid Atlee, Jawan's world is akin to comic book reality that rewards lawbreakers and disruptors with extraordinary support and sympathy from the authorities.
His villains versus vigilantes clash ticks off the Mersal and Bigil filmmaker's penchant for an anarchist brand of justice-seeking, frequent flashbacks, leading men in multiple avatars and grand entry scenes tailor-made for applause.
Only this time, instead of his go-to hero Vijay, it's Shah Rukh Khan playing a character, um characters, that evoke everything from a bandaged shinobi like Dosu Kinuto in the Naruto universe, a Western cowboy in a vintage cravat and Burt Reynolds moustache, a partially masked hero like Vikram's Anniyan, Hrithik Roshan's deceiving disguises in Dhoom 2 to backstories that carry echoes of Bane, Batman and Joker and Atlee's own vision of a women-centric Wakanda.
Its influences may be from all over but Jawan's heart is shuddh desi and gets its thrills from old-fashioned emotions and retaliation justified by an eye for an eye logic -- think Aakhri Raasta.
And so between unstoppable action pieces at India's unspecified (ostensibly north-eastern) border, Mumbai's metro and a conveniently accessed multipurpose women's jail, witness thousands of tears streaming from every character's lone, left eye while we gain a better understanding of why half a dozen women (Sanya Malhotra, Priyamani, Sanjeeta Bhattacharya, Girija Oak, Lehar Khan, Aliyah Qureshi) are collaborating with a scruffily bandaged SRK in a hostage-like situation while giving roly-poly politicians sleepless nights and a hotshot cop (Nayanthara) much to fret about.
Throw in a bunch of retired army men and a precocious little girl to the mix along with Anirudh Ravichander's soundtrack and 169 minutes of Jawan wrangles to put all its ideas and ambition in place.
The songs, some catchy, some not so much, act as a speed breaker in a momentum that's delightfully accelerated by its rocking thematic title track alone.
SRK does most of the heavy lifting backed by his aurat-empowered army, it's an earnest touch if not pathbreaking. Though it is strange watching a brilliant actor like Sanya Malhotra reduced to a sidekick but kudos to Nayanthara for believably pretending she cannot identify THE voice, THE dimples and THE eyes the world would instantly recognise from miles away.
Once again, SRK finds a worthy companion in Deepika Padukone's brief but poignant presence. Her few dazzling minutes left me far more stirred, shaken and sobbing than all of Jawan's guilt-tripping approach to society's rampant corruption.
Atlee's depiction of farmer suicides and shortage of oxygen cylinders triggering a state of death and despair is excessive to the point of deceit. Luckily for Jawan, its hero is not a witless peacock.
Shah Rukh Khan's sense of humour and savoir faire (bald, bandaged avatar, for the win) make it easy to look at the bigger picture even when he channels his inner Rajinikant and fights an equal nemesis in Vijay Sethupati's deadly, deadpan, die-hard ogre.
Sethupati's cacophony-free, chilling menace is mildly absurd, wholly wicked in its impact. He's like Amjad Khan, reborn with an accent.
Speaking of khalnayaks, Jawan has a jovial cameo if not jadoo ki jhappi in its trove of twists and tricks.
Where Pathaan was a celebration of his legacy, a moment of overwhelming reassurance from and for SRK, Jawan, where he's accompanied by a battery of women, reiterates he's got the audience wrapped around his finger in a high-octane political drama that compensates for its lack of sharps and slyness with oodles of swagger, style and soft barbs at the system.
Beyond its comic-book entertainment chronicling the age-old war between good and evil, Jawan springs a real surprise when it boldly and directly points fingers at the ineffective government and appeals to recognise the power of the finger and vote.
Just months before the next general Indian election, this is no coincidence.
Jawan Review Rediff Rating: