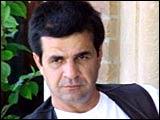 Jafar Panahi is a darling of international film festivals. His film Talaye Sorgh won the Un Certain Regard jury award at the Cannes Film Festival in May. More recently, at the Toronto International Film Festival, his Crimson Gold was widely acclaimed.
Despite the film also winning acclaim south of Canada, Panahi was a no-show at its press screening at the New York Film Festival on Thursday. Panahi, an Iranian filmmaker had decided not to ask for an American visa. In a letter to festival director Richard Pena, Panahi said he was unable to attend the NYFF due to the new American security requirement of fingerprinting Iranian nationals.

'We live in strange times,' he wrote in the letter, which was distributed to journalists before the screening of the film. 'It's not just [US President] George Bush who subscribes to the idea that you are either with us or against us. In my country too, anyone slightly crossing any red lines is subject to the suspicion of the censors who label him from 'alienated, self-loathing, mercenary, infiltrator, enemy agent' to even 'heretic'.'
Panahi's films, which deal with social inequities in Iran, have angered his national government. But surely he knows that, in the US, some writers and filmmakers who are critical of the government not only get to make films for the big studios but also win Oscars. Take Michael Moore's Bowling At Columbine. The film not only won the Oscar for the best documentary film but also earned over $60 million in America from movie theatres and DVD and video sales. Panahi, however, did not reflect on the success of American dissenters in his letter.
'In America, they fingerprint me and shackle me to kill my national pride...,' he wrote instead. 'This is the kind of purgatory I, and many others like me, find themselves in.'
In Iran, the authorities interrogate him because he is a socially conscious filmmaker, wrote Panahi. His latest film focuses on a conscientious pizza deliveryman in Teheran who is slowly drawn into stealing, and then into a big heist that leads to a murder -- and a suicide.
The letter did not mention that a small but well-known distributor, Wellspring, that had released his film The Circle is also distributing Crimson Gold.

The New York Film Festival, which runs from October 3 to 19, is in its 41st year. Films from more than 12 countries including Italy, France and Turkey -- and Clint Eastwood's Mystic River and Mexican director Alejandro Gonzalez's first English language film 21 Grams -- will be screened at the festival.

Last year, several directors refused to attend the NYFF when Iranian filmmaker Abbas Kairostami, considered to be one of the most gifted filmmakers in the world, was denied an American visa. The American officials in Paris had said they needed more than three months to process the application.
Kiarostami, who was also scheduled to lecture at Harvard and Ohio State universities, is the Palme d'Or winner at the Cannes film Festival for his 1997 film, A Taste Of Cherry.
He had visited the US without any problem at least seven times in the past decade. Panahi considers Kiarostami his mentor.
Ines Aslan, an NYFF official had said last year that the festival organisers pleaded with the embassy to make an exception for Kiarostami. "It wasn't that they could not make an exception," she said. "It was that they did not choose to. It is very sad."

"Getting visas for Iranians has never been easy," festival director Richard Peña had said last year. "But this time, we were told it would take three months. It used to take 30 days before. It seems to me that policies that deny or make it difficult to get visas are very shortsighted and counterproductive, especially at a time when we need to be more in contact with the Muslim world, particularly their finest artistes and thinkers."

Panahi was in the US not too long ago, festival official Graham Leggat revealed, and was upset at the fingerprints requirement. "This time he did not want to undergo the same humiliation," Leggat said.
Click here for
More Features