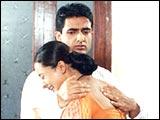 Recently, Mehul Kumar made Jaago, based on the real life incident of a man raping a minor in local train compartment.
Following its footsteps is Shrey Shrivastav's Insaaf: The Justice, which is reportedly inspired by the incident when a Bihar MLA's son allegedly raped an IAS officer's wife.
The film opens with IAS officer Vishwanath Prasad (Sanjay Suri) typing a suicide note and shooting himself in the head. His suicide leads to an investigation by CBI chief Pradhan (Mohan Joshi) and IPS officer Abhimanyu Singh (Dino Morea).
The duo urges Vishwanath Prasad's wife Kunti (Namrata Shirodkar) to tell them what made him take his life. Flashback: The peaceful life of the couple and their little daughter is disrupted when Minister Rameshwari Verma's (Kunika) son Bunty (Dayal Shankara) rapes Kunti. A distraught Vishwanath seeks justice only to be frustrated by the dishonest system at every step.
The viewer also gets a reality check on Bihar. Corrupt politicians, lecherous and foul-mouthed goons, cheap talking greedy cops -- you get the picture. A junior artiste sums up: 'Yahan koi kanoon nahi. Yahan sirf jungle raj chalta hai [There is no law here. Only might works here]."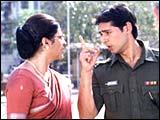 Abhimanyu vows to get the guilty punished. In doing so, he gets some assistance from old flame and journalist Reena (Henna).

 

Funnily, after making all these big promises to Kunti about getting the bad guys behind bars, Abhimanyu ultimately asks her to fight her battle independently. So much for spewing pro-khaki dialogues throughout the movie.

 

So in the tradition of Shool and Gangaajal, which were also set in Bihar, the avenger takes the law

into her hands.

 

The developments in the screenplay of Insaaf are so predictable that you know the whats, hows and whys well in advance.

 

The rape scene is awfully prolonged, as if it is there for amusement.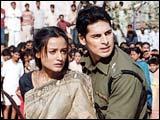 Another ridiculous moment that stands out is when Reena comes to interview Kunti. The conversation on the terrible tragedy in the latter's life never begins. Instead Kunti volunteers to play agony aunt to Reena asking her to patch up with Abhimanyu.
As the film's main protagonist, Namrata Shirodkar lacks the fire to convey her character's fiery transformation in the climax. Her body language is far too exhausted and submissive. On the other hand, Sanjay Suri does a commendable job at playing her helpless husband.
Dino Morea is not convincing in a role tailormade for Sunny Deol. Newcomer Henna makes a lacklustre debut. She leaves a lot to be desired both in acting and glamour.
The first half of Insaaf is tense, while the second is full of boring songs picturised in pretty locations. If the film's intention is to preach, it backfires. If it wishes to bring about an awakening, it fails.
CREDITS
Cast: Namrata Shirodkar, Sanjay Suri, Dino Morea, Henna, Dayal Shankara, Kunika, Mohan Joshi.
Director: Shrey Shrivastav
Producer: Mohammed Fasih
Writers: Sudhindra Subhash / Chinton Mokashi / Anant Balani
Music: Nikhil-Vinay