Aspiring singer Nandu (Aftab Shivdasani), who has come to Mumbai to try his luck, needs a roof over his head. He manages to get one but there is a catch -- the landlord (Tiku Talsania) only rents it out to married couples.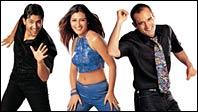 Village belle Anjali (Rimi Sen) comes to Mumbai because she desperately needs money to repay her late father's debts to the local zamindar. Else, she will have to marry his mentally challenged son Raja (Rajpal Yadav). She lands a job but her only choice for shelter is Nandu's house, as Nandu's wife. The two, however, don't get along and constantly fight with each other.
Jeetu (Akshaye Khanna) wants to become rich quickly and decides the easiest way to do so is to marry a rich girl. Luck favours him when he realises one of his employees is rich businessman Radheysham Tiwari's (Paresh Rawal) daughter. He turns on the charm immediately. Only, the girl he is wooing happens to be Anjali, who is posing as Tiwari's daughter in order to retain her job in Jeetu's company.
Tiwari has shifted from the village to the city to keep abreast with the times. He sees Jeetu coming to his house regularly and soon suspects his wife Anjali (Shoma Anand) of cheating on him. What he does not know is that Jeetu is actually comes there to drop Anjali Jr from work.
Anjali Jr makes it a habit to be dropped 'home' by Jeetu; she then hides in the bushes until he leaves. Anjali Sr spots her there several times and begins to suspect her husband's intentions. On one occasion, when she sees Tiwari climb out of the bushes with his dhoti in his hands, she breaks down and accuses him of cheating on her.
Banker Anil (Sanjay Narvekar) is in love with rich Tejabhai's (Shakti Kapoor) daughter. In order to impress his to-be sasur, he poses as Tiwari's son. But before the marriage can be solemnised, Tejabhai meets Tiwari. While Tiwari claims he has no son called 'Anil', Anjali Sr starts thinking he has sons out of wedlock.
Nandu's landlady (Upasana Singh) discovers Nandu is not married and promptly falls in love with him. She plans to ditch her boring husband and run away with Nandu.
Meanwhile, Raja decides to come to the city… do you even remember who Raja is?
Well, that's how confusing Priyadarsan's Hungama is.
The film has too many sub-plots and too many characters. The result is that all the characters are half-baked and shallow. For example, Nandu is never actually shown to be an aspiring singer. He gets sacked from his previous job but never attempts to look for another. The only way we get to know about his talent is because he always carries his guitar with him.

Anjali Jr has just come from the village but no one would call her a villager. She wears singlets and jeans and perfect 'city' make-up. Besides, can you believe a girl from a village will live with a male stranger with no qualms at all?                                            
New: Comedy is very challenging: Priyadarshan
Also see:
Adoor flays Jha over Ajay's award
This is for Johnny Walker
Madan Mohan's music to live again
Jeetu walks out his father's house after robbing him of lakhs of rupees. Since it is black money, his father does not press charges. But the friction between the father and son is never shown.
And when do Akshaye and Aftab fall in love with Rimi anyway?
In the climax, Priyadarsan only addresses the hungama in Nandu, Anjali Jr and Jeetu's lives. He simply forgets his film has other characters and sub-plots.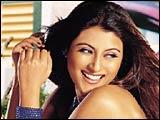 Yet, Hungama has its comic moments and provides a few laughs.
Aftab is definitely the surprise package in the film. His performance is both realistic and subtle in this otherwise loud film. Newcomer Rimi Sen has a very expressive face -- maybe too expressive. She uses her eyes a lot, which can be distracting at times. But, considering it is her first film, she does a decent job. Akshaye Khanna is, as usual, good.
Nadeem-Shravan's music is nothing to write home about.
When Priyadarsan started this film, he may have thought of dedicating it to Paresh Rawal, who had given an awesome performance in the director's earlier release, Hera Pheri. Much of the screen time is devoted to the loud bickering between Paresh Rawal and Shoma Anand. Rawal is humorous at times, but Hungama is definitely not one of his best films.
This Friday sees the releases of three other films, Chori Chori, 3 Deewarein and Oops! Maybe you should watch one of these and catch Hungama when it airs on television.
CREDITS
Cast: Akshaye Khanna, Aftab Shivdasani, Rimi Sen, Paresh Rawal, Shoma Anand
Producer: Venus Records and Tapes Pvt Ltd
Story, direction: Priyadarsan
Music: Nadeem-Shravan
Lyrics: Sameer
Cinematography: Tirru
Art direction: Sabu Cyril