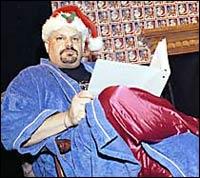 He has wrestled with the likes of Hrithik Roshan, haggled for the Taj Mahal with Abhishek Bachchan, played bodyguard To Dr Zeuss and donned a Scottish kilt, for an ad film recently shot in Ooty.
Theatre actor-director J Brandon Hill plays a friendly billionaire in Shaad Ali Sehgal's Bunty Aur Babli.
As he animatedly talks about his tryst with Mumbai, Bollywood and the stars (rarely letting his funny bone slip), I can visualise him metamorphosing into the genie in Aladdin or a WWF heavyweight (think Stone Cold Steve Austin) with ease, not merely by virtue of his towering frame, but due to his versatility, wit and strong stage presence.
Special: Showcasing Bunty Aur Babli
The voluble thespian from New York, who first set foot in Mumbai seven years back is permanently relocating to Mumbai, a city that had grown on him because of its unique flavour, culture and people.
He shares his Bollywood experiences.
How I came to play a billionaire in Bunty Aur Babli
I would have loved to have a romantic story that went like this: I was walking down Colaba (downtown Mumbai) one day and someone came up to me and said 'would you like to be in a film?'
Unfortunately, I have an agent who hooked it up. I had two meetings with Shaad Ali and an audition. My first meeting with Shaadi lasted 30 seconds. I think he liked my beard!
The audition on tape at Film City was sent to Yash Chopra, who I was told was the Steven Spielberg of India. But lately, I have been reading that he is the King of Romance.
My second meeting with Shaad was at his house. He has these two really big dogs. I read a scene, while the dogs were jumping all over me. Shaad said 'Ok, you are in the film.' The dogs and I celebrated. I don't think it was Shaad's opinion that mattered (he says it with a chuckle), I think it was his dogs' opinion that really mattered!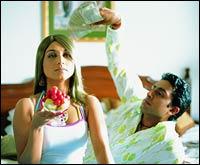 When Abhishek Bachchan conned me
In the scene, where Abhishek and Rani are trying to trick me into buying the Taj Mahal, both of them were improvising, even though they had the lines memorised. I knew that, and was not sure if I could get away with improvising too, so I stuck to my lines.
Shaad yelled 'cut' and Abhishek leaned over and said, 'we like to improvise and have a little fun with it. If you want to, you can too.'
I have directed and acted in 'improv' theatre groups (where improvisation is the specialty) in New York and England. So I began improvising too and quite a few of these lines made it to the film!
It was a lot of fun acting with Abhishek because he loves goofing around. He was a 'man of the people' throughout. I also can't recall a son loving a father the way Abhishek loves his father.

On Babli aka Rani
I shot with her for just a day and she was more reserved. But she was very nice, professional and supportive. When Abhishek said I could improvise, I looked her and asked her what she thought. She said to go right ahead. She was very nice even at the film's premiere.
When I rehearsed with Big B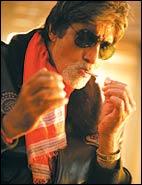 Post the scene where I get conned, I had a scene with a cop (played by Amitabh Bachchan), who breaks the bad news to me.
Before the shoot, everyone on the sets was excited and tense that he was coming. Though I knew who he was, I had not grown up watching him onscreen. Like if I had to do a scene with Harrison Ford, I would have to calm myself down because 'Indiana Jones is coming' (dramatically)!
My only concern was, is Amitabh Bachchan a movie star, who will come with an entourage, turn up late, make demands or is he an actor. He came in on time and his first words were, "I'd like to rehearse this 15 or 16 times."
And that's the point where I became an Amitabh Bachchan fan, because I love to rehearse and in theatre you don't get much time to do that. We rehearsed, worked on things; he was very friendly. We had dinner with the Bachchans after the shoot, where I met his wife who was very nice too.
On Bunti Aur Babli
Here I was, getting paid to see the Taj Mahal and ride an elephant! It was incredible!

It was also great being able to act with Abhishek Bachchan, Rani Mukerji and Amitabh Bachchan in my first film. I had a list of people who wanted me to kiss Abhishek and Rani for them!
My character Harry is just your average friendly billionaire with two things working against him, too much money and too much love. And these together equal too little sense! He earned his money the old fashioned way -- he inherited it.

I think the film is well written. If I took away just my part of the story, there is a beginning, middle and an end. I told this to the screenwriter who said that's the way he had visualised it.
When I wrestled with Hrithik Roshan
I play a wrestler in the Rasna ad where Hrithik Roshan is playing his character from the film Koi… Mil Kaya. I had tattoos on my head and on my arms.
In the ad he gets his strength from Rasna, where as in the film he gets it from Jaddu (the alien). He is supposed to wrestle with me. In the beginning he has a little trepidation because he is scared of me. But a quick sip of Rasna, and I'm finished!
Hrithik was very professional. He asked a lot of questions to the director. Even though it was just an ad film, I could tell that he took the work really seriously.
There was a scene where he runs up my back. He was very careful that he did not hurt me. And for the record, he did not hurt me!
What next?
I am looking at television as well as films. Also, possibly a one man show. Some people have also approached me to direct Shakespeare though I don't know how many people will come to watch a Shakespeare play in Mumbai.

I have played the role of a chef in Hotel Kingston in Star One, where I had to speak in Hindi. There were long recipes, and they held cue cards up. I got through that pretty well!
I am currently looking for a Hindi language teacher, who can coach me in spoken Hindi.
Why I like Mumbai
Firstly, I like the people. I get stopped on the streets because people think I'm Stone Cold Steve Austin, the WWF wrestler.
Now, some people stop me so ask if they could get me to buy the Qutub Minar!
I even like the smells of Mumbai. If you walk even two kilometres, you hit 15 different smells and it's so exciting for the senses.
When I went to New York four weeks back, I was telling my friends about how at 11 pm you can sit and sip chai near the train station and how you can buy books off the street near Churchgate station. But they are not there anymore.
They want to make Mumbai like Shanghai, which would make it so bland. That's what I am concerned about. I think this city should embrace its differences because that's where its appeal is.