With so much entertainment to choose from, it's a good enough compliment that Home doesn't drag and prompts us to reach out for the next episode, feels Sukanya Verma.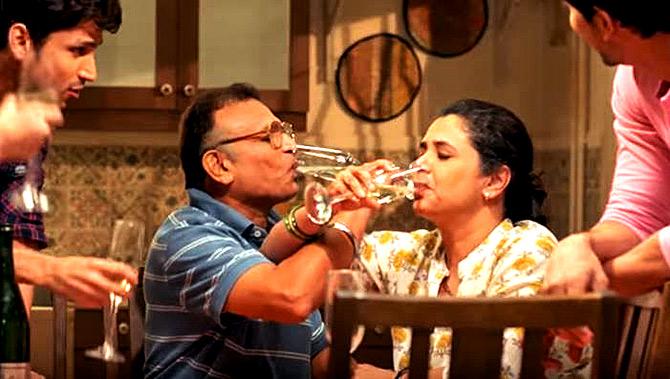 There was a time when Indian television's touching depiction of the common man's day-to-day troubles and triumphs would regale an entire population glued before bulky idiot boxes.
With the cable and satellite television boom, viewers were spoilt for choice but the overall content dramatically dwindled and regressed.
The emergence of the web series and streaming services is challenging that status quo to heartening effect.
Between conscious attempts to experiment and the exciting participation of mainstream figures, the ray of revival is distinct.
Though writer-director Habib Faisal's Home doesn't have the production values of a Breathe, Bang Baaja Baarat, Sacred Games or Ghoul, the 12-episode show by ALTBalaji -- inspired by the true events of the Campa Cola Compound controversy -- is earnest enough to keep you interested.
With the legal threat of demolition hanging over the head of an unauthorised residential society, Home focuses on the trials and tribulations of the Sethi family.
If Parikshit Sahni's lawyer is facing the society's ire for instigating the Brihanmumbai Municipal Corporation over the issue of overbilling the water supply, his son's (Annu Kapoor) work woes and daughter-in-law's (Supriya Pilgaonkar) dabba delivery service illustrates everyday frustration and concerns.
Unlike their thoughtful inter-caste couple (he's Punjabi, she's Marathi) dedicated to each other, their self-seeking kids (Amol Parashar, Chetna Pande) show little sympathy or sense.
If the son is fixated on his big American dream and resents his family for not being as affluent as his uncle's, the daughter mouths expletives at her alcoholic husband and rebuffs his attempts at reconciliation while regretting her decision to marry him.
And just when things couldn't get any worse, they learn their mum might be suffering from cancer.
Based on the three 20-something minutes episodes I watched, the combination of reliable veterans and middle-class sentimentality, like Faisal's breakout movie Do Dooni Chaar, is what works in Home's favour.
Annu Kapoor is unusually restrained and shows how nuanced he can be when not playing to the gallery.
Parikshit Sahni's frowning brows are a familiar sight but his irritation never feels out of context.
But it's Supriya Pilgaonkar's easy-going air, heartfelt anxieties and lived-in insight of a woman juggling between mom, wife and entrepreneur that impress most.
Often, she rescues the most contrived scenes with humour and depth. Like where she's comparing her still-going-strong sex life with her contemporaries.
As pertinent the premise is, Home's writing tends to hit uneven notes.
The heavy-handed discontent among the youngest members of the Sethi family or the facetious manner of making characters appear with-it, forward or WhatsApp informed becomes all the more jarring by actors conveying it.
Parashar's persistent petulance and Pande's vacuous portrayal of so-called spunk never rise above distracting subplots in Home.
The series fares best when the focus is on the serious and the simple.
With so much entertainment to choose from, it's a good enough compliment that Home doesn't drag and prompts us to reach out for the next episode.
Rediff Rating: