Happy Hardy And Heer is an extended music video, says Moumita Bhattacharjee.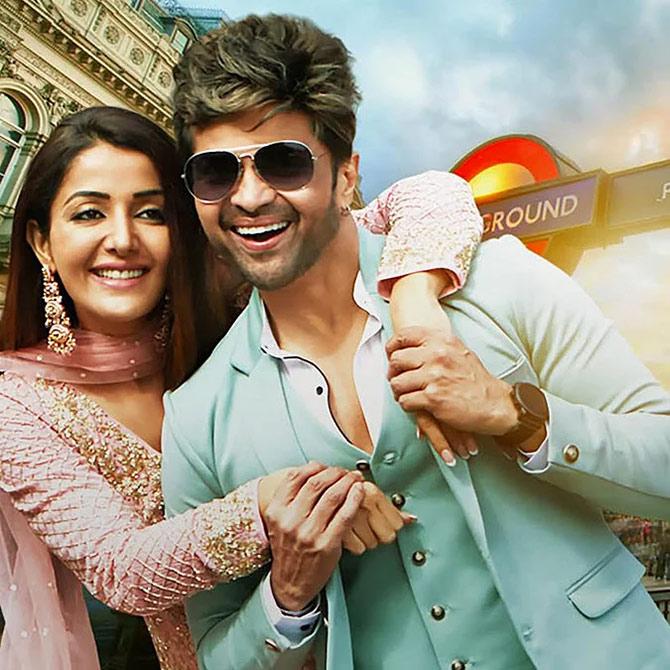 The thing about movies like Happy Hardy And Heer is that you go with no notion and are prepared for the worst. That softens the blow.
But sometimes, no matter how much you prepare, it still fails, and HHAH is a classic example of that.
Himesh Reshammiya believes he can act and there is nothing wrong with that.
He just shouldn't expect others to believe it too.
Here's a gist of what's left of the film in between the countless redundant songs.
Happy Singh (Himesh Reshammiya), as his name suggests, is always happy. At times, creepily so.
He has just one goal in life -- to be with Heer (Sonia Mann), his childhood love.
But Heer counts him as her BFF.
She moves to London for work, as does Happy.
One day, frustrated with his antics, she shames him for not even being a perfect loser (We agree to disagree here!)
Happy decides to prove that he deserves to own the loser tag.
He goes away and enters Hardy (Himesh again!), a rich businessman, whose KRA is to get in and out of fancy cars in fancy clothes.
Heer mistakes Hardy for Happy and thrashes him. BFFs do that to each other, that shouldn't bother anyone.
Hardy falls for her instantly and their love story begins.
But suddenly he decides to play a weird break-up joke and gets rammed by a car.
With him in a coma, Harry enters the scene after a failed attempt at an art school.
Heartbroken Heer is made to believe by everyone that Happy is a better fit in her scheme of things and after deep deliberation, she realises she loves Happy.
But Hardy returns and things go awry!
Happy Hardy And Heer is nothing but an extended music video.
Apart from stylised cars and status upgrade, there is hardly any difference between the two Himesh Reshammiyas.
When the film begins with Himesh wearing his infamous cap and a brooding expression, a sense of dread filled me thinking this was a sequel to Tera Surroor. I wish I could say 'fortunately' it wasn't.
There are so many songs in the movie that you lose count.
Teri Meri Kahaani is used more like a haunting background score than an actual song.
In fact, the painful proceedings on screens get to excruciating levels because of these tracks are forcibly inserted at many places.
The lesser we talk about performances, the better.
Heer mentions in one of the scenes that Hardy is an 'over-actor' as much as his doppelganger. We can't agree more.
Now the question is: Should you watch this? Make an informed and wise decision, we suggest.
Rediff Rating:

---
Moumita Bhattacharjee believes that writing on movies is pure fate. She can be contacted at movies@rediff-inc.com
---