According to the publicity material, it promises to be Rawal's most hilarious movie so far. But watching Paresh Rawal being reduced to a sidekick to a couple of newcomers takes half the fun out of this movie.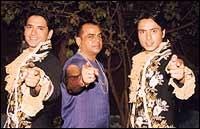 Also, there are hoardes of unnecessary characters sharing screen space with him. I don't understand the need to pass off irritating faces as comedy.
All characters in this movie, with the exception of Rawal and Gulshan Grover (as the King of Chhanpur), are loud and crude.
The film in question is Fun2shh. It is funny, but only in parts. The first half is unbearable. The second gets a bit more interesting.
Fun2shh appears to be a mix of a few episodes of the television serial Chandrakanta, a few Asterix comics and some Bollywood song and dance masala.
The result is neither satirical nor comical. Just a test of the viewers' patience.
There are so many threads tangled in this yarn that by the time the movie ends, you are hard-pressed to remember where it all started.
| | |
| --- | --- |
| | More on Rediff: |
| | |
The story begins with three friends, Johnny, Ajay and Vikram (Paresh Rawal, Anuj Sawhney, Iqbal Khan) assigned by a security agency to protect a 10th century tiara from notorious thief Chindi Chor ( Gulshan Grover).
Predictably, the tiara gets stolen. In trying to locate it, the trio lands in the 10th century via a magical wall. After a series of misunderstandings, twists and so-called comic scenes, all three come back to the 21st century with the tiara and two princesses in tow.
Whoa! The movie doesn't end here. The King of Chhanpur, Babusha (Gulshan Grover) follows them to 21st century with the help of a female magician.
This plot seriously had potential for children, if not for adults. Instead, the makers mess it up with songs and customary fist-fights between the good and evil.
Performance-wise, Paresh Rawal is the saving grace, as usual. Rawal steals every scene he appears in. The scene where he comes across his sweetheart Maria's incarnation in the 10th century is a classic example of his acting prowess. The way he expresses his puppylike adoration without twitching a single facial muscle or saying a word is hilarious. And Gulshan Grover provides the laughs without being absurd.
Unfortunately, such scenes are few and far between in Fun2ssh.
CREDITS
Director: Imtiaz Punjabi.
Cast: Paresh Rawal, Gulshan Gover, Farida Jalal, Ashish Vidyarthy, Kadar Khan, Anuj Sawhney, Iqbal Khan


Would you like to review this film? Here's your chance!