The only word that comes to my mind as I watch the reels of Ek Chalis Ki Last Local unfold is 'bizarre'. It's not often that one gets to use that word correctly. After the film is over, the word lingers. 
Honestly, it's an interesting premise. A stranger Nilesh (Abhay Deol) misses the last local and spends the night getting involved in a series of misadventures until the next local and ends up making Rs 2.5 crores.
Debutant director Sanjay Khanduri seemed to have the right intention -- to make a quirky dark comedy that would be subtle, sexy and refreshingly different. But good intentions aren't good enough! The movie is filled with goofups, crude jokes, one dimensional caricatures and implausible situations that would put even the kings of nonsense to shame.
Sample this:
~ Abhay Deol is almost sodomised after being tied up, blindfolded and gagged with a squeaky ball.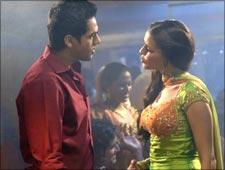 ~ Cops are 'encountered' by the goons.
~ A girl you meet randomly will hang out with you at the oddest hour at a dance bar.
~ Sleazy gamblers can have names like 'Karan Johar'
So what is the story, or lack thereof? Nilesh is a call centre executive and misses the last local on a rather uneventful night. The next train is two and half hours away and he needs to get home to Vikhroli. He meets Madhu (Neha Dhupia), who is also heading in the same direction. Since there is an auto strike, they decide to take a walk in the rain. That's when the jumbled adventures begin.
Let me try and preserve the flavour as I explain. Nilesh and Madhu enter a dance bar to spend the remaining two hours. Then there is a parallel story of a rich man whose son is kidnapped by Gang A and must pay a ransom of Rs 2.5 crores. Meanwhile, Gang B wants to steal the ransom from Gang A, which subjects us to a host of uninspiring over-the-top characters. Back at the bar, Nilesh gets involved with gambling and ends up in a scuffle with a gangster.
Later, it turns out that Madhu is really Mala, a prostitute. It's beyond anyone's guess why she chose to keep it a secret till the interval when all she was wanted to do was solicit a client.
The rest of the films sees gangsters kill other gangsters, cops kill gangsters, gangsters kill cops...
Abhay Deol has an interesting 'Mark Ruffalo' like innocence and childlike quality but looks completely lost in this enterprise. Neha Dhupia has become the industry's first choice to play a prostitute. Other than Laree Choote, the soundtrack is uninspiring.
In what could have been a brilliant dark comedy ends up as a mishmash of everything weird.
Bizarre!
Rediff Rating: