Ek Mini Katha highlights an important body issue, but in many ways, it also trivialises it, notes Divya Nair.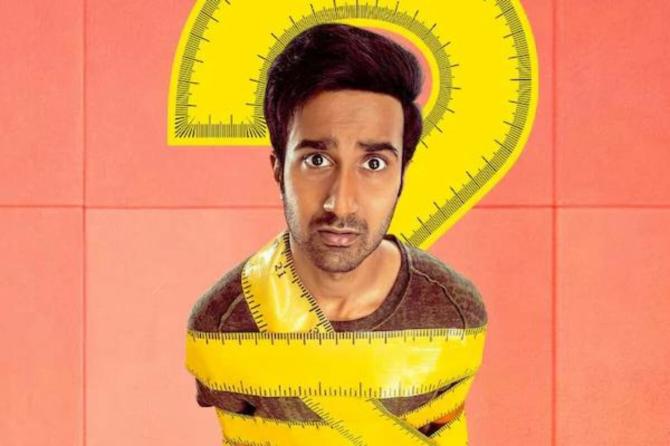 Remember the first time you had to tell your parents that you have a boyfriend?
Most of us who have grown up in a middle class Indian family would agree how you faced anxiety, fear and guilt simply worrying about the consequences.
Now imagine telling your family about your sexual insecurities.
In the Telugu film Ek Mini Katha, Director Karthik Rapolu picks up a sensitive but equally important social subject and weaves it into a comedy drama.
Our hero Santosh (played by debutante Santosh Shoban) is introduced at a psychiatrist's clinic.
His father, a college professor, has no idea why his son is acting weird and getting into all sorts of unnecessary trouble. He concludes that his son is a sex addict and requests Dr Satya Kishore (Harshvardhan) to treat him.
After some coaxing, Santosh tells Dr Satya how he has been struggling with a micro penis syndrome since he was bullied in his school days. Basically, he grew up thinking his penis is too small and that it would affect his ability to perform or satisfy in bed.
Since his effort to discuss the problem with his father was turned down early in life, Santosh confides and seeks help from his colleague and friend Sudharshan.
The story is narrated in flashback mode in a very engaging manner.
As a viewer, just like the shrink, you are quickly drawn into the story, wanting to know what happened next.
Apart from the useless song-dance routine with deliberately infused 'hook steps' I had a few other reasons to complain.
While Santosh and Sudarshan's increasingly silly and failed attempts at solving the former's problem does bring comic relief, it also delays the purpose and message of the film. Like, why would a civil engineer like Santosh seek help from social groups and babas? He even agrees to risk his life for a penis enlargement surgery.
Hasn't he heard of a sexologist?
Has he even read up about his condition?
Pretty dumb and presumptuous, I would say!
For a debutante, Santosh Shoban's inability to bring out emotions in the key scenes can't be ignored. But he is fairly good at dancing and frankly, those who understand Telugu may be able to vouch for his comic timing better (I had to rely on subtitles).
Overall, it is Sudharshan and the rest of the cast who make this slightly lengthy drama bearable enough to watch till the end.
The female actors, including Kavya Thapar and Shradha, have little to contribute other than look pretty.
There is no logic why a seer should expose her skin in a barely there sari.
Similarly, there is an elderly character who is obsessed about Pooja Hegde's legs -- totally unnecessary and slightly regressive, if I may add.
Instances of forced humour like these could have been avoided.
The final message is about communication being the right channel to fight your insecurities.
Maybe it's easy to preach that in a film which ends on a happy note. But in a country where sexual health was a top concern in 2020 with a staggering 139 per cent rise in sexual health consultations (with majority of them preferring online consultations), should we be happy with a mediocre film like this or is it fair to expect something better?
Of course, it's good to have film-makers talking about sexual issues and insecurities in a commercial film that is accessible to all.
But as a serious viewer, would you recommend a glitzy comedy like Dostana where being gay is passed off as a bad joke or would you encourage a socially relevant comedy drama like Shubh Mangal Zyada Savdhaan that actually talks about homosexuality and its consequences?
Similarly, Ek Mini Katha highlights an important body issue, but in many ways, it also trivialises it.
If you can ignore these glitches, perhaps we can hope a section of audience benefits from Dr Satya's heartfelt advice and message for adults, especially parents.
Ek Mini Katha streams on Amazon Prime.
Rediff Rating: