Upendra seems to have hit upon a new formula for success with his last super hit Kannada film Budhdhivantha.
And with his latest movie Dubai Babu, the charismatic star has further expanded his acting talent. What helps is that the new film has a good script and a competent director, Naganna.
While in Budhdhivantha, Upendra strengthened the content with his dialogue delivery and absorbing performance, in Dubai Babu he has gone further by experimenting with new get ups and total change in dialogue delivery which has lot of funny overtones. He dominates this hugely mounted film with a good performance. Equally poignant is that the other comedy actors have been given preference and most of them have carried the film effectively.   
Though Dubai Babu is a remake of the Telugu hit Dubai Seenu directed by Seenu Vaitla, there are enough new elements in the Kannada version to make it interesting.
 
Dubai Babu is essentially a comedy oriented film with a little bit of revenge element and action.
Babu (Upendra) is a happy-go-lucky youngster who, along with his group of good for nothing friends, want to go to Dubai to get some work. Unluckily for them, they are hoodwinked by a trickster. This setback forces Babu to stay in Mumbai with his friends where he falls in love with a radio jockey Vasundhara.
Trouble comes in the form of Vasudhara's aged uncle, an inspector who wants to marry her. How the situation is resolved makes up the rest of the story.
Performance-wise, Upendra dominates the film with his top class acting. Nikitha looks cute in the songs and fits the role of a radio jockey very nicely. Bollywood heroine Saloni, who is paired with Kumar Govind in a small role, is okay. As for Kumar Govind, he makes a good comeback through this film. Veteran artists Dwarakish, Tennis Krishna and Sathyajith are sure to tickle your funny bone. Ramesh Pandit has a big role in this film which he carries off quite effectively. Bollywood actor Aryan Vaid is effective as the main villain.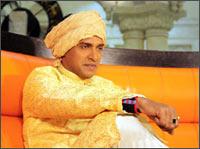 Producer Shylendra Babu has left no stone unturned to present the film without making any compromise in the making of it. The money spent on the project is visible in every frame of the film.  
Though the storyline is quite thin, what makes it likeable are the refined commercial elements which are believable and enjoyable. And credit for this goes to director Naganna who has gotten the best out of his team.
Another plus is that the excessive baggage of the original film has been adequately trimmed. The dialogues too by Keshava Adithya are crisp and effective. Ditto for Naganna's editing technique in the second half of the film.  
  
But the major highlight of the film is the original songs by music director and lyricist Mussanje Sridhar. The lyrics and song picturisation of Bachchio, Dhochiko, Pe Pe Pe Dum Dum and Bendakaloora Gowda deserve special mention. The background score is equally effective.
Cameraman Anil Xavier has handled his job with competence, scoring well in the song picturisations. 
All in all, Dubai Babu is a full length entertainer. Enjoy.
Rediff Rating: