Oscar schmoscar. Dreamgirls is a bad musical -- and a barely passable film.
You might be wondering, with that one-line summation, why a bad musical isn't automatically a bad movie. A fair question (and Eddie Murphy is the answer, really) and one is often the other, but there are fundamental differences between the two art forms.
A musical lives on wit. There's a sharpness to the lyric / an unpredictability to the rhyme / a flurry of dialogue quick / and set to double-time. Forget Rodgers & Hammerstein, or even the great Disney films, but Baz Luhrmann and Rob Marshall, the blessed folk behind the revival with Moulin Rouge and Chicago respectively, knew that. There was an absurdity to the situation, and the songs were spectacular events, furthering the narrative with style, humour and grace.
By comparison, Bill Condon (the man who made the compelling Kinsey) stumbles badly over the R'n'B stylings of Dreamgirls. Playing like the kind of Bollywood film we've all thankfully left behind, here the music comes at points of extreme melodrama, and seems pasted onto the narrative instead of enhancing it. The lyrics are lazy and pedestrian, and it absolutely hurts to be able to see the next line coming -- every single time. There's no edge to this ordinary take on The Supremes, and it's criminal to see the magnificent Motown musical revolution -- the dizzying time African American musicians broke through into mainstream America -- turned into a film this lifeless and cliched.
Dreamgirls begins on quite an okay note. It's the story of Deena, Effie and Norrell (Beyonce Knowles, Jennifer Hudson and Anika Noni Rose) and their grinning, high-heeled resolve to make it big. Curtis Taylor Jr (Jamie Foxx) is a Cadillac seller with big aspirations, and a sly can-do. Resolving to take the women to the top, and falling in love with Effie, Curtis makes them woo-woo girls to James 'Thunder' Early (Eddie Murphy) the rising, energetic performer with a love for shiny on-stage costumes -- and pretty backup singers.
The dress design is immaculate and the period touches are deftly done, but there really isn't any substance to this ice cream sundae. It is, upto this point, perfectly likeable and easy to warm up to, a la Tom Hanks' fondly made That Thing You Do. The problem with Dreamgirls is, sadly, the hope to be way more than a musical -- with underwhelming songs and a story we've all seen a million times before. It tries hard at pathos, poignancy, profundity. But it remains bad pop.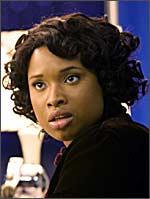 And then there's Jennifer Hudson. She just won her Oscar, but don't let that mislead you. First of all, if the woman with all the lines, the best (word used loosely) songs and the central figure (the good singer sent out of the spotlight) is sent for the Best Supporting Actress category, she wins for sure. (Just ask Rachel Weisz of The Constant Gardener.) Secondly, the Academy loves a story: A much-championed American Idol loser? Let's give her the prize.
Don't miss: Oscars 2007 special section
Hudson is a talented singer, no question, except when she overdoes her vocals in drastic attempts at emoting. Her role requires her to look surly, occasionally sassy, and mostly too loud -- she manages this well, not remarkably. As her replacement Michelle Morris (played by Sharon Leal) tells Hudson's character Effie, there isn't much to 'a second rate diva, who can't sustain.'
The other Dreams, as the trio is soon known, are infinitely more interesting than Effie, if only by virtue of being much less annoying. Beyonce is surprisingly solid as Deena, an underwritten character severely lacking dialogue, but she emotes strongly via vocals, especially in a demanding song called Listen.
The third Dream is Lorrell, a girl content to be in the shadows, and Anika Rose is a delight as she handles this more complicated, less obvious character. Her eyes speak volumes, flitting from giddy to grownup with powerful effect, and I'd rate her the best singer in the group.
Jamie Foxx, that terrific, chameleonic performer, is awful as Curtis, a villain stereotype just about going through the motions. Like the film, he starts off good but his transformation into vile manipulator is amateurish and cardboard.
As said before, Dreamgirls is a very weak film. The script is hackneyed, the story is old, and while it might have pleased American viewers besotted by the word 'musical,' it's a letdown.
Two policemen, however, spring a surprise. Danny Glover, best known for the Lethal Weapon movies, gives a moving performance as James Early's former, forgotten manager, Marty Madison. Glover is warm and believable, and treads the nice-notsonice line with remarkable finesse, making you wonder and even applaud.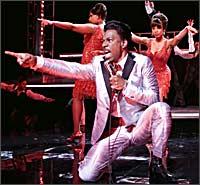 The highlight is that cop from Beverly Hills.
Eddie Murphy does a remarkable job as James Thunder Early, rocking and rollicking and bringing the house down, consistently. Murphy sings superbly, his high-energy vocals stretching over an astonishing range, and this is the performance of a lifetime from the usually comic actor. One star in the rating below is for him alone.
There is a scene in Dreamgirls where Eddie's James Early, forced into becoming a mellow singer, is achingly performing a ballad on stage. Suddenly, he says he can't take this anymore, loosens his collar, asks the band to get into the groove, gets the wonderfully jazzy string section to put some bounce into it. Then it's go-time, as Murphy takes it to the song, wild and frenzied and absolutely irresistible. It's a fitting tribute to the late great James Brown, for while Dreamgirls might try to tire Early, he makes us fe-ee-el good. Eddie's got soul.
Rediff Rating: