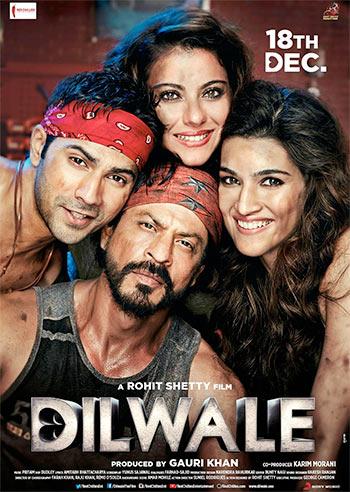 Shah Rukh Khan and Kajol look like a million bucks, but the situation -- and the drummed up "intensity" -- feel asinine, says Raja Sen.
It looks bad.
Not that Rohit Shetty thinks so -- or seems to care.
The opening titles of the Dilwale trailer reassure/threaten us with the knowledge that it is made by the same "gang" that gave us not just the Golmaal movies, which, for all their warts, were hit films, but even clunkers like All The Best.
All that appears to matter is the utter Rohit Shettyfication of it all, and Dilwale comes to us looking like an "intense" SRK-Kajol romance pasted atop a typically shouty Shetty farce, complete with poor Sanjay Mishra in garish clothes.
The gang is indeed back.
Shudder.
The first shot is that arms-wide-open cliche, but, poetically/moronically enough we see it being done by a man standing alone on top of the wreckage of a plane. That is the leatherclad Shah Rukh Khan.
Next we see Kajol, wearing a lovely sari and marooned in water, looking, for all the world, as if someone among the exotic canyons left the tap running too long.
We then see Varun Dhawan, sitting on top of a Humvee -- or some Dilip Chhabria version of it -- and being all Bollywood brash, while Kriti Sanon shows up looking as if someone yanked Alia Bhatt to full-size height.
Johnny Lever and that kid from Fukrey are around, as are Boman Irani and the aforementioned Mishra, in technicolour suits and bad hairpieces.
All these people -- with the exception of Dhawan, playing a moist-eyed heart-thumping hero type who is clearly defined by brotherly love for the Khan -- seem to belong to a different movie. Dhawan, I feel, might prove scene-stealer here as he even does the trademarked arms pose as good as Khan.
The two leads look like a million bucks, but the situation -- and the drummed up "intensity" -- feel asinine.
Shah Rukh fires guns and drifts sports cars in slow-motion while staring balefully into Kajol's eyes, before saying that he'll kill if he sees her again.
Who *exactly* he'll kill isn't specified, but, as audiences in a film that literally promises never to end, the crosshairs may well be on all of us.
Dilwale releases December 18.