Chaman Bahaar is a lazy, laborious, ride, says Joginder Tuteja.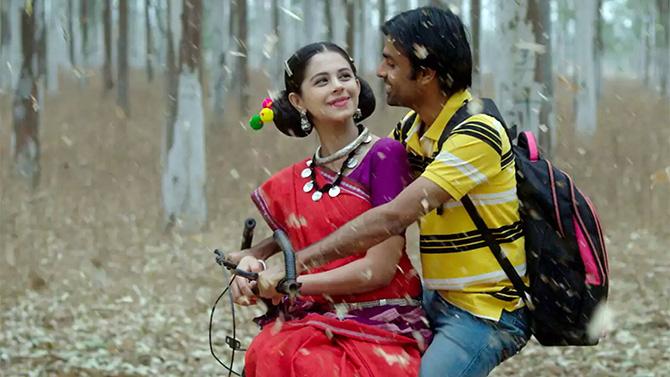 A girl steps out of her room, opens the gate of her house, takes out her dog for a walk on a deserted road for exactly one minute, makes a U-turn, goes back to her house.
Now, repeat this sequence of events thrice (or is it four times?) I lost count -- and interest -- after a while.
This is how Chaman Bahaar plays for most of its near-100 minute narrative. Frankly, this is a story that could have been told in 30 minutes.
It is surprising to see a short film idea stretched to a full length feature film. In fact, the direct-to-OTT release has turned out to be a boon for such films as theatrically, it would have been tough to see a release and then survive beyond the weekend.
Set on the outskirts of a small town in Chhattisgarh, the film is about a young man (Jitendra Kumar), who opens a paan shop called Chaman Bahaar on a deserted road.
The business is 'manda' but things change with the arrival of a really young girl (Ritika Badiani, who was seen in a prominent part in Airlift) in a house across the shop.
That's one of the other major issues with the film, which glorifies the attention everyone is showering on a minor.
There is a local wannabe politician, a Mumbai hopping 'chikna' from the town, a permanently smoking (silent) rowdy and a whole bunch of this girl's classmates, who start assembling after the school hours and stay on till the clock strikes 5, when the girl takes her dog out for a walk.
So Jitendra takes it upon himself to be her 'protector' (while also falling in love).
There isn't much that Chaman Bahaar -- directed by Apurva Dhar Badgaiyann (who had assisted Prakash Jha before) -- offers.
I barely smiled thrice through its running time.
Things neither get hilarious nor silly; they just go on in a loop as newer voyeurs start frequenting the paan shop, and Jitendra tries different tricks to save her from the prying eyes.
Other than Jitendra's natural performance of a small town boy who is the son of a 'senior' peon (Yogendra Tiku) and the bewitching look that Ritika occasionally gives, there isn't much to take home.
Chaman Bahaar is a lazy but laborious ride.
Rediff Rating: