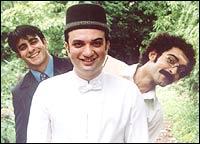 I have a great knack of finding films nobody else wants to see. Yet another empty theatre proved this, when I went to watch U Bomsi N Me. A total of nine people in the theatre. Worse, the other eight were couples who were there simply for the privacy.
To be fair, the film isn't that bad. It just doesn't have a known starcast and is directed by a first-timer called Jairaj Padmanabhan.
The film is about three guys working at Radio Jalwa, a common theme now after Preity Zinta's microphone-based antics in Salaam Namaste. Rags a.k.a. Raghvan (Vivek Madan) is U, Bobby Bahal plays Bomsi, and Sam Mac Patel (Gautam Rode) is Me. Miserable because of their married lives, they strive hard to keep their wives in good favour, but things don't quite go their way.
Rags, a Tamilian, works as an Operations Manager. He is married to Raji (Kranti Redkar), a statistics lecturer, and their problem arises because of Rags' lack of ambition. Raji is a clean freak, and doesn't appreciate his cricket-driven couch potato behaviour.
Bomsi is a Parsi, working as a Sales Manager -- just like his wife Shenaz (Vidya Malvade). As in life, these two want different things. As an astrologer has predicted that all their problems will be solved with the birth of a child, Shenaz is keen on becoming a mother; Bomsi merely wants to buy a house in a Parsi colony and cut a big sales deal.
Half Gujarati and half Punjabi, Sam is married to a Christian girl, Monica. A Radio Jockey, he doesn't get to spend much time with his air-hostess wife. The two have trust issues: each suspects the other of having an extramarital affair. And yes, Sam also wants to write a film script.
With a vaguely interesting set of characters, the film fails because of its lack of plot.
In a super-simple manner, Rags helps Raji like cricket, keeping statistics in mind. Eventually, Bomsi has both a baby girl and a sales deal. And Sam trusts his wife, gives her space, and writes a script about three friends naming it -- you guessed it -- U Bomsi N Me.
That's all, and this four-line concept is dragged over 130 minutes. The film begins slowly and takes a while to get going. The 'story' itself seems complete by the middle, yet the film drags on, uncaring. Amateurish direction is another pain.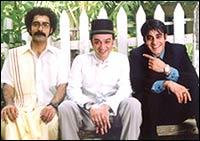 Too many songs make it lengthier, and, unfortunately, it's not as if the songs are good.
The film is obviously a comedy, but has few true comic moments. The actors struggle through some very poor dubbing. Vivek Madan manages a South Indian accent all right, but Bobby Bahal's Parsi diction keeps slipping. Gautam Rode pulls off a couple of sequences, but none of these kids can be called good actors.
The three women are average, but, having said that, it is important to remember that they haven't been given much of a script to work with. Crisper dialogues and no songs should have been Jairaj's mantra. Better luck next time.
Harmless, and with a few moments, but not worth going to theatres for.