Abhinay Deo's film never runs short of bite and sting, says Prasanna D Zore.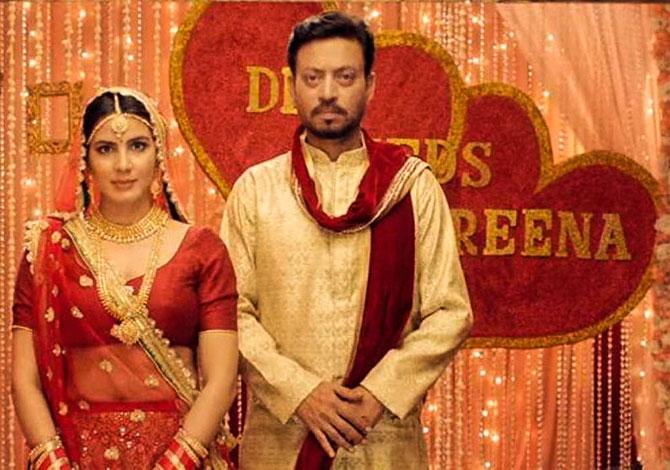 Director Abhinay Deo and his bunch of talented cast with their wicked, witty and vicious acts make Blackmail a must watch.
Blackmail's story revolves around Dev Kaushal (Irrfan Khan) and Reena (Kirti Kulhari) a couple suffering from the seven-year itch with Reena finding her spice in life in bed with ex-boyfriend Ranjeet (Arunoday Singh) and Dev satisfying his kinks in his office's toilet in front of stolen photographs of his colleagues' and boss' wives.
During one of his many nocturnal visits at Reena's home, Dev catches her and Ranjeet red handed and instead of getting furious or violent decides to get even with the cheats.
Dev, a typical common man, notwithstanding his toilet kinks, is troubled by his home loan EMIs and credit card bills. He pines for his wife's love and affection, but seethes with a wicked anger at her infidelity and decides to teach them a lesson by blackmailing Ranjeet.
But karma has strange ways of getting back at you, as they say, when you least expect it, and there begins the blackmailers' ball, a sort of Ponzi version of blackmailing that takes a full circle and comes back to knock at Dev's door.
The hunter becomes the hunted then, which he realises only in the end, even as goes around deriving pleasures and revenge from his wicked acts.
The serial blackmailing goes bust when one cog in this circular chain decides to dare Dev at spilling the beans. But not before it ties all the characters of Blackmail in a Gordian Knot.
Blackmail's first 15 minutes begin on as boring a note as Dev and Reena's romance-less married life.
Director Deo uses this curtain raiser to give you a peep into the quirks and viciousness of his protagonists and once he gets through the brief introductions, the film gathers pace for the next few minutes, then slackens suddenly before it again builds up with Prabha's (Anuja Sathe) entry.
Then Blackmail's gravy train chugs along with full steam as every character throws away their niceties, exposing their darker sides.
As the film transitions past the intermission dead bodies begin to pile up at regular intervals.
Be it accidental or intentional, there are dead bodies under the living room cabinet, inside the refrigerator and at the door.
Dev, Ranjeet, his wife Dolly (Divya Dutta), Prabha, and Dev's friend Anand (Pradhuman Singh) all end up playing dirty with each other as the 140-minute film begins to unwrap the latent evil in each of these actors.
Every human has a darker side and Parveez Shaikh's story, screenplay and Pradhuman Singh's dialogues makes no bones about it.
Praise must, of course, be lavished upon Deo who steers Blackmail's talented cast with elan and energy.
Irrfan Khan as the vulnerable, vengeance-seeking, blackmailing husband plays his part with easy flourish, wit, and wicked mirth.
Kirti Kulhari looks sweet and real as a middle-class housewife who will go to any length to hide her illicit affair from her husband and society.
Arunoday Singh as a bumbling, obsequious, dirt-licking husband is fun to watch; equally fascinating is Divya Dutta as Ranjeet's domineering, insulting, wife.
Anuja Sathe's cameo as Prabha is brilliant and ballsy to say the least. The scene in which she charges back at Irrfan in faux ferocity is worth every rupees spent buying the ticket.
Omi Vaidya, as Dev's boss, is the only disappointment one can point out in Blackmail, which otherwise ticks all the right boxes for being an Abhinay Deo film.
Blackmail's settings are grim, dark, comic and capricious, but one misses the directorial chutzpah that Deo showcased in his 2011 film Delhi Belly.
But these are just silly pinpricks one must find out in a film that never runs short of bite and sting.
Rediff Rating: