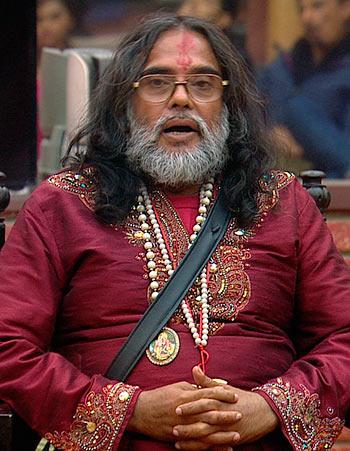 Swami Om is back in the house, says Divya Nair, and people are not the same.
So, some things are very evident in the Bigg Boss house.
Manveer dislikes Lokesh, but tries his best to pretend he is the big brother.
Manu doesn't like her much, but he at least admits that she is competition.

The good part about Wednesday's episode was the boundary walls have fallen.
Henceforth, there won't be Celebrities or Indiawalles, they are all now housemates.

Swami Om was sent back from his secret paradise into the hell house.
And Boy, that man touching everyone's feet and breaking into hysteria was scar-r-r-r-r-y.
I pitied the housemates who have to bear him. He reminds me of Imaam Siddiqui, who surprised everyone dressing in a hideous bodysuit in a past Bigg Boss season.
I want Salman Khan to ask Baba to show us his wardrobe.
What has he really got in his suitcase?
Does he even bathe?
Does he wash and wear the same clothes every day?
How is it possible that he wears the same red kurta almost every day?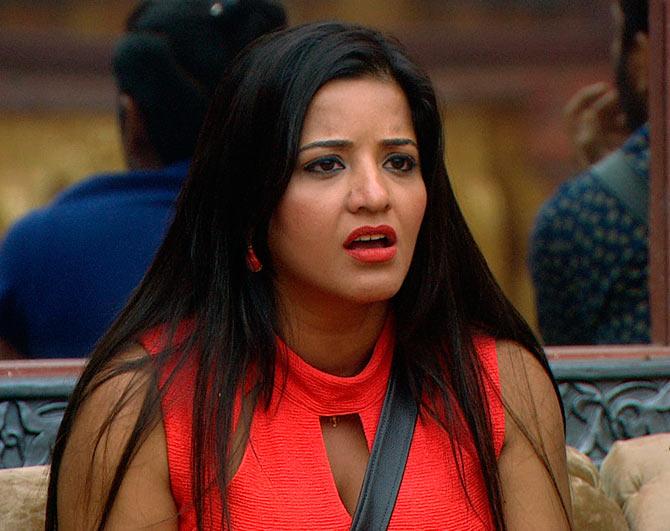 The pardafaash session turned out to be ugly as expected.
Mona darling obviously will never accept any pointed fingers aimed at her charitra.
If she is close to Manu, why are you so jealous?

Babaji, please tell me what kind of a devout father bathes in the swimming pool with a daughter in a bikini you met just weeks ago?
And Mona, if Swami Om does double <em<baatein you too have double boyfriend(s) -- one in the house and one outside.

And then came the moment of the week when Swami Om strengthened his position in the Book of Big Bluffmasters when he claimed to have entered Nitibha's head and convinced her to punch in the number 4 in the Immunity Medallion task. WTF!

Swamiji, every time you open your mouth to utter such gas without any filter, three action words form in my thought bubble: One Tight Slap!
And then I have to say two words to win my focus back on the show: World Peace!

The only confession you made right was that Karan indeed tricked Lokesh into getting nominated.
But obviously, everyone else lost the plot and you became background noise.

I had to mute for 3 minutes until the crowd dispersed.
Dearest Lokesh, you are my favourite contestant in the house, but what is wrong with you? There are so many mirrors in the house, why don't you just look into one and have a deep chat with yourself?
You are not singing, dancing, modelling. You are losing your charm, sweetheart.
I want to scream into your ears and tell you that Manu and Manveer give a s*** about you.

In fact, they want you nominated and out of the house ASAP, maybe before or after Nitibha.
Stop being such a sweetheart all the time. Karan didn't deserve it, no one else deserves it in the house at all.

And what kind of a brother will ask a sister to sleep with a twisted man thrice her age?
Three men in the house -- Navin, Manu and Manveer -- want Lokesh to share a bed with Swami Om? With just a pillow in between the two.
Shameless men, are you out of your mind? The way you degrade the women in the house each day with your subtle bullying... I am surprised no one is questioning you.

Lopa you just sat there and did nothing. What kind of a role model are you?

Everyone is so busy minding their businesses and playing their mind games that they have no idea how notorious they have become on the show.
Tonight's episode will see Bani, Manu and Swami Om compete for the captaincy in the house. I am clearly not excited about the choices available.