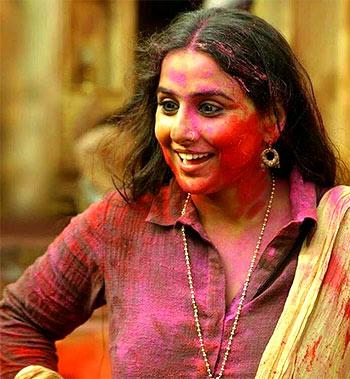 Begum Jaan makes a lot of noise, cuts a lot of throats, but sucks up to kiddie-ideas of history and revolution, feels Sreehari Nair.
In Begum Jaan, Vidya Balan (playing the eponymous Begum) puffs on her hookah-pipe, the smoke emanating from which creates clouds above, and birds appear in the clouds for Begum to talk to.
She talks to the birds, and then the birds fly away and tweet her saga far and wide, across lands and lampposts.
The clouds occasionally rain themselves out, and as the rain streams down people's faces, they thank Begum for her kindness.
Begum Jaan is a movie so steadfastly subservient to its leading lady, that it turns everyone and everything into mere setups for Balan to deliver the graces. Not only is Balan here privileged with the punchiest of quotations and the most decisive of actions, even the horizon dissolves into her thinking face.
She's a force of 'nature'; by God, she may have even created nature!
I am completely up for movies being conceived as 'Vidya Balan Summer Projects' but if those movies are mere vehicles for hip-posturing, like this one clearly is, we may be at the risk of losing one of our finest actors.
In the golden age of Hollywood, movies were often thought up as Katherine Hepburn projects. But they weren't about Hepburn trying to do butch-versions of Clark Gable; on the contrary, Hepburn used her clout to play the dance with feathery performers like Cary Grant.
Balan has that Hepburn-like toughness about her, but with directors such as Srijit Mukherji at the helm, that toughness simmers on the surface too evidently for it to be taken half-seriously.
But make no mistake. There are two Vidya Balan performances in this movie. There's of course the Begum who when she talks, seems to be reading out from her own resume. And then there is the Begum who wonders about the changing realities around her, and who can feel the earth beneath her feet slipping by.
It's the second Begum that Balan almost nails.
The actress has two wonderful scenes with Naseeruddin Shah, who appears as the king of the territory that houses Begum's brothel.
Shah's Rajaji works up the lazy-elegance, winking as he goes about his role; he is the type that can't perform sex without music, and who squints at the chess-coins before making his move.
When Balan dresses up for her Rajaji, it suddenly creates a context for both the characters; they magically become rooted in a time and place -- there's both old-world romanticism and a nod to painful political realities in the way Balan converses with Shah there.
'Who holds the first right to all the tender flowers in this land?' Shah asks, and as Balan's Begum fumbles with a, 'You do,' Shah cuts her off with a sledgehammer of a line. 'No, it's the Raja's right!' he says, putting the title above the name.
Naseeruddin Shah may even have written his two-scene character himself; his bowing down to his own decadence has more charm than the spirited fights of the other characters.
In those two brief exchanges, we see a glimpse of the truly tragic Indian past beyond Yuvakbharati's history-textbook chapter 5: Indian Independence and Partition (which chapter, and its descriptions, is the basis for this movie's setting).
Closely interpreting this chapter for us is Vivek Mushran who listens to the Tryst with Destiny speech on a radio, and announces Azaadiiii to the common-folk around him, with the same energy that one uses to broadcast news of the winning-boundary at the end of a cricket match.
In playing the movie's most pointless character and playing it really straight, Mushran mimics the tone of this whole enterprise. He starts tender and then can be seen pausing in the middle of a passionate kiss to stare at the moon like a werewolf.
This is the sort of bogus, sadistic picture in which two administrators meet and trade stories of communal hatred, murders, and rapes (their throats drying up as they speak) and then as if to break the tension, enquire about each other's Paan-eating habits. Those two characters are played by Ashish Vidyarthi and Rajit Kapoor, and for some strange reason they're constantly photographed in half-profiles.
Begum Jaan takes the basic idea that private will and freedom has some relevance in the face of a public decision and stretches that idea into a chic-show of anarchy. And it's this 'I am a punk, Oh yeahhh!' philosophy that the film then goes ahead and applies to its treatises about men and misogyny.
In what must clearly be the lowest moment in the long-standing fight against male gaze, Begum Jaan suggests that cruelty against women can be moderated if women 'asexualize' themselves.
There are two instances in the film that pursue this regressive thought with such vigour that you'll be tempted to throw up, just repeating it to yourself.
The film's idea of Evil is so banal and so reductive, it can be summarized as follows: If women show men their inner-selves, the men will undergo a process of simultaneous soul-livening and self-castration.
The brothel that houses all the 'Hashtag Revolutions' of the movie is like a Faraway Kingdom, where even the sparrings are orchestrated. The characters all explain things to the audience under the pretext of talking to each other. And the cadence in the talk is all 'rural' but as heard by an urban ear.
Balan's character, for example, knows the word 'Syphilis' but has to be explained what the word 'Border' means.
The visual-palette of the film is like a series of Raghu Rai photographs drained off their magic and kinkiness. Certain shot-taking choices such as 'Slow-zooms into a Sand Timer' inadvertently gets at the precise texture of the drama: It's a soap-opera masquerading as a historical-tragedy.
So finally, with no duke in sight, it's left to Vidya Balan to single-handedly transform the landscape, gladden hearts, and make us believe that Chunky Pandey still has a chance.
Pandey's character is quite a piece of theatre, and in what is a daring choice-of-manner, he plays like it like an old-hand: slightly hunched, scratching his chest and his tooshie while he talks. Pandey's googly-eyes and exaggerated jaw-movement naturally hints at villainy, and while his talkie-scenes here do make you squirm, none of them quite have the power of that introduction-shot (inserted almost like a juxtaposition) which has him emerging from a sugarcane field.
Begum Jaan has a running-theme of the narrative being intercut with mythological stories as recounted by Ila Arun's character (the stories are re-imagined with Vidya Balan playing Rani Laxmibai, Padmavati, and Meera). Those stories never grow beyond the conventional Amar Chitra Katha-boundaries within which we read them as children. And I found that weirdly reassuring. For it fits perfectly in a movie that makes a lot of noise, cuts a lot of throats, but sucks up to kiddie-ideas of history and revolution.
Rediff Rating: