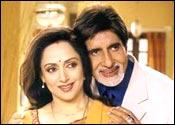 "You know this happens? I know of somebody who went through the same experience," a woman was telling her companion.
Similar conversations were taking place among other viewers in the preview theatre screening Ravi Chopra's Baghban.
Obviously, I wasn't the only one getting emotionally involved with the tale unfolding on the screen.
The man sitting next to me, who was discreetly dabbing his eyes in the first half, gave up all attempts at discretion post-interval. He would remove his spectacles ever so often to wipe his tears.
| | |
| --- | --- |
| | More on Baghban! |
| | |
Actually, Baghban's tale is as old as Time. It is about the sacrifices parents make in order to give their children a good life, only to be spurned by them in their old age. What makes Baghban different from the numerous films that have tackled this subject earlier is the on-going romance between the lead couple.

Raj (Amitabh Bachchan) and Puja Malhotra (Hema Malini) are very much in love even after 40 years of marriage. They do everything a lead couple does in any other Bollywood film -- romance, sing and dance.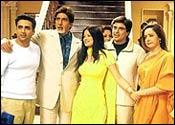 Their four sons, and their families, are well-settled (thanks to Raj, who even gives them the last of his savings). All is well until Raj retires. Then, it is time for the sons to take on the responsibility of their parents. But none of them are willing to do so, particularly when they realise Raj has no money left. So the Malhotra children come up with a solution. Each son agrees to take care of one parent for a period of six months.
Raj is not too happy with the idea. He warns Puja, 'They want to separate us, not share our love.' Puja's motherly heart, however, can't believe her children can be so callous. Raj defers to her and the two separate. But neither of them is happy and the children soon start ill-treating them.
This is when Alok, the adopted son, steps in; he does not change their lives but he loves them unconditionally. He even has their picture among the deities he prays to every morning. Besides, there's Hemant Patel (Paresh Rawal) and his wife, Shanti (Lilette Dubey); strangers who, because of their warmth and kindness, become an important part of Raj's life.
Baghban has a high emotional quotient. Director Ravi Chopra retains his audience's interest in the lives of Raj and Puja Malhotra. Despite some unconvincing moments in the plot, Baghban keeps the viewers involved all the way to the climax.
The film belongs to Amitabh Bachchan and Hema Malini. Although the story was conceived 30 years ago and was to star Dilip Kumar, Baghban seems tailor-made for Bachchan. He is wonderful. He sings, dances, romances, cries and makes you cry.
Hema, as the director rightly says in his interview to rediff.com, has improved tremendously. And she looks gorgeous.
Salman Khan is restrained as the adopted son deeply indebted to his mentors. Both he and Mahima Chaudhry, who plays his love interest, make their presence felt in the little screen time allotted to their special appearance.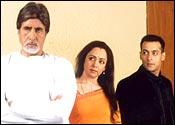 Paresh Rawal and Lilette Dubey provide some of the film's lighter moments with their entertaining performance.
Aman Verma, Sameer Soni, Salil Chadda and Nasir Khan are average as the sons.
Composer Aadesh Shrivastava has to be commended for making Bachchan sound so wonderful in the songs. Baghban is a treat for Bahchan fans. He sings four songs -- a wonderful Holi track, Chali chali the peppy dance number, the title track and the soulful Main yahan tu wahan that he sings for his wife over the telephone. It brought back memories of Mahaan, where Bachchan sings Jidhar dekhoon teri tasveer nazar aati hai for Waheeda Rehman over the phone.
Talking about similarities, I have to clarify that Baghban is not a remake of the Rajesh Khanna-Shabana Azmi starrer, Avtaar. Saying anything more would be a giveaway; I'm sure you would prefer to watch the film instead.
CREDITS
Cast: Amitabh Bachchan, Hema Malini, Paresh Rawal, Lilette Dubey, Aman Verma, Samir Soni, Divya Dutta, Suman Ranganathan, Nasir Khan, Asrani, Sahil Chadda, Rimi Sen, Yash Pathak with Salman Khan and Mahima Chaudhry in a special appearance
Production, story: B R Chopra
Direction: Ravi Chopra
Music: Aadesh Shrivastava
Lyrics: Sameer
Would you like to review this film? Here's your chance!