Well, there is nothing much left to anticipate from a film which is publicly disowned by the director (Mathieu Kassovitz) himself. But you still gamble with your money because this film comes from a man who framed the powerful La Haine (1995) and earned a decent place in the book of critics.
Set in a post-apocalyptic Europe (No mention of a particular year, but definitely beyond 2017) the central character of Babylon A.D- Toorop (Vin Diesel) taking up an assignment to "deliver" a messianic orphan named Aurora (Melanie Thierry) from a monastery in Mongolia to New York in company with a butt-kicking nun, Sister Rebeka (Michelle Yeoh); makes for a tedious 90 min test of patience.
The film is formulaic and rushed into execution. The exceptionally bad dialogues, a messy storyline and the almost caricature-like actors simply make you squirm in your seat with exasperation. The action sequences in BAD are nothing but laughable and synonymous to the acronym in itself. Vin Diesel makes a half-baked attempt but ends up looking like a bored version of his xXx character -- Xander Cage while Michelle Yeoh appears pale and exhausted.
"I'm not your friend, I'm not your brother, I'm not your boyfriend," and "We protected each other… like family." I am sorry, but if the audience needs to be reminded of dialogues like these then I have to say that Babylon A.D is not a bad film at all, rather it is unintelligently funny. Every aspect of this film could have been better, but sadly just isn't. Vin Diesel needs acting sessions and some serious career planning advice to stick to The Fast And The Furious series.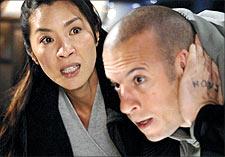 This action-packed futuristic science fiction has some well crafted stage settings; the special effects are pretty impressive but are unable to sustain the drama surrounding it, limping towards an arduous and predictable climax.
Director Mathieu Kassovitz was terribly wrong and ill-timed in gauging careful forethought towards the expectations of the audience who are still reveling under the spell of triumphant superhero movies like The Dark Knight, Iron Man and Hellboy II. Hard luck!
Fast-paced as a result of regretful editing, watch Babylon A.D only when you feel like killing time or if you are a die-hard Vin Diesel fan.
Rediff Rating: