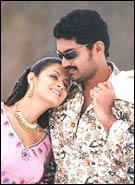 After a couple of also-rans, upcoming Telugu actor Kalyan Ram seems to have broken the jinx with Athanokkade, a well-crafted, anger-driven film.
His resolve to discard lover-boy roles to claim the 'action image' could actually work, since he impresses as an angry young guy out to avenge his family. He handles action and dances well, but needs to improve his emoting skills. 

Despite a familiar plot, debutant director Surendra holds the audience's interest with gripping narration and sharp, captivating visuals. He avoids clichés to deliver a slick action flick with sensible comedy and even a few hummable tunes.
Actress Sindhu Tolani, of Aithe fame, impresses as an avenging angel. She expresses anger as well as love with ease, but is found wanting in dancing skills. She shows more promise as a performer than as a glamour girl.

Hindi actor Ashish Vidyarthi, as the dreaded don, looks menacing as he ruthlessly eliminates his rivals. Surya and Chandramohan are good, while comedians Venu Madhav and Dharmavarapu Subramanyam evoke a few laughs.
Director Surendra's confidence in Kalyan seems to have paid off. The movie took nearly two years for the project to take-off. The director displays command over the screenplay, and good visual taste.

All in all, this is a lavish masala film is worth watching.