Aapke Kamre Mei Koi Rehta is painfully regressive in the garb of comedy, notes Moumita Bhattacharjee.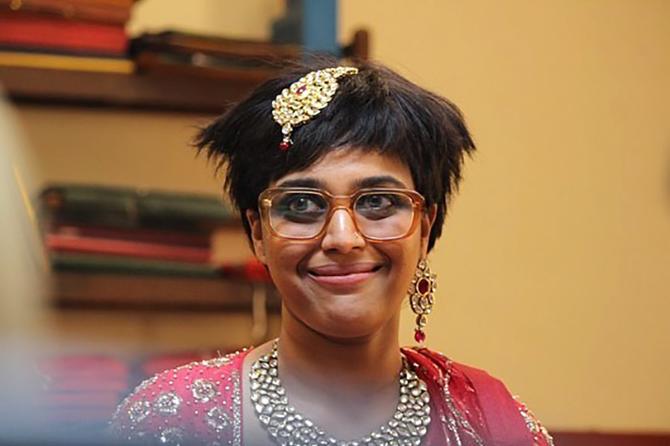 Only sheer bad writing can turn a promising ghost comedy into an absolute tragedy.
Aapkey Kamrey Mein Koi Rehta Hai is an example of that.
The bite-size promise of entertainment does leave an impression as the episodes are a little over 18 minutes, but nobody warns you of a reckless and extremely problematic narrative.
Four friends and room-mates -- Nikhil (Sumeet Vyas), Sanki (Ashish Verma), Kavi (Amol Parasher) and Subbu (Naveen Katuria) -- lead a typical bachelor life in Mumbai. But a night of wild partying gets them thrown out of their accommodation.
They move to an under-construction building built on a cemetery which forms a source of ghost-sightings.
A revenge-seeking spirit is unleashed when the men host a Diwali party.
Mausam (Swara Bhasker), their colleague, stays a little longer than usual and gets possessed.
From there on, the lives of these friends go for a toss.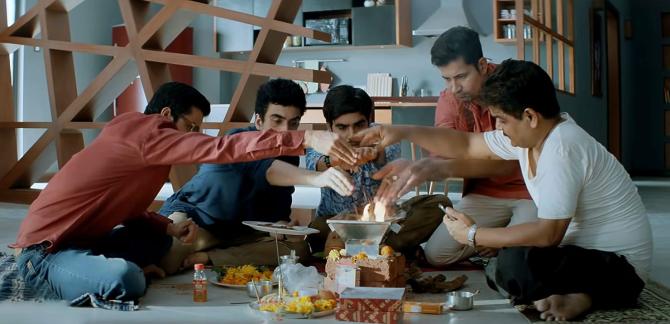 Written and directed by Gaurav Sinha, this five-episode series should be banned for casually suggesting things that are just so wrong. Spiking the drinks of women to score, forcing a girl to marry, just for cheap humour.
Worse, they remains friends even after such questionable and sexist behaviour.
If that's not enough, convenient plot twists like a sudden romance between Swara and Sumeet get silly.
Had it not been for a splendid cast, this would have been an unbearable watch.
Sumeet Vyas, as a compulsive flirt, is neat although his victories are supposed to be assumed.
Swara Bhasker is entertaining, both as a free-spirited girl and a ghost.
Ashish Verma does a good job of being a pervert.
Naveen Katuria is annoyingly under-utilised as is Amol Parasher. But they make it count despite their characters being shoddily treated.
If ghost comedy excites you, please find an alternative because Aapkey Kamrey Mein Koi Rehta Hai review is painfully regressive in the garb of comedy.
Aapkey Kamrey Mein Koi Rehta Hai review streams on MX Player.
Rediff Rating: