What could have been an immensely compelling survival drama is reduced to the pretty-girl-in-peril thriller, observes a disappointed Mayur Sanap.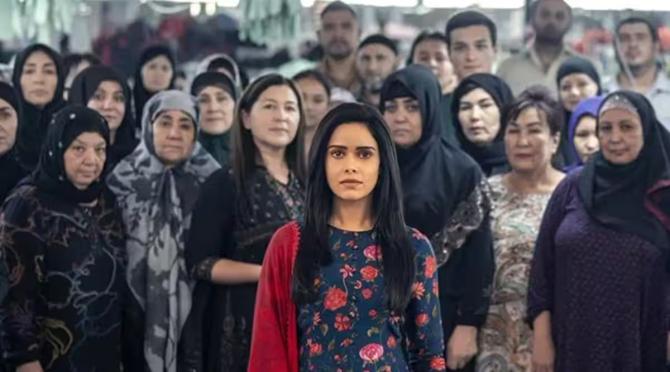 In the opening moments of debutant Director Pranay Meshram's Akelli, the protagonist is left distraught after witnessing a horrific crime in the middle of the street in broad daylight. She is immediately sermoned: 'Zyada mat socho, Iraq zyada sochne ki izazat nahi deta.'
Nushratt Bharuccha plays Jyoti, who is forced by circumstances to take up a job in unruly Iraq. And because it is Iraq, the grim tonality is set early on with the aforementioned scene.
While the film can be lauded for its prickly subject and message about the power of hope in a world threatened by terrorism, it fails to deliver the emotionally resonant tale of courage under fire that the title suggests.
Being the sole breadwinner of her family, Jyoti is responsible for her mother and young niece after her brother and sister-in-law's untimely demise. She also has a family loan to repay and reluctantly leaves her homeland and family for a job in Mosul.
In Iraq, Jyoti finds herself in the crossfire of an ongoing war as ISIS terrorists take over her workplace and abduct a bunch of women, including her. The film dives into thriller mode soon after as Jyoti decides to fight back and escape from her tormentors.
Meshram, who co-wrote the script alongside Gunjan Saxena and Ayush Tiwari, wants his film to be grounded in reality, but then takes us completely out of the bleak subject matter with far-fetched scenes. This lack of consistency makes the film superficial in its impact.
The way Jyoti is shown to outwit adversaries and navigate her escape makes for a few thrilling action beats, but the execution is naive and juvenile.
What could have been an immensely compelling survival drama is reduced to the pretty-girl-in-peril thriller that conjures up no real moments of tension.
No matter how dire the circumstances are, Nushratt's hair and makeup are always flawless, constantly reminding us that it is all for the 'act'.
At one point, the film also talks about a group of nurses being stranded in a different conflict zone in Iraq. This automatically reminds you of Mahesh Narayan's sublime Malayalam film Take Off, which tackled a similar premise with great flair.
In Akelli, the attempt is to deliver a fast-paced action experience but while being at it, the film suffers from a total lack of character development or emotional depth that would have elevated the story.
Ultimately, it becomes this predictable series of adrenaline-fueled moments, with little to surprise or grip the viewers.
Furthermore, the poorly-paced, little over two-hour runtime feels much longer with many dragged-out and predictable scenes.
Nushratt gives a dialed-up performance by overcompensating for every emotion as shell-shocked Jyoti.
Her performance is further bogged down by sketchy character writing that doesn't evoke any real emotional connection from the audience.
The villains, played by Tsahi Halevi and Amir Boutrous, lack any depth or development which robs them off of any impact.
It is only Nishant Dahiya who leaves a mark as a good-hearted man, whose romantic sub-plot is jarringly tied up with the film's lame ending.
Despite its steely title, Akelli lacks the ability to be resolute about bringing anything new to the table.
The promise of a riveting survival saga quickly turns into a meandering mess, leaving us disappointed.
Akelli Review Rediff Rating: