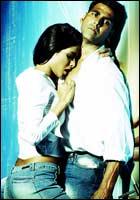 After watching the first-day-first-show of Aitraaz, I don't know how this film will fare pitted against three big Diwali releases, Mughal-e-Azam, Veer-Zaara and Naach. I'm sure, however, that if released at a different time, this film would be a superhit, and I say this based not on my verdict, but on the incredible audience response to the film: oh, the public was clapping and whistling throughout the film's second half!

Aitraaz is the story of Raj Malhotra (Akshay Kumar), happily married to Priya, (Kareena) a non-practicing lawyer. Raj is an engineer in a firm chaired by Ranjit Roy (Amrish Puri), and his young wife Sonia (Priyanka) is among the board of directors. Sonia also happens to be Raj's ex-girlfriend. Seeing Raj after five years, Sonia is again drawn towards him, in a purely lustful manner. Failing to get that, she accuses him of rape and asks her husband to remove Raj from the office. Raj, based on his innocence, decides to sue Sonia for sexual harassment.  When nobody is ready to trust him, his wife predictably puts on lawyer-garb

to fight his case.

The movie starts lightly, and gathers pace towards the end. There are no extraordinary performances, but everyone seems adequate. As said, the audience reaction is tremendous: during the trial, any sentence in favour of Akshay leads invariably to wild applause, and any slur towards Priyanka makes the people whistle and hoot, justifying her performance in her first ever negative role. Kareena has nothing much to do until the last few scenes, and she does a decent job. A few dialogues sound extremely cliched, especially in the court scene when Anu kapoor starts with "Do kisam ke insaan hote hai - ek aadmi aur doosri aurat", but importantly, they too find favour with the audience. 

The music of the movie is good especially the songs Gela gela, Tala tum tala tum and Aankhen bandh karke. Yeh dil tumpe is choreographed well, as well as Gela gela, attractive by virtue of uniqueness.

Aitraaz is not a romantic film, but should run well because it has something different from the standard fare on offer right now.