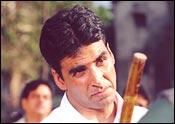 Lethal action finds new meaning with producer Firoz Nadiadwala's Aan: Men At Work.
The bullet fest never lets up in this Madhur Bhandarkar-directed shoot-o-rama. But with the likes of Akshay Kumar, Suniel Shetty, Jackie Shroff, Shatrughan Sinha, Om Puri, Irrfan, Paresh Rawal, and Rahul Dev headlining the cast of this caper, can you blame him?
Read the Sneak Peek of Aan: Men At Work!
Fists do most of the talking here, but here's how the story goes: Akshay Kumar is honest cop Hari Om Patnaik, who gets transferred to Mumbai's crime branch as DCP. He meets encounter specialist Inspector Appa Kadam Naik (Shetty), Sub-Inspector Vikram Singh (Sinha), and Constable Khaled Ansari (Rawal). This motley crew likes to take the law into its own hands: eye for an eye, tooth for a tooth. Think trigger-happy, and you will figure out why no one survives a Kadam encounter!
Honest intentions take the back seat here as these cops succumb to a system rife with corruption, bribes, and the ubiquitous underworld nexus. Which brings us to industrialist Gautam Walia (Shroff), the crooked Home Minister Manik Rao (Mohan Agashe), and the man who's 'don' it all, Yusuf Pathan (Irrfan) — all hand-in-glove in search of more power and more money. It is a web of deceit, double-crossing, and debauchery.
Though Kadam, Singh and Ansari try to weed out the troublemakers of Pathan's gang using the third degree, it is Patnaik who pushes them into toeing the line. They buy his 'criminals are humans too' logic and 'it's not about the pay, but the honour', and see themselves transform into the moral police. Make that police with morals.
But morality returns to haunt Patnaik when members of his own team fall victim to these troublemakers' bullets. When Walia's rival industrialist Ajit Pradhan (Milind Gunaji) is killed by Pathan's goon Yeda, and when Pathan's henchmen shoot at Kadam's wife and child, the police force, including the commissioner (Om Puri), bays for blood.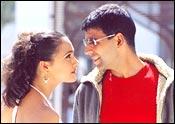 Vengeance is theirs when, post-interval, a helicopter chase and much bloodshed later, the traitors meet with their fate and justice triumphs.
Aan is an ode to the police force. The storywriters (Manoj Tyagi and Sanjeev Puri) don't rest till they have thrown in every issue in the cop's diary — meagre wages, job transfers, a difficult family life — to ensure audience empathy. But the story gets a tad tedious with the many subplots involving all the women.
Raveena plays Roshni, Walia's main squeeze who squeals on him later and serves no other purpose. Preeti Jhangiani (Janki, Sunil's onscreen police wife), and Lara Dutta (Kiran, paired opposite Akshay Kumar) have even less ornamental value.
Another grouse is that director Bhandarkar spends too much reel on introductions. True, it lends depth to the character, but can we please get on with it? The action sequences have been much talked about and do make for some exciting viewing. But whatever happened to moderation?
As for Bhandarkar's style, it is impressive, juxtaposing songs with split-screen action-plus snapshots as the story progresses, shifting to sepia dual tones to highlight moods. Kudos to cinematographer Madhu Rao, who comes up with some great visuals, especially in the song picturised on Lara and Akshay. Musically, Anu Malik does all right, though the item songs with Reema Sen and Gauhar Khan jar, visually and acoustically.
Action heroes Akshay Kumar and Suniel Shetty live up to their sobriquets, turning in power-packed performances. Muscle power never had it so good. Former Union minister Sinha, who took special permission from the prime minister to shoot for this film, has an endearing presence and gets the best lines.
Paresh Rawal, as always, is a barrel of laughs. Irrfan can pat himself for another job well done. Jackie Shroff, Om Puri, Rahul Dev provide adequate support, though Rajpal Yadav and Vijay Raaz aren't made the best use of as comic relief.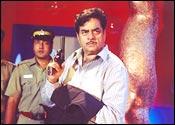 Aan is a technically competent film, but is it moving? No. However, if you fancy an adrenalin rush, don't miss this.
CREDITS
Cast: Akshay Kumar, Suniel Shetty, Paresh Rawal, Shatrughan Sinha, Raveena Tandon, Preeti Jhangiani, Lara Dutta, Jackie Shroff, Irrfan, Vijay Raaz, Rahul Dev
Director: Madhur Bhandarkar
Producer: Firoz Nadiadwala
Music: Anu Malik
Cinematography: Madhu Rao
Story & Screenplay: Sanjeev Puri, Manoj Tyagi