Actor-filmmaker Sachin directs his new Marathi film Amhi Satpute, which is inspired from the 1982 Amitabh Bachchan-Hema Malini starrer, Satte Pe Satta.
Sachin had played the role of Big B's youngest brother in Satte Pe Satta. But in the new film, he plays the eldest brother of the Satpute clan.
In his interview, Sachin has admitted that his film was a copy of Satte Pe Satta, and the Hollywood original, Seven Brides For Seven Brothers. So comparisons with the earlier films is inevitable.
Amhi Satpute is about seven sisters -- instead of seven brothers -- who live in a village. Purna (Supriya) is adopted by Anna (Ashok Saraf), who has six daughters of his own. Anna runs a small restaurant, which is efficiently managed by Purna.
Kandya (Sachin), who has seven brothers, supplies vegetables to them. All the brothers are indiciplined but have a heart of gold. Kandya and Purna get married in a surprising turn of events. He takes her home, very similar to the home in Satte Pe Satta.
Purna's efforts to groom her indiciplined brothers-in-law is on the same lines as Satte Pe Satta but with Marathi phodni.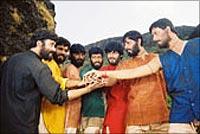 At a dance competition, the boys fall in love with Purna's sisters. On Kandya's advice, the boys kidnap the girls and bring them home. Kandya lies to Anna and they go to Mumbai in search of the girls. But they get arrested in a theft case. Watch the film to know what happens next.
On the acting front, veterns like Sachin, Supriya and Ashok Saraf portray their roles effortlessly. The seven brothers and sisters, especially the youngest brother (played by Swapnil Joshi), make their presence felt.
Atul Parchure and Nirmiti Sawant are wasted in insignificant roles.
Amhi Satpute is not original nor half as entertaining as Satte Pe Satta. It comes across as a confused mix of three films. Sachin had stated that the film will be a big entertainer that people would watch several times. One finds that very difficult to believe!
Rediff Rating: