It seems to me that Ram Gopal Varma doesn't care. Whether you like him or his movies or abhor both to pieces, he doesn't care. 

And so he's boldly gone ahead and hit the axe on his once-celebrated creativity yet again. But this time he made sure everybody knows whose collar to pull by giving it an evidently 'Hold-me-responsible' title, Ram Gopal Varma Ki Aag.

Well, you asked for it, Varma!
Also Read: Ram Gopal Varma ki.. Aargh!


He believes himself to be the biggest fan of Ramesh Sippy's gargantuan blockbuster, Sholay and goes all out to destroy everything the legendary film stands for -- style, grit, showmanship, chemistry, charisma, star power, technique and masala, with this genuinely boring homage.

For starters, it follows the graph of the original but deviates slightly to dwell into unknown subtexts, which frankly, were best left unknown.

The premise is the same albeit in a contemporary backdrop. Revenge is still the key word. An ex-cop Narsimha (Mohanlal) employs two golden-hearted crooks to avenge the massacre of his family at the hands of Babban (Amitabh Bachchan). Before any of that happens, crook 1, Heero (Ajay Devgan) falls for a motor mouth auto rickshaw driver, Ghungroo (Nisha Kothari). Crook 2 aka Raj Ranade (Prashant Raj) meanwhile, sets his heart on the ghunghat-clad, widowed daughter-in-law (of Narsimha) Durga Devi (Sushmita Sen).

Gabbar, now Babban, doesn't terrorise the innocent gaonwalas anymore. He's Mumbai's underworld wolf who has swapped his bullet belt for Chor Bazaar's antique staff.

That out of the way, I'll tell you what's good about Aag for there's not much.

The rustic browns and bronzes of Sholay's mountains and vast rural spaces are replaced with dusty under-construction buildings, factory storerooms and a basti set-up. While Sholay's earthy palette brilliantly inspired the hues of Omkara's bucolic picture, cinematographer Amit Roy shoots familiar Mumbai's rundown lanes with efficiently composed angles and understated lighting. Though the camera's obsession with Nisha Kothari's butt is most off-putting.
 
What's not good?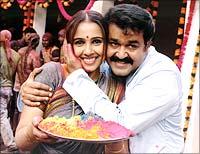 Think Sholay. Think dialogues. Think Aag. Keep thinking. Here, 'Kitne aadmi the?' is reduced to 'Kitne?' and 'Yeh Ramgarh wale apni chokariyon ko kaun chakki ka atta khilate hain?' is tamely altered to 'Kya khaati hai re tu'? Writers Sajid-Farhad, unfortunately, lack the sensibility and mirth of Salim-Javed's crisp drama and keen wit. But the duo sure seems to watch a lot of news. All their analogies designed around Big B's punch lines are born out of the ongoing US-Iraq/Al Qaeda conflict. 

While Sholay left behind a legacy of memorable characters like Gabbar, Thakur, Jai, Veeru, Basanti, Soorma Bhopali, Mausi and even Dhanno, Aag is, essentially, about Babban and everything he does. The rest is all incidental, even Narsimha getting back at him.
The opening credits smugly declare: Introducing Amitabh Bachchan as Babban. Needless to say, it's an unimpressive debut. Big B going on a hamming spree. Unlike his performance in Aks, where he conveyed ferocity with finesse and restraint, here he's just plain weird and batty. The tuberculosis-like laughter only adds to our disbelief.

Aag doesn't evoke any fond nostalgia. Even when AB re-lives some of his Jai memories, playing the mouth organ and whispering 'Sholay, sholay, sholay…' or when the old Jai comes face to face with the new one, no golden moment here. 

Ramu's obsession with Sholay's Gabbar is almost sweet, in a nightmarish way. It's like you are led inside a little guy's head (he must have been a boy when Sholay came out in 1970s) and his fascination with a larger-than-life big bad bearded boy from the movies. Being Ramu, anyone? Only if Charlie Kaufman is writing.

Watching a whole scale destruction of some of your favourite scenes in Sholay isn't a pleasant sight. Heero's drunken fury, for one, is quite an anti-climax to the famous 'Gaonwalon' sequence. Also imagine Helen having a post-Mehbooba yak with Gabbar. Shuddering thought, you may think. But curious Ramu finds out with an extended and meaningless scene between Urmila Matondkar (outdoing Daud's skin show in a kinky version of Mehbooba, also featuring an unnecessary Abhishek Bachchan) and AB.

While casting remains an unsurpassed ace in Sholay's glory trove, Aag could volunteer as a model for miscasting. There's no chemistry between Heero and Raj, Heero and Ghungroo, Raj and Durga, Durga and Narsimha, Narsimha and Babban or Babban and us.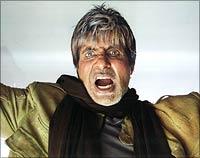 Sushmita Sen conveys the strength of her Durga with refined grace while Prashant Raj (bears a striking resemblance to Heroes' Sylar and speaks with a thick Punjabi twang even when he's playing a Maharashtrian guy) shows spark.
Ajay Devgan is completely wasted in a role that doesn't do anything for him. The National award-winner is just one of the many guys in the frame, albeit a thug who wears designer crinkled shirts. His leading lady, Nisha Kothari, as seen in James and Shiva, continues to confuse making faces for acting. Mohanlal is suitably subdued and the most believable of them all.

Another letdown is the film's action. Ramu's films have always boasted of breathtaking thrills and Aag naturally begs for such treatment. But save for Bachchan going 'poof' in everyone's face, there's not really any hard-hitting dhishkyaon or dishoom. Key characters are bumped off so casually that you're not even sure they really died. It's not even funny. Hell, Aag isn't even corny. Instead, it's flat as a lasagna sheet. Oh how you miss the bustling horses of Sholay!

The simple reason why Aag fails at every level is that it doesn't evoke an ounce of fear. In the seventies, when Gabbar Singh happened, viewers were only used to nasty oppressive landlords or gun-totting bandits. Gabbar was not just evil. He rejoiced in it too -- a vicious and crazy dacoit who enjoyed slow torture. That's what made him so daunting. He was, perhaps, one of the earliest cold-blooded tyrants in Hindi cinema's history of villains. Since then his legacy has been carried forward with ferocious enthusiasm through reel-life criminals like Mogambo, Dr Dang, Kesariya Vilayti and Langda Tyagi.

Babban comes to an audience immune to gore, violence and persecution. No matter how hard AB dilates his pupils or growls like a Bengal tiger, he isn't creepy enough.

Going by the feedback in the theatre, Aag is bound to receive extreme reactions. But then, like I said earlier, RGV doesn't seem to care. You know what? Ditto.

Rediff Rating: