Home > Movies > Reviews

Ram Gopal Varma ki.. Aargh!

Raja Sen | August 31, 2007 14:12 IST



It's kinda fitting that Gabbar is now called Babban.

Because Ram Gopal Varma Ki Aag, ladies and gentlemen, as its title suggests, is a B-movie. It's like one of those TLV Prasad films of the 1990s that revels in its mediocrity, the kind of film that wouldn't normally get a theatrical release in Mumbai except for the stray morning show in a ramshackle single screen theatre.

Except that this time it's a Ram Gopal Varma movie, a mega-hyped vehicle of gimmick and bluster, and thanks to the casting decision of Amitabh Bachchan [Images] as the film's villain, occasionally elevated to, well, a Big-B-movie.

A B-movie, of course, can still be a work of art. As a filmmaker, you can choose to embrace the unreal, overdone style of (seemingly) slipshod filmmaking for its very lack of boundaries and aesthetics rather than against, directing inside the tacky box and painting everything super-bad with a delicious layer of postmodern irony -- in short, something so bad it's good.

This is how I chose to watch the new film, deciding that it's about the glory of unashamed hamming and the joy of the larger-than-life. I sat back, winced in the uber-badness of it all, and managed to actually survive through the first half. I can't say I liked it -- I doubt anybody can, really -- but it left me with some hopes of exciting action setpieces or interesting confrontation moments.

Post-interval, I failed. I really, really wanted to like Aag, to enjoy it for its sheer, (hopefully) contrived badness, but this was a dismal battle. This film is horrid beyond belief. Or redemption.

It's not that Ramu doesn't try. Varma's always been among the most excellent framers in the business, and here the master shot-composer goes funky and classic at the same time. Making cinematographer Amit Roy constantly tilt his lens at our actors, going from Sushmita Sen's [Images] dupatta to Mohanlal's beard in one fell, overemotional swoop aided by great angles and a constant movement. Even Ramu's ever-intriguing camera has never seemed this dynamic, often idiosyncratic here as he whimsically follows the trajectory of an apple here, a corpse there.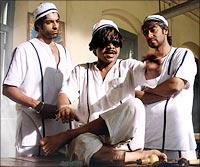 It's just that he doesn't really have anything to shoot. A lazily written half-baked script is overcompensated by the one man most responsible for single-handedly crippling a large part of RGV's oeuvre, Amar Mohile. The background-score man is in characteristically painful form, hitting constant ear-splitting melodrama as a bunch of non-actors are given a heavy load, while those sharing a half-dozen National Awards between themselves (Mohanlal 4, Ajay Devgan [Images] 2) are trapped by caricatures. Which aren't even remotely inventive.
And then there's Amitabh Bachchan. His Babban Singh (it's really hard not to giggle at all of the character names) is a uniquely twisted individual, with onebrown-onegreen eyes like an erstwhile Bausch & Lomb model, limping menacingly in combat boots and a military jacket. He's initially engaging, turning the cliche around to paraphrase immortal lines with brevity, and putting himself on the line during a compelling game of Russian roulette. Bachchan gamely gets into the character, slithering and hissing as he readies to strike fear in the hearts of faraway crying kids and policeman's wives.
While Amitabh does indeed provide commendable steam to the sinking ship, Babban is so over-written it hurts. He does superbly with a one-liner and a piece of fruit, but the frantic anxiety to make him Bollywood's greatest ever villain is all too visible as the character is loaded with bizarre lines about America and Al Qaeda [Images]. And let's not forget the Osama nod, with Babban suddenly cloaked in black a la Skeletor. Add to this a snaky tongue, a laugh that can't choose between ominous shudders and raspy hisses, and a Castor/Pollux complex that obviously stems more from Face/Off than Greek mythology. Plus he even does the Himesh Reshammiya [Images] air-bite, you know, the one after that far superior Mehbooba.
Amitabh conjures up some great moments, but he was a better villain in Aks [Images].
Mohanlal is the film's protagonist, Narsimha, an improbably overweight encounter cop with a justifiable vendetta against Babban. He's a fine, restrained actor but despite a Hindi accent to rival Inspector Cousteau, is made to speak entirely in farcical, formulaic tripe. The best of performers would struggle, and this man -- certainly among the finest Indian living actors -- seems to give up the chase for greatness halfway through. I would, however, like to know how to throw a steak knife without using your fingers.
The rest of the characters, well, the lesser said the better. Surprisingly, newbie Prashant Raj [Images] emerges as the most tolerable of the bunch, but then again his role simply requires him to look, well, tall. Sen dresses in black and pretends to be stoic but constantly cries, looking like she's auditioning for Vaastu Shastra [Images] 2. Rajpal Yadav pipes up with a comic act limited to squeakily plugging Varma's next release. Sushant Singh plays a valiant Tambhe. Abhishek Bachchan [Images] chubbily comes on in a one-song cameo, with Urmila Matondkar [Images], the latter forcing Babban to utter the most gimmicky line ever.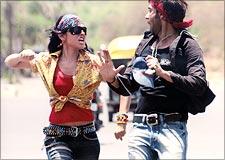 Special criticism must be reserved for Devgan and Nisha Kothari [Images], who play Heero and Ghungroo. In one of current cinema's worst leading pairs, Ajay unfathomably plumbs new depths of idiocy with this follow-up to Cash. Kothari can't act -- or look remotely good -- but has acres of script-space, and has to explore everything from comic timing to hysterical weeping, which isn't a smart script choice. As Devgan pulls a pistol to his head to make suicide threats, we sorely wish he'd pull the trigger.
Ram Gopal Varma might have started out -- I see no better explanation -- to make a so-bad-it's-good kinda B-movie, but tragically hurtled past the stop-signs and ended up with, quite simply, a so-so-bad film. It's the director's most depressingly disappointing work.
Ramu is a maverick, a director usually given to laughing at critics and scathing reviews, which is as it should be. The scary thing is that he might just truly believe Aag is a good movie. I pray not.
Rediff Rating:

Want to see this movie? Check out Rediff Movie Tickets!