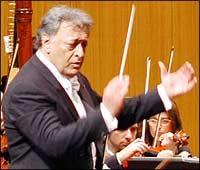 After enthralling Chennai audiences with his music, internationally acclaimed conductor Zubin Mehta weaved his magic at the nation's capital on December 28 to a spellbound gathering, which included sitar maestro Pandit Ravi Shankar.
The music played by Mehta, who led the Bavarian State Orchestra, included compositions of Beethoven, Franz Schubert and Giuseppe Verdi. Interestingly, while the current trip to India is the orchestra's first, it is the last major tour of the maestro with the orchestra after an eight-year-old stint.
Julius Georg Luy, the Charge d'Affaires of the German embassy, said the partnership between the Indian conductor and the Bavarian State Orchestra is an outstanding example of an Indo-German meeting of musical minds.
The concert takes place on the eve of the year 2006 when India will present its immense cultural wealth at important events in Germany, Luy said. India will be the Guest of Honour at the Frankfurt Book Fair and Partner Country at the Hanover Trade Fair. It will also be the focus of the cultural festival, Bonn Biennale 2006, Luy said.
The maestro conductor made a special mention of Ravi Shankar. "I pay my tributes to my dearest friend and the greatest musician of India, Ravi Shankar. It has been a long time since we made music together. I will never forget the last time we worked together," Mehta said, at which the sitar legend stood up and acknowledged the tribute.