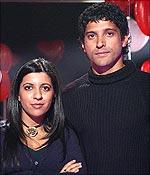 One-film-old Zoya Akhtar is onto her next project, casting brother Farhan once again in the lead.
Neha Bhatt caught up with the filmmaker about her next movie, the star system and the changing Hindi film industry on the sidelines of Osian's Cinefan film festival in Delhi.
Do you believe you are part of a fresh league of filmmakers who are creating what is being called "new cinema"?
I'm not sure about being clubbed in a category such as new cinema because I have never really understood the whole commercial cinema versus arthouse films debate. At the same time, it's true that a new pattern in the Hindi film industry is emerging, where filmmaking is not as formulaic anymore as it used to be. It's a trend similar to what happened back in the 1950s and then the 1970s.
What else is changing in the industry?
More than anything else, the audience is changing. Filmmakers and offbeat ideas were always there, but now, several avenues have opened up for a wider variety of films.
So where does your film Luck By Chance fit in?
I think certain films have a different life altogether, some belong to the festival circuit cycle. I made my film for anyone interested in the film industry and keen on seeing the flip side of it. I didn't want to make it a gossipy tell-all or an expose of any kind. It is a human story about success and failure and about star systems. I wanted to show how the film industry works around a family culture. My lead characters are people I have met in the past as a casting director and I found their lives very fascinating.
You have had the advantage of having star parents (lyricist father Javed Akhtar and scriptwriter mother Honey Irani)...
Honestly, I haven't been as much a part of the industry as it may appear. I have pretty much lived on the fringes. For my arty friends, I am too Bollywood and for my Bollywood friends, I am too arty. So quite often I feel like a fish out of water.
You're obviously more at ease working with Farhan and your father in your films. Is that a comfort zone you are getting into?
No, I would love to work with other actors too.
I wanted to cast Sanjay Kapoor in the film actually. There is no dearth of actors in the industry. I believe there is a role for everyone there. So I would like to work with a lot of other actors, too. But when you're writing the script, you just know who would be perfect for which role.
Right now, what you are working on?
It's a coming-of-age film about three boys, set in Spain. It's a short film, shot as a road movie. One of the boys will be played by Farhan but the rest of the casting isn't done yet.