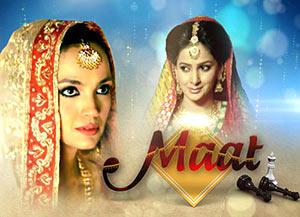 The television shows aired on Zindagi channel are intelligently scripted and elegantly mounted, writes Rinki Roy Bhattacharya.
A chance remark about Zindagi channel's women-sensitive content made me curious enough to switch it on. The channel airs Pakistani syndicated shows in India.
What I discovered were intense human dramas of love, betrayal, deception and exploitation, with a special emphasis on man-woman relationships.
Few other channels portray complex human drama with such undivided attention, especially in a society conflicted by political ideology.
The stories aired on Zindagi are intelligently scripted and elegantly mounted.
Pakistani cultural values are at play in these stories and yet they have a universal appeal. Human emotions are so alike in most cultures, that these stories could be staged anywhere from Lahore to London.
I stumbled on the channel at the precise point when the poignant Maat had reached its suspenseful second half, and have been a regular watcher since.
Zindagi's realistic portrayal of Pakistani society does not shy away from showing its ugly underbelly.
The people we see are real, their aspirations and frustrations very convincing. This is one of its greatest triumphs.
Kahi Unkahi, for example, is preoccupied with a class-ridden society where the working class is treated with contempt bordering on inhumanity.
Zindagi Gulzar Hai is about campus life, student politics and the youthful romance between two students, who hate each other and then prove that opposites attract.
In Kaash Main Teri Beti Na Hoti, a nobleman hires the womb of a pretty but poor girl with the intention of discarding her once the progeny is born. It is a shrill melodrama, rather like our familiar telly dramas.
Zindagi has successfully seduced urban Indian viewers, especially those who can recall Dhoop Kinare and Tanhaiya from 30 years ago.
Indian viewers fell head over heels in love with the bubbly intern, Dr Zoya in Dhoop Kinare. Viewers held their breath as her romance with Dr Ansari progressed quietly in its old fashioned style through stolen glances and unspoken words. A dear friend recently confessed he is waiting to find a Dr Zoya! The compelling power of this medium cannot be ignored.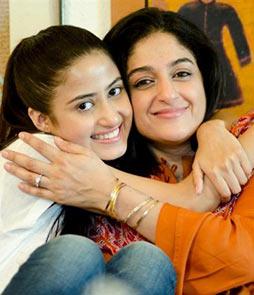 The Zindagi channel also shows some fine telly films, such as Behadd, a deceptively simple love story.
The film explores a relevant universal concern -- the guilt single parents suffer in asserting their individual choice.
It revolves around an attractive widow, who is a working mother. Friends, including her boss, worry about the way she is raising her 15-year-old daughter Maha. If the mother is overprotective, the daughter is fiercely possessive.
The opening scene establishes Maha's power over her mother. It is obvious that Maha resents sharing her mother. Maternal fragility and the overwhelming emotional demands of selfish adolescents are familiar issues in any contemporary urban society.
The Behadd subtext gently probes how younger men find older, mature women less challenging and thus extremely desirable.
Into the cosy mother-daughter nest bursts Jamal or Jo, the kid brother of an old friend. Jo and the mother begin to catch up in earnest. Jo's engaging personality casts a spell on Maha.
The mother attempts to match-make for Jo with disastrous results. Unknown to her, something unexpected -- and beautiful -- has happened.
One afternoon, Jamal whisks the mother off from work to an elegant apartment. As she admires the flat, she remarks that it is time Jamal settled down.
In this beautifully crafted intimate scene, as the two sit on the steps, Jamal admits he has indeed found someone. Enthusiastically, the mother asks, "Who is she?"
Without taking his eyes off her, Jamal pulls out his cell phone with her image. The mother protests. But Jamal persists, why not?
For the mother it is a moment fraught with guilt, conflict and challenges that many women will identify with.
Before convincing Maha, she has to convince herself. Holding Maha in her embrace one night, she gently breaks the news that Uncle Jo wants to marry her, and adds that she will do nothing without Maha's consent.
Scenes of intimacy between the mother, daughter and Jamal are imaged tenderly. The mother finally accepts the inevitable. All is well until she asks Jamal to collect Maha from school.
When she returns home, she is horrified to find a hysterical Maha with the distraught Jamal in pursuit.
It is unclear what has actually happened. From that moment, their idyllic world is shattered. Jamal is shut out of their life. Whether it was a case of imaginary child molestation, or Maha's obsession with Jo, the film leaves unsaid.
The lighting and overall production design brings out the poignancy of each moment.
The resentment of children, their opposition to parental freedom, and the guilt involved, is dealt with sensitively. In most cultures these affect women deeply, but rarely do we see these issues on the screen. And it is even rarer to find them handled with such mature understanding.
Writer Ahmed and director Asim Raza have produced a taut screenplay. The chiselled Urdu dialogues and effortless performances from a supremely gifted cast are sure to seduce.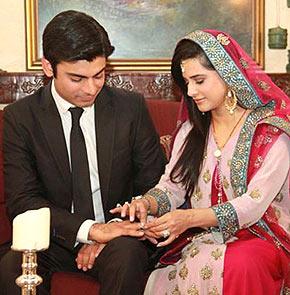 Fawad Khan is superlative as Jamal. He made an irresistible Zahrul in Zindagi Gulzar Hai. We will see this popular lover boy of Karachi in the new version of Hrishikesh Mukherjee's Khubsoorat and later in Humsafar.
The Zindagi channel has restored legitimacy to the electronic media by bringing us stories close to our experience, that have far reaching impact on family, on gender equations /relationships and that bare an entire network of emotions.
I strongly recommend the channel for those looking for meaty drama.
In Mera Ishq Gumsuda, the heroine, Alize -- a feisty, modern, vulnerable woman -- will remind you of Sally from When Harry Met Sally, who believed that marriage between good friends is the end of friendship. This particular serial promises to prove the season's best.
Zindagi has made me a couch potato. On a serious level, it offers non-conformist, meaningful television. It is endearing and compulsively watchable.