'Amitji called me after he watched the film and spoke for half an hour.'
'He said, "According to me, this is your best performance till date".'
'"I feel like seeing the film two-three times just to watch your important scenes".'
'I was really thrilled.'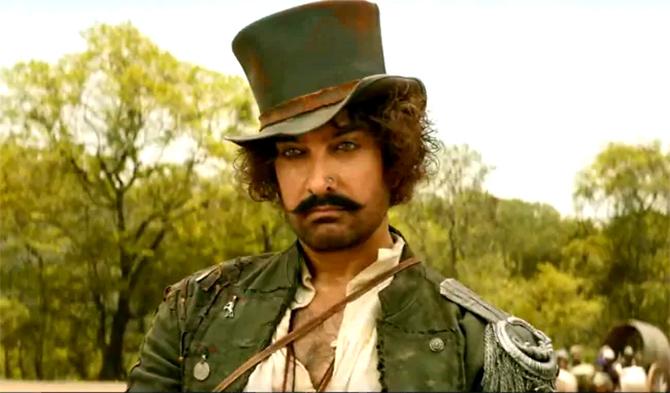 Aamir Khan usually prefers his comfortable track pants, a loose t-shirt and slip-ons when he settles down for an interview with scribes.
This time, it's different.
He's handsomely dressed in a purple-black kurta pyjama, brown shoes and rimmed glasses.
As he takes in compliments, he confesses, "My team forced me to dress up like this because it is Diwali. Otherwise, I was coming in shorts and a t-shirt."
In an hour-long chat, Aamir discusses his big Diwali release Thugs of Hindostan, working with his dream actor Amitabh Bachchan, his equation with his Dangal proteges and, of course, Katrina Kaif.
"Katrina is not from this planet. She is an alien from some other gola," Aamir tells Rediff.com Contributor Urvi Parikh.
You have a movie release on Diwali after 22 years. Raja Hindustani had released in Diwali 1996.
I feel good since it is after Raja Hindustani.
Two years have gone into making this film.
Let's see how people like it.
It's an ideal release for Diwali -- it does not have a social message.
It's a film you are meant to enjoy and have a great time.
It has great action.
Amitji and I are coming together for the first time.
It is a kid-friendly movie.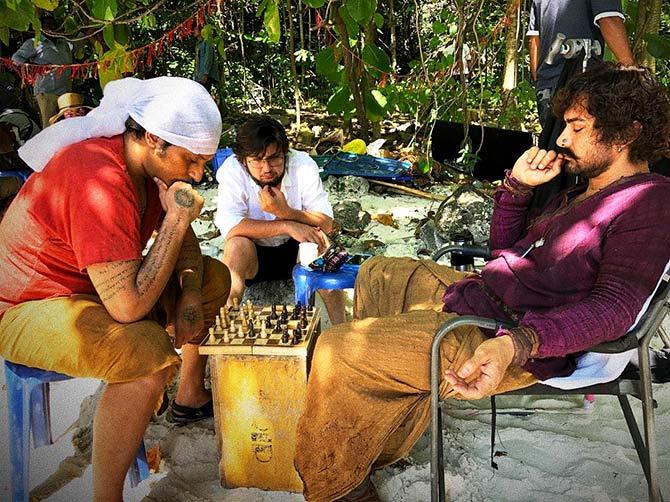 It was your dream to work with Amitabh Bachchan. How was the experience?
Really amazing!
We had planned on working together twice before, but it didn't work out.
I was very excited and nervous about working with him.
I did not know how it would be, how I'd perform, but Amitji is a very warm and generous person.
He makes you comfortable.
But he has a very dry sense of humour, so you don't know whether he is joking or not. It takes time to understand.
I took time to understand whether I am suppose to laugh at his statement or take it seriously. If he is serious and I take it as a joke, then it is an issue (laughs).
Can you share any anecdotes?
I had spoken to Shah Rukh before working with him.
I have a habit of smoking, so I was concerned if I could smoke in front of him.
Shah Rukh said, 'Yaar, main toh karta hun unke saamne smoke. Kabhi aise poocha nahi hai. But woh kuch bole nahi toh I am assuming he is fine with it.' (Laughs)
(Photographer) Avinash Gowariker was also there.
Then one day, Amitji and I went for a movie in Malta; we had wrapped up work early.
Fatty (Fatima Sana Sheikh), Amitji and I went walking to watch the movie.
That time, he asked me, 'Aamir, aapne Shah Rukh se poocha if you can smoke in front of me?'
I was zapped for a bit, then I said yes.
He said, 'Mujhe Avinash ne bataya. I have no issues with it, but it is not good for your health.'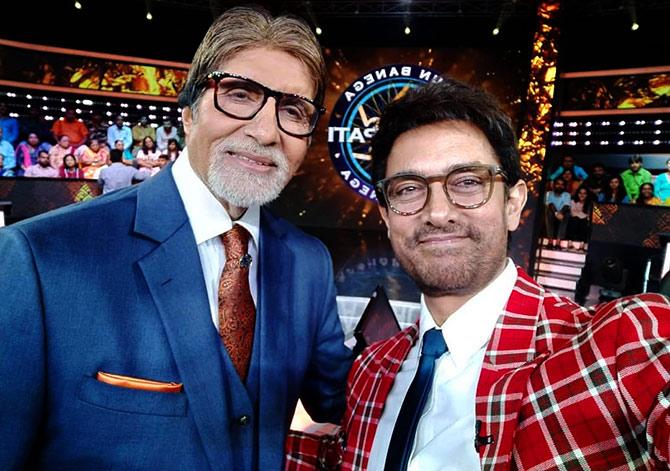 What is your best memory of Amitabh Bachchan as a fan?
I have a very bizarre memory.
Once, when I was young, (brother) Faisal, (sister) Nuzhat, some of my siblings and I were browsing through a film magazine.
There was a double spread feature on the upcoming stars in Hindi cinema.
A few passport-size photos of a lot of fresh faces was printed.
I remember looking at the pictures and laughing.
One of the photographs was of Amitabh Bachchan.
After a few years, I saw him become this legend that he is, and I was wondering, 'Oh my God, I was laughing at this man in whose awe I am now!'
I told Amitji about this bizarre memory and he was stunned.
How would you describe your equation with him?
I am like a person who is a little overawed by him.
But since he is very warm with me, I take a lot of liberties with him.
Did he say anything about your performance in Thugs of Hindostan?
He called me after he watched the film and spoke for half an hour.
He said, 'According to me, this is your best performance till date. You've really caught the accent so well. I am from that area, so I can tell you. I feel like seeing the film two-three times just to watch your important scenes.'
I was really thrilled.
How do you think Fatima Sana Shaikh has performed in the film? Has she grown as an actor from Dangal?
She has done really well. She has some really tough action scenes.
She is very hardworking.
I am so happy for her and for Sanya (Malhotra) who recently had two releases (Pataakha and Badhaai Ho).
I hope Fatty does really well in life.
Even Zaira (Wasim) is doing another film (The Sky Is Pink).
When I see these girls doing so well, I feel really happy.
I have to watch Pataakha and Badhaai Ho, but I am very happy that Sanya is being appreciated.
Do you get this proud daddy feeling when you see them doing well?
(Laughs) I wish they treated me like a daddy!
They treat me with most disrespect. They bully me.
Have you seen us together?
The way they behaved with me on Koffee with Karan, that's exactly how they are with me in real life.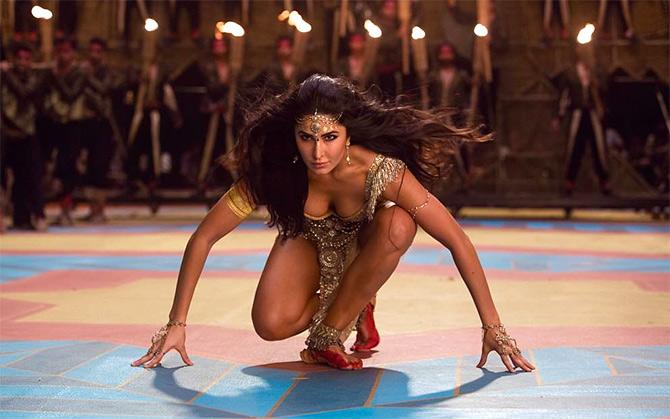 Was it difficult to match steps with Katrina Kaif?
Oh she is so good!
Luckily, I don't have to dance dance with her. I am just fooling around.
But when I saw what Prabhudeva had choreographed, I was like 'Katrina toh gayi.'
But she surprised me with her efforts. Usne kar dikhaya.
She is not from this planet.
Katrina is an alien from some other gola. She is flawless as Suraiyya.
Why did you choose to play Firangi Mallah?
His character is so attractive that I just had to play it.
It's a very well written part.
He is a very unusual hero.
I have never seen a character in Hindi cinema which is so unlike a hero.
Firangi is enjoyable, but not a good guy, not someone you would want around as a friend.
You want to watch him from afar.
There will be times in the film when I hope you'd feel, 'How did he do this? How can anyone do this?'
But Firangi actually does all of that.
There will be times when the audiences will not like me.
Was it challenging to play Firangi?
Absolutely.
In fact, it's one of the toughest roles of my career. I had to walk a very thin line.
Firangi is a very unreliable character. He wins your trust only to stab you in the back later.
So when winning that trust, I need to look very sincere. I have to make you believe.
At the same time, he is also playing to the galleries.
Therefore, if I tilt a little too much to playing to the galleries, then the characters in the scene will see through me.
And if I am too real, I won't be enjoyable.
It was a task to be real for the character, but at the same time, ensure that the audience enjoys what you are doing.
Firangi's look is interesting. That nose pin was your idea. How was it designed?
Little details. Like when we decided to give Firangi curly hair.
So I was asked to grow my hair.
At the time, I was doing Dangal, so I had very short hair.
Interestingly, the hair grew curly on its own (laughs). Meri life me mere baal aise curly kabhi nahi hue (My hair has never been so curly in my life).
What you see in the film is my natural hair.
Firangi's nose stud was designed after what a classmate used to wear when I was in Class 2. He was from Sind and had newly joined our school.
We were zapped when we first saw him, and it got stuck in my head.
So when I was thinking about Firangi, I thought a nose stud would be apt. It brings namak to the character.
I was shown a lot of designs, but this one stuck in my mind.
Is Thugs of Hindostan based on real events?
Our film is not a historical film about the thugee period.
A lot of people have written that it is based on some book. It is not.
It is a fictitious story set in that period.
It is an action adventure film, not a serious historical film.
It isn't very patriotic either.
It's more like a Manmohan Desai film, like the ones we used to watch in the 1970s.
It is also pretty universal and child-friendly. There' s no blood. Action hai but mazedaar action hai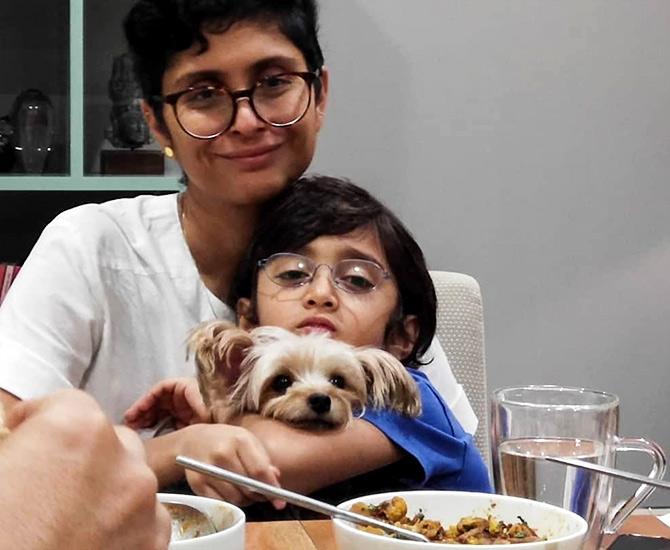 Has your younger son Azad seen it?
Azad is not into movies. He likes watching cartoons.
Maybe when he is a little older, he will watch it.
Right now, he has watched half the film.
He asked me, 'Papa, why is it called Azad?'
I said because he is trying to copy you. He was thrilled!
Aamir, a lot of comparisons are being made between Firangi and Jack Sparrow. Was he ever a reference in developing your character?
I don't think Victor (Vijay Krishna Acharya, director) wrote Firangi based on Jack Sparrow.
Intrinsically, they are similar characters because dono badmash hai.
But I think you will forget Jack Sparrow after watching Firangi.
Since your movies do well in China, when is Thugs of Hindostan releasing there?
Most likely in January.
The tickets of Thugs will cost the audience at least 10 percent more than what they paid for watching Sanju. Don't you think such a hike is unfair?
Personally, I am always for having tickets cheaper.
I believe we should have more economic theatres so that everyone has the opportunity to access a film.
But I understand why YRF (Yash Raj Films, the producers) wants to price it differently.
Thugs was a very expensive film.
Also, Indian audiences have not watched a spectacle like this before, so the experience will be worth their money.
But I am happiest when more people get to watch my film and appreciate it.
In fact, when 3 Idiots became a hit in China, it was because people there downloaded it and watched it on laptops and mobile phones. So Mr (producer Vidhu Vinod) Chopra would have been very disappointed, but I was happy since a lot of people saw it (laughs).