'How is it okay for a woman to show her private parts to the world just because she wants to go to the toilet?'
'She can't show her face -- you want her to pull her ghoongat till her navel -- but you are okay with her flashing to everybody!'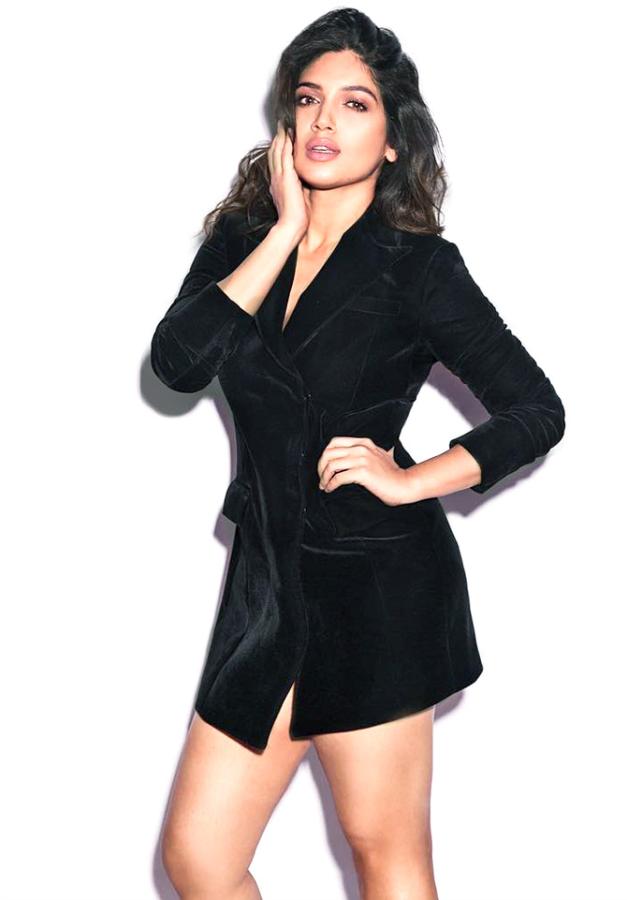 Photograph: Bhumi Pednekar
"Guys, I am just going to sit comfortably," says Bhumi Pednekar as she folds her legs up on the sofa.
"I am very exhausted," she explains.
Wearing minimal make-up, her hair cascading down, Bhumi is dressed casually in black track pants with a white-striped T-shirt.
She has strong opinions and validates every statement with a clear justification.
Her new film Toilet: Ek Prem Katha, opposite Akshay Kumar, takes up a social cause that she seems to feel very strongly about.
"It was heart-wrenching for me to know how much women suffer because of no access to toilets," Bhumi tells Rediff.com's Jahnavi Patel.
In our country, when we say 'toilet', the first reaction is 'chee.'
Not having a toilet at home is a big issue, and yet, we laugh over it.
Why do you think so?
I didn't realise how grave this situation was until I had read the script.
The one line of Toilet: Ek Prem Katha was, for me, a great love story where the toilet is a villain.
I come from a privileged background where I have always had access to a toilet.
So for me, this issue was as superficial as 'arre, government bana nahi rahi hai (the government is not building toilets).' Sanitation issues, hygiene issues...
When I became part of this film, that was when I realised how big the situation was.
And that's why it is an international problem. There's a reason why the UN picked this as the top five issues in the world.
It was heart-wrenching for me to know how much women suffer because of no access to toilets.
And it's not because the government doesn't make them. It's because of the mindset.
They believe that if I do the 'pure' act of cooking in this house -- and sleep and breathe! -- how can I take a dump there?
They don't realise that it's not an impure act. It's as natural as breathing.
I am a Bombay girl. I remember when I used to go to school every morning, I would see people sitting outside the chawls I'd pass, with an umbrella and doing their business, and I would be like chee.
We use the word sandas (Mumbai slang for defecation), but it has a bad connotation to it.
Nobody says 'toilet' or 'shauchalaya' of gusalkhaana.
But that's not what our film is about.
Our film is a love story that highlights a socially relevant problem of open defecation.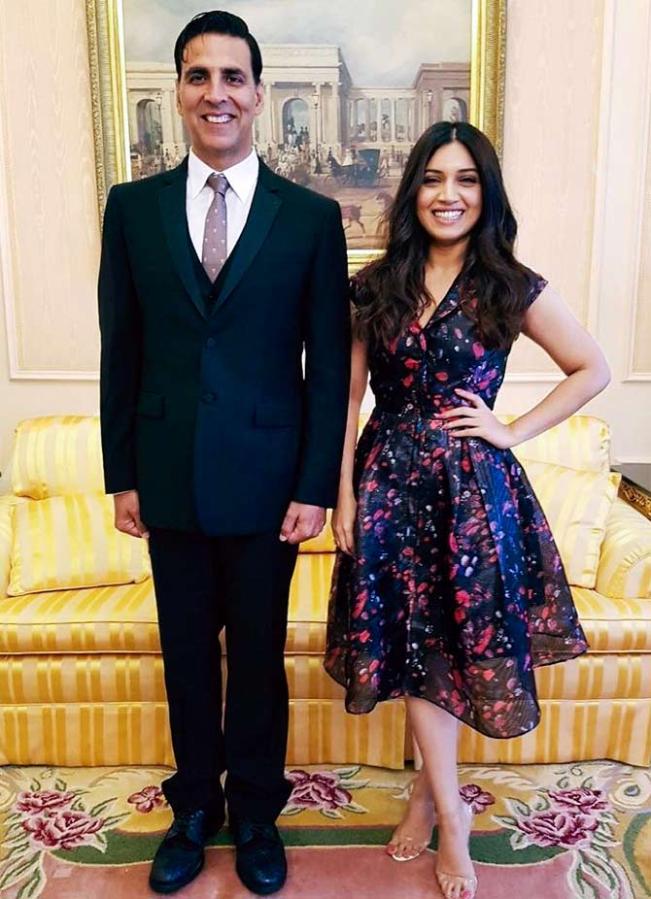 IMAGE: Akshay Kumar and Bhumi promote their film in London. Photograph: Kind courtesy Akshay Kumar/Instagram
Did you meet women who raised such issues?
Oh, definitely!
Anita Narre and Priyanka sort of became the face of this issue.
Our film is inspired by true incidents. It's not set on a certain girl's story, but inspired by what these women have done.
Anita Narre comes from a backward socio-economic class. For her to leave her husband the day after marriage... the pressure that they have to face is not the same as we girls would have to.
Her father probably took a loan and sold off his entire farming land for her to get married.
But not having access to a bathroom is a violation to every right of ours.
So I did meet a lot of these women and it was shocking to see how troubled they were.
There is this one scene in the film where I had to act that I am defecating in the open.
I just couldn't get myself... it's so humiliating to pick up your clothes and squat to do something that is so private.
Also, these women don't have any peace of mind.
They don't know when they will be raped or when a boy will click a picture or video.
They have to walk 3.5 to 4 kilometres away from their house every day, why?
So that they can take a dump?
And they can go only before the sun rises and after the sun sets.
The sad truth of our country is that Indian women don't get a moment of rest.
But this film will not be preachy or even have that tone.
It is an out-and-out entertainer.
You will be laughing for the entire duration of the film.
It will not be slapstick, but will be sensitive to women.
The two characters -- Keshav and Jaya -- are madly in love.
All they are trying to do is so that they can be together.
In the path of doing that, their purpose becomes bigger.
After watching this film, people will be overwhelmed by a sense of love, but at the same time, as a responsible Indian citizen, you would want to see some sort of change in your country.
I really hope there is a mindset shift after this film.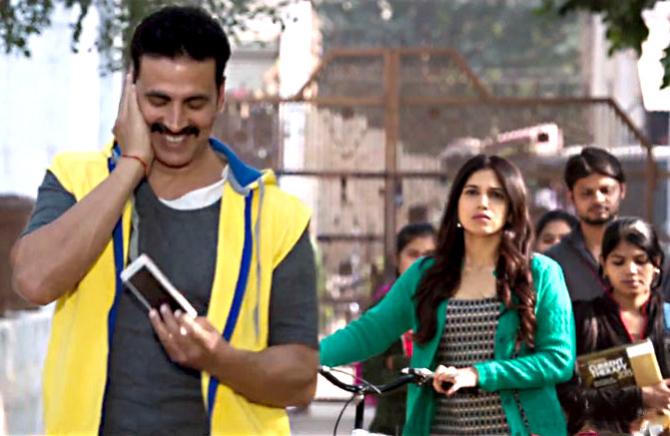 IMAGE: Akshay Kumar and Bhumi in the Hans Mat Pagli song.
There was a controversy surrounding the song Hans Mat Pagli, when people said it promoted stalking.
I am an opinionated feminist.
I can never say or do anything against women.
I come from a family where it's just my mother, sister and me. That's the surrounding I've been brought up in.
We, as a team, thoroughly condemn stalking. It is not an act that is appreciated anywhere.
Our film is not about that nor do our characters trouble each other.
It has been interpreted differently. There is not a bit of emotional harassment in the film.
Tell us about working with Akshay Kumar and Divyendu Sharma..
Dviyendu is a fine actor. He made us so believable and real in the set up.
I really hope that we do films together.
His chemistry with Akshay sir is mind-blowing.
I have utmost respect for Akshay sir.
I am so lucky that my second film is with somebody like him.
There are so many humanitarian things that I have learnt from him.
His behaviour towards a spotdada or me or my director is the same. He is never condescending.
He is a happy person who believes in spreading happiness.
He is so professional, always punctual.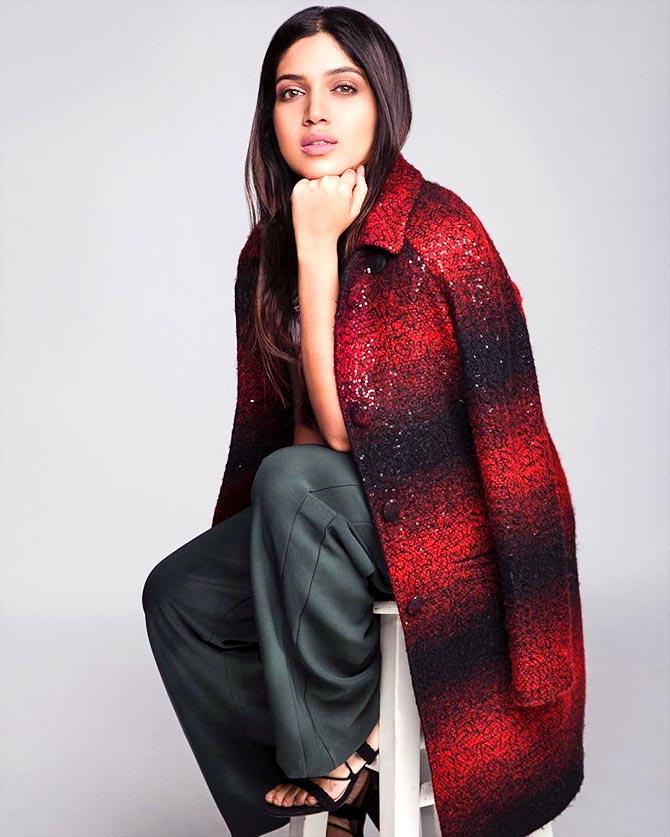 Photograph: Bhumi Pednekar
In an interview, you said that men are MCPs and their parents are to be blamed for it.
Absolutely! But not all men, how can I say that?
It can't be all men because I have seen how men have evolved.
A majority of our population are MCPs and I blame the mothers because they have not told their children that listen, what your father has done with me is wrong, you can't do that with your wife or any other girl.
It shocks me when rapes happen and the mothers say 'baccha hai, galti ho gayi.'
So I never generalise, but yes, when I make a comment on my country, I mean the higher population of this country.
Even if they are educated, they will troll actresses on the Internet, circling their cleavages, circling disrespecting parts of their body and putting it on the Internet.
Actresses have always been an easy target on the Internet.
Women have always been an easy target.
We come from such a long line of suppression.
Actresses might be trolled, but they have such a strong support system that they really don't get affected by it.
My heart goes out to the women who have nothing (Bhumi means no support system).
The chances of me getting trolled are very high because of the films I do.
But I only read the good things. The moment I see (something bad), I skip it.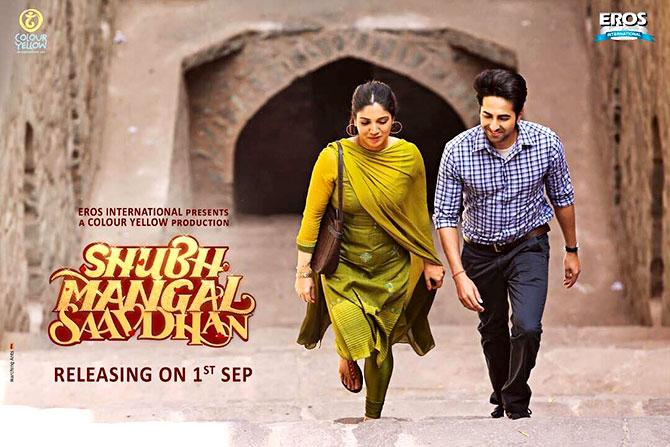 IMAGE: The Shubh Mangal Savdhan poster. Photograph: Kind courtesy Bhumi Pednekar
Your next film Shubh Mangal Savdhan is with Ayushmann Khurrana. The two of you were also doing Manmarziyan.
This is not Manmarziyan, it is a different project with the same makers.
The entire set-up is the same, but the script is different.
class="rbig"So Manmarziyan has been shelved?
I don't know.
It's still on the back-burner. It's something we don't talk about because we have moved on.
It's a beautiful story.
There are a lot of things in the pipeline.
Next year is going to be very good as well.
What is your criteria for selecting a film?
I pick scripts that I would like to watch.
I have grown up being exposed to a certain kind of cinema.
I have certain sensibilities that I am proud of.
So when I read a script, I ask myself if I would like to watch it.
If the answer is yes, I tick that off the list because only then can I do justice to it.
Secondly, I concentrate on my character and the story.