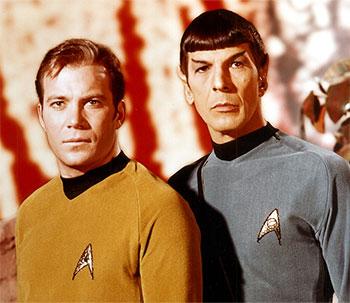 William Shatner took to Twitter to lament that he will not be able to attend the funeral of Leonard Nimoy, who died Friday after battling lung disease.
The 83-year-old actor said that he won't be able to make it back in time for Nimoy's memorial in California because he's scheduled to attend a Red Cross Ball in Florida, Us Magazine reported.
The Canadian actor continued that he felt awful about missing the funeral of his dearest friend and beloved Star Trek co-star and wishes he could be in two places at once.
'I feel really awful. Here I am doing charity work and one of my dearest friends is being buried,' Shatner tweeted.
William Shatner played the memorable Captain Kirk in the Star Trek series while Limoy played his trusted second-in-command officer, Spock.
Image: William Shatner and Leonard Nimoy in Star Trek