'I have a goal that one day, when audiences walk into a theatre, they will feel a Taapsee Pannu film will be worth their time and money.'
'The day I get that trust from my audience will be the day I will believe I have become a star.'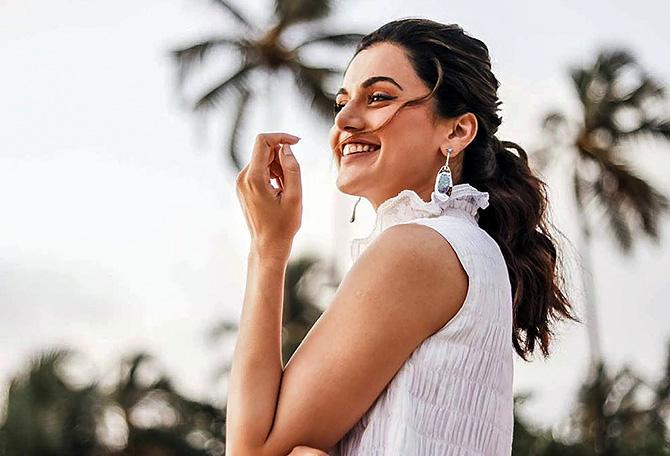 Taapsee Pannu takes centrestage in her new film, Game Over, and she's feeling the pressure.
"I have only seen trilingual releases starring superstars like Rajinikanth and Kamal Haasan. I never thought I would be a part of such a film," she tells Rediff.com Contributor Divya Solgama.
Directed by Ashwin Saravanan, the thriller is an interesting tale of a wheelchair-bound girl who has to protect her home -- and herself -- from a mysterious intruder.
Game Over is your first trilingual film.
It's critical because it's very rare for an actor to have a three-language release.
Till now, I was enjoying my time acting differently for different languages. Now, it's a test.
I have only seen trilingual releases starring superstars like Rajinikanth and Kamal Haasan. I never thought I would be a part of such a film.
When I read the script of Game Over, I didn't think it was a regional film in any sense.
I think the director (Ashwin Saravanan) was sure that he wanted to make this film in Tamil and Telugu only because the logistics would change if one wants to make a film in Hindi.
But when the film was finally made, it did not look like a south film; it looked like a product that could be showcased nationally.
After that, (the production company) Reliance Entertainment decided to show the film to Anurag Kashyap. He loved it and decided to give it a Hindi release as well.
So, I feel pressure is on me right now.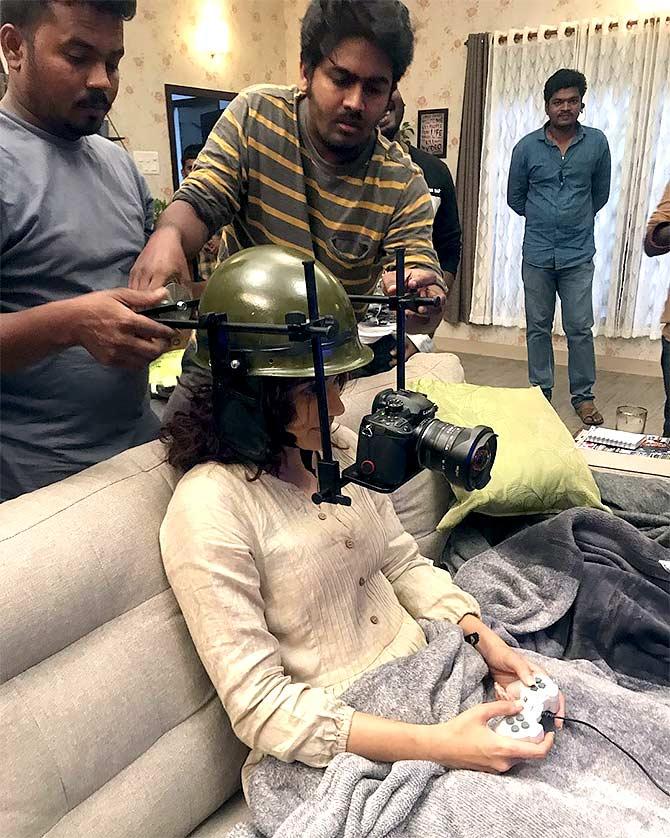 Pressure in what sense?
Pressure, in the sense that Game Over is having a three-language release. That's very rare for an actor like me.
There's the pressure to deliver a certain output or success.
Any pressure from Salman Khan's Bharat, which is in the theatres now?
Game Over is releasing 10 days after Bharat, so there is enough time for people to watch our film.
I think if people watch the trailer of Game Over, they will automatically know if they want to watch the film or not.
No one can force or convince the audience to watch any film.
If they like the trailer, they will watch it.
I'm just requesting them to watch the trailer.
You are in a different avatar in Game Over. How did you prepare for this role?
I have done a lot of films where I have made myself believe in things that have not happened to me.
So now, I know how to convince (audiences) that something has happened to me even I have not experienced it in real life. Like, what happened to me in PINK, Naam Shabana, Mulk or Manmarziyaan.
Things that happened with me in these films did not happen in real life; I have learned how to transform myself into believing certain things.
And that is what I have done in Game Over.
It's very mentally draining and upsetting to play a role like this, shooting for 35 days, 12 hours a day.
It's quite challenging to make yourself believe that you are a trauma victim who has gone through a big accident. Her body and mind are unconsciously reacting to that trauma after one year; it's called the anniversary effect.
This kind of disorder is not a hypothetical concept. The 'anniversary effect' is actually a medical term.
I haven't faced that kind of trauma in my real life.
One of the co-writers of this film belongs to a family of doctors who take care of trauma victims, so she knows how things happen with them.
For a girl like me who hasn't even faced a hairline fracture in real life... I had to sit in a wheelchair for almost 70-80 percent of the film!
People generally associate me with fierce and mobile kind of characters. But, in this film, I am neither.
It was very difficult for me to transform myself into that state of trauma.
You tend to change as a person by the end of the shoot, and that happens to me after most of my films.
After that, I need to take a vacation for six-seven days to detox myself and go somewhere that has no connection with work and nobody knows you as an actor.
Even then, such roles do not leave you easily.
That's the price you pay to become an actor.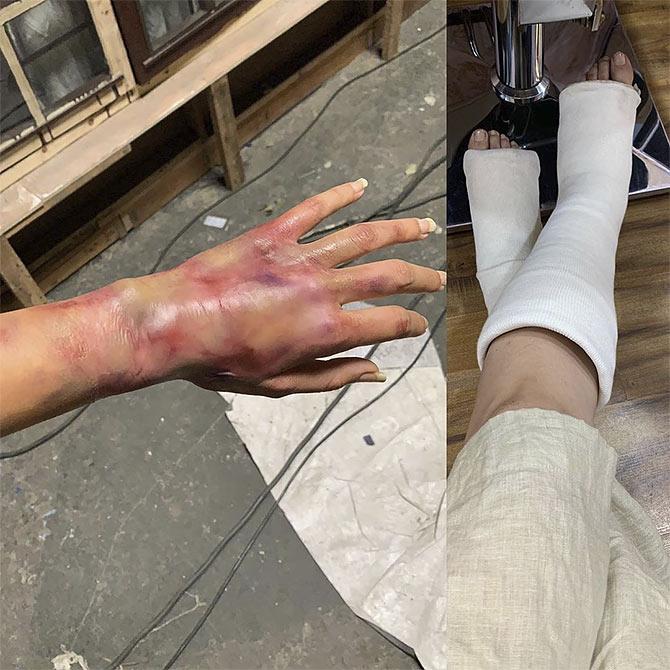 You are being recognised as a bankable actor now.
That's my goal actually and I wish I achieve it soon.
I am a director-dependent actor as of now but I want to be a producer-friendly actor as well, who assures a certain return on a film. Only then will more films be made with me.
Budget restrictions are there in every film but they are more in female-oriented movies.
Only when this starts happening less will I feel that I have made a mark in Indian cinema.
I have a goal that one day, when audiences walk into a theatre, they will feel a Taapsee Pannu film will be worth their time and money.
The day I get that trust from my audience will be the day I will believe I have become a star.
So that's how you choose your films.
Yes. Also, I should enjoy getting up every day and going on set, rather than dragging myself to work.
But there's an audience who loves to see you in commercial films.
When Judwaa 2 happened, people laughed and enjoyed those hours. So it worked.
But these films should be offered to me in the first place.
Right now, people are only offering me films that have a certain unconventional feel to it.
I would love to do a film where people laugh and enjoy.
There are two type of films in my dictionary -- either you laugh for two hours and don't know what's happening on the screen or you are so engrossed for two hours that you will not have time to think about anything else.
Are you worried enough about your unconventional image?
No. There are thousands (of actors) coming into this industry every year.
Many fade away with time and many even don't have an image despite working in the industry for a long time.
I am very proud to have a certain image.
As long as it gets me good work, I am happy with that image.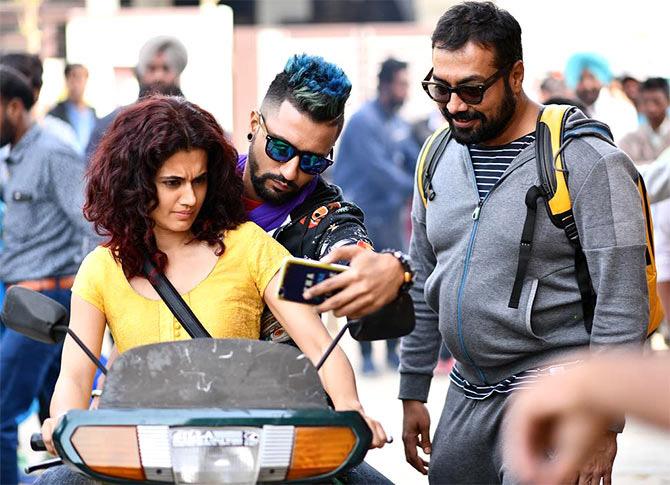 Anurag Kashyap recently said that you think you can change his perception as a dark filmmaker. What's your take on that?
I don't like his dark films. And he doesn't like a lot of my films.
I have seen him as such a fun-loving person in real life that I want people to feel that when they see his films.
Anurag's real life is totally opposite to the kind of films he makes.
He makes gritty and dark movies but, in real life, he is a funny man.
So a film that he does with me should be cool and fun.
Director Ashwin Saravanan feels that a happy girl makes a better subject for dark films. What's your take on that?
Yes he is right, because that's what happening.
I am a very light-hearted person in real life, not intense or serious.
I don't have that grim expression on my face all the time, so I don't know why people keep putting me in these intense kind of roles.
I have to torture myself to do these intense sequences because it doesn't come naturally to me.
However, everyone likes me in such roles. People often tell me, 'You cry so well.'
Did you expect your last release, Badla, to be such a big success?
I still remember (Amitabh) Bachchan sir and I were discussing that Badla would make a maximum of Rs 30-40 crores at the box office.
We did not expect such great figures because we thought the majority of people would not see such a film.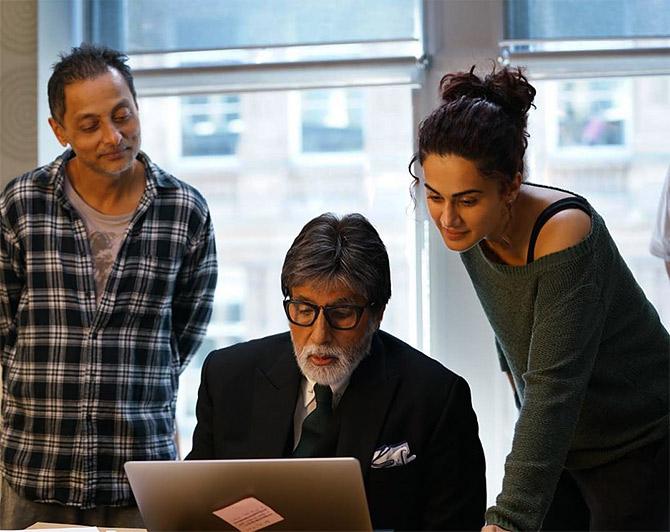 Given a choice between a comedy and a thriller, which one would you choose?
Looking at my present situation, I would love to take up a comedy.
Do you watch web series?
I have finished watching Made In Heaven, Gossip Girl and Wild Wild West.
I have also watched Sabrina, The Teenage Witch.
Are you open to starring in a web series?
Yes, but only if it's something I haven't done in mainstream cinema.
Manmarziyaan did not work at the box office. Do you think it was ahead of its times?
Yes, but this can be an excuse for films and I don't want that.
We all wanted it to do better, which it did eventually.
It's a kind of investment because people might realise that they missed out watching such films in theatres after watching them on OTT or television.
The same thing happened with Mulk, where a lot of people regretted missing it in the theatres -- even though it made a lot of money as compared to its investment.
It's a kind of investment that I had to do to get my audience into theatres the next time.
It's one of my closest films.
Do you have any plans to turn a director or producer someday?
I don't have the IQ of a director and have no plans of becoming a producer because I don't have the mechanism to run the business.
I have a badminton team and am handling the business related to it.
I also have a wedding planning company that my sister runs.
I have the necessary mechanism for these businesses so that they don't need me at their offices every day.
If have that kind of mechanism someday to run a production company, I can probably do it.