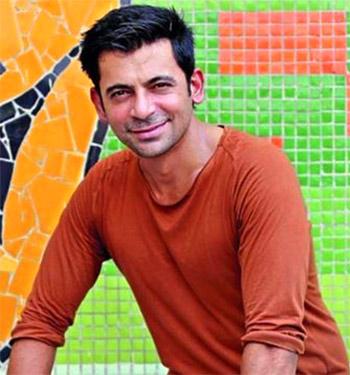 'It was just one episode, and I did it for a very special person.'
Subhash K Jha reports.
Sunil Grover, who has been sorely missed on the Kapil Sharma Show is making a comeback on the Sony Entertainment channel which hosts Kapil's comedy programme.
Grover left The Kapil Sharma Show after a reported midair skirmish with Sharma that left a durable aftertaste of bitterness.
Despite rumours of a rapprochement, Grover stayed away from Kapil Sharma and Sony.
But Man proposes, Salman disposes...
The superstar, it seems, was so keen to promote his Eid release Tubelight with Sunil Grover that he refused to appear on the Kapil Sharma Show without Grover.
Says a source, "In a dilemma and not willing to offend Salman Khan, Sony decided to do a special show independent of the Kapil Sharma Show to bring Sunil Grover back for Salman Khan."
Says Grover excitedly, "I came back to Sony only for one man. Salman Khan. It's a special show dedicated to Tubelight."
Sunil, who has been doing extensive live shows after his bitter split with Kapil Sharma, says he is happy to be on television again.
"I worked in front of a camera after a while," he says. "I enjoyed myself thoroughly."
Sunil asks his fans not to read too much into his return to television.
"It was just one episode, and I did it for a very special person, Salman Khan."