'Till a cheque comes into my account, I don't feel like a professional actor.'
Even though Prosenjit Chatterjee took a three-year break from acting after his first divorce, when he was at the top of his career, he remains the numero uno star in Kolkata.
The actor, who will be seen in the Web series Jubilee next, ells Rediff.com Senior Contributor Roshmila Bhattacharya, "In Mumbai, I'm not competing with a Shah Rukh Khan or a Salman Khan, which I might have 15-20 years ago. Today, I don't have to prove anything to anyone."
Have you ever wondered how different things might have been had Uttam Kumar launched you as a young hero?
I don't know. I feel blessed that I got to play the teenage Uttam jethu in Dui Prithibi in 1980 on his request.
We didn't have any scenes together, but he coached me, and pointed me out to others in the industry. He was planning a film with me in the romantic lead that he was to direct.
His untimely demise was a huge shock personally because he was not just another superstar. After my parents separated, he was our guardian.
I was still very young, maa had just undergone surgery, suddenly we were left without a guardian and another struggle started.
I joined professional theatre, would be paid Rs 500 a month.
I did that for around three years, then like any newcomer, I clawed my way back into the film industry.
I was fortunate to find another mentor in Soumitra Chatterjee who treated me like his son because his own son and I are born just three days apart.
The connection remained strong right up to our last film together, Mayurakshi, which bagged the National Award for Best Bengali Feature Film.
Both Soumitra kaku and Mr Bachchan have proved that a hero is ageless, one gave a superhit at 80 in Bela Seshe, the other delivered Piku at 73.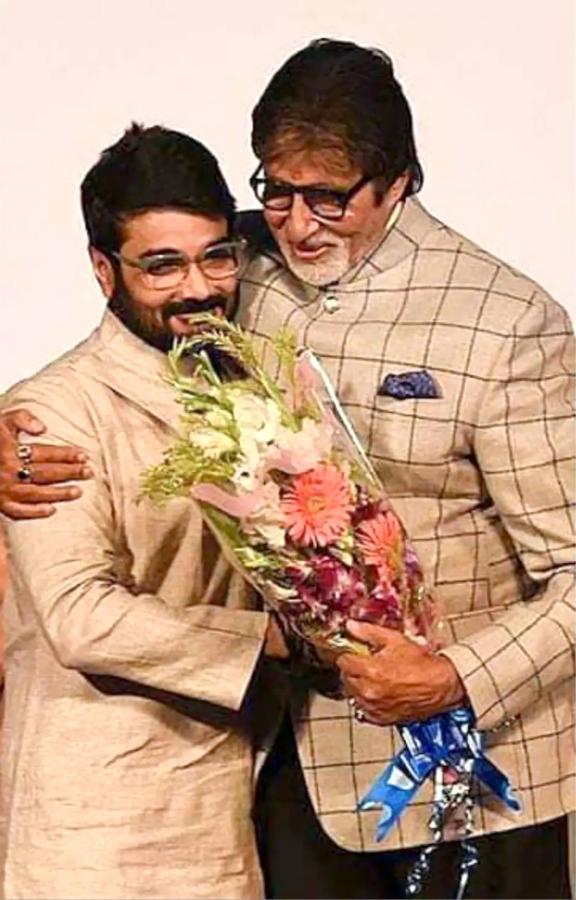 What made you move away from mainstream cinema when still at your peak?
I have done 300-plus films in three decades.
I know exactly how commercial films work.
I don't even need a script anymore.
A decade ago, I left this kind of cinema to the next generation and inspired by Mr Bachchan and Soumitra kaku, I harnessed my star power and persona to experiment with more challenging subjects -- Mayurakshi, Gumnaami, my upcoming Shesh Pata and Jubilee, even the Kakababu series that I do for children.
In retrospect, do you think you came into Hindi cinema with too risky an experiment, Aandhiyan, in 1990? You could have opted for a more simple love story.
(Smiles) So you know, I was selected for Maine Pyar Kiya. (Salman Khan eventually did the role and began his superstar journey with Sooraj Barjatya's film, co-starring Bhagyashree.)
Till today, I am in touch with the Barjatyas and Bhagyashree.
Why didn't you do that film?
My Bengali film Amar Sangi with Vijayeta Pandit had became a huge hit.
My dates were blocked, so much as I would have loved to do Maine Pyar Kiya, I had to reluctantly refuse the offer.
I was doing a Bengali film with Pahlajji (Nihalani), who was a big producer then.
Pahlajji came to me one day and said, 'Puttar, I have a subject for a Hindi film, you must do it. You are a Bombay ka hero.'
Aandhiyan was a good subject though David Dhawan (director) was not too well known then.
Mumtazji, like Madhuri (Dixit) today, is evergreen, but we were playing mother and son and it didn't go down well with the public.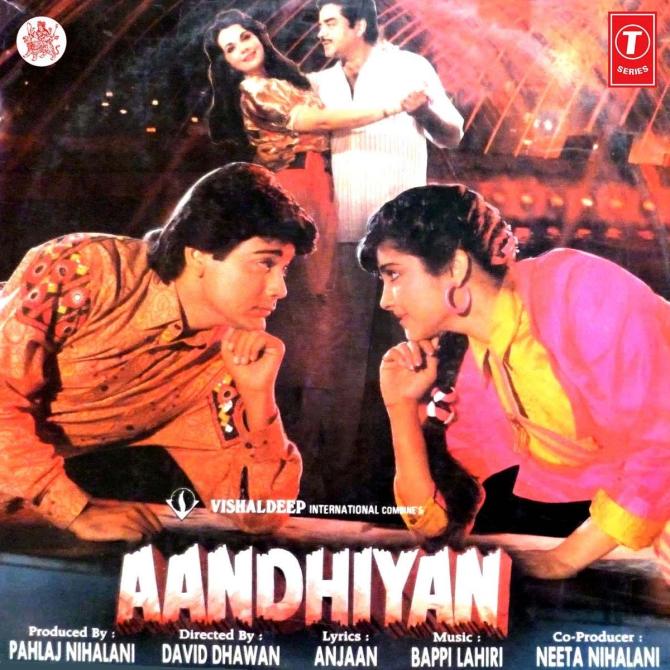 You did not think of returning to Bollywood with a more commercial film after Aandhiyan?
Honestly, I didn't have the time though the offers continued to come in as my career in Bengal had peaked.
At least 20 producers in Bengal had money invested in me because I was the numero uno star.
I couldn't let them down by coming to Mumbai where I could only be Number 3, Number 4 or Number 5.
Till today, I am Number 1 in Kolkata; I have no competition there.
In Mumbai, I'm not competing with a Shah Rukh Khan or a Salman Khan, which I might have 15-20 years ago.
Today, I don't have to prove anything to anyone.
After 40 years of being a student of cinema, I was simply breaking new ground with Shanghai and now Jubilee.
You are also in Hansal Mehta's Netflix series, Scoop, right?
Yes, Hansal came and said, 'Dada, yeh karna hai aap ko (Dada, you have to do this).'
It's a small role, of a guy who was murdered around 12 years ago, but the entire series revolves around me.
I want to do some strong, meaningful, characters so I occasionally work with directors like Hansal, Dibakar (Banerjee, his Shanghai director), Vikramaditya (Motwane, his Jubilee director)...
I may also collaborate with Sudhir Mishra someday.
They are makers who know my body of work.
OTT has broken the language barrier which is only right because Indian cinema is not only Hindi films, it's Tamil, Telugu, Malayalam, Kannada, Punjabi, Gujarati, Marathi, Bengali...
Till today, on any international platform, you hear the names of Satyajit Ray, Ritwik Ghatak and Mrinal Sen.
RRR's Naatu Naatu has just bagged an Oscar.
So, also, that beautiful documentary, Elephant Whisperers.
Today, we can all proudly say that we are a part of Indian cinema.
The buzz is that you are planning to get into production in Mumbai.
Bengal and Maharashtra have a rich cultural heritage in their novels.
I want to pick up some good subjects, get together talents from Bengal and Mumbai.
For films to run, you may still need a Shah Rukh Khan or a Salman Khan.
But with OTT, you can do good work and be safe.
Param (Parambrata Chatterjee) is doing well here.
Several ace cinematographers and directors in Bollywood are from Bengal.
My work is my brand, so yes, it's time to explore.
The pandemic put me back by a few years, but now I want to make some OTT shows and feature films as well.
It's not necessary that I have to act in all of these projects.
But you will produce them?
I will be the creative producer.
Despite having worked in 340 films, I have never produced a film for myself.
Till a cheque comes into my account, I don't feel like a professional actor.
(Laughs) That's the only way I can assess my value, though the ratio is different now.
As I keep telling my son, I will give him every possible support as a father, but I will not put money on him.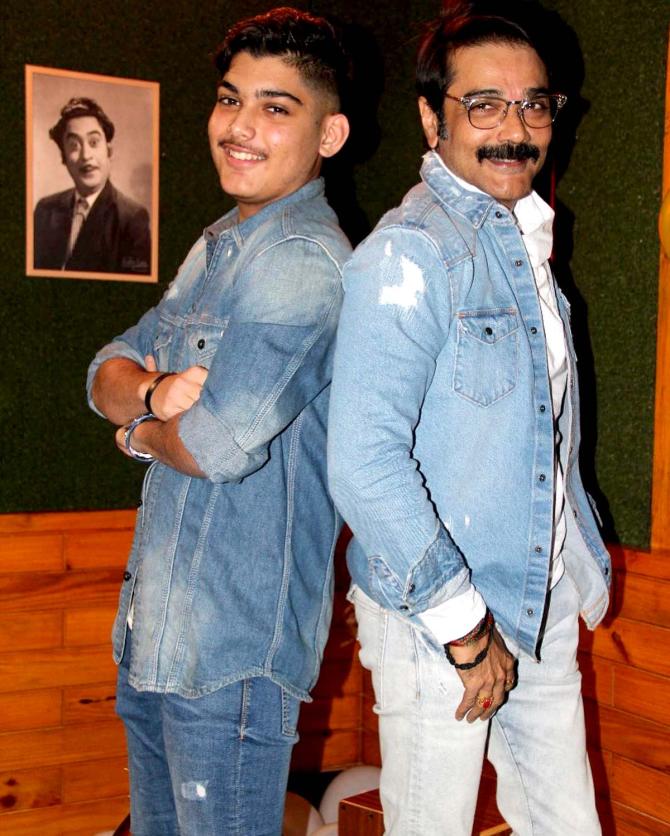 Is Trishanjit interested in acting?
I think so. He's doing a Shakespeare play in his school.
His body language shows his interest in acting.
Your dad, Biswajit, and you were estranged for a while. Do you ever wonder if things might have been easier, had he been around in the early years to pave the way for you like any star producer dad?
Had he been around, had he produced a film for me, then who knows, I may not have been around today talking to you.
I don't want to name anyone, but there are countless examples of actors who got a grand launch and then disappeared.
When you are hungry and you have a refrigerator filled with food waiting at home, it's rare for the craving to be satisfied by vada pav at the end of the day.
That only a starving boy who has no meal to go home to will appreciate.
For six-seven years, I really struggled. But even at that time, I had it easier than other newbies because I was the son of a respected superstar.
At the same time, my name didn't figure in any nepotism controversy because everyone knows I came up on my own.
By God's grace, I'm still a busy actor.
I know the films I am doing till 2025, and with whom.
People often remark on your similarity with your dad.
(Laughs) That's natural, his blood is running in me.
I plan to meet him soon as he was one of the real jubilee stars of the '50s and '60s.
Is there a possibility of your father and you coming together on screen again?
Hopefully, yes. I'd love to make something like Kal Aaj Aur Kal.
Dad, my son and me, three generations on screen together.