'Will anything change for you after the election?'
And the man said, 'Kuch nahin badlega.'
And he had a smile on his face.
He knew nothing was going to change.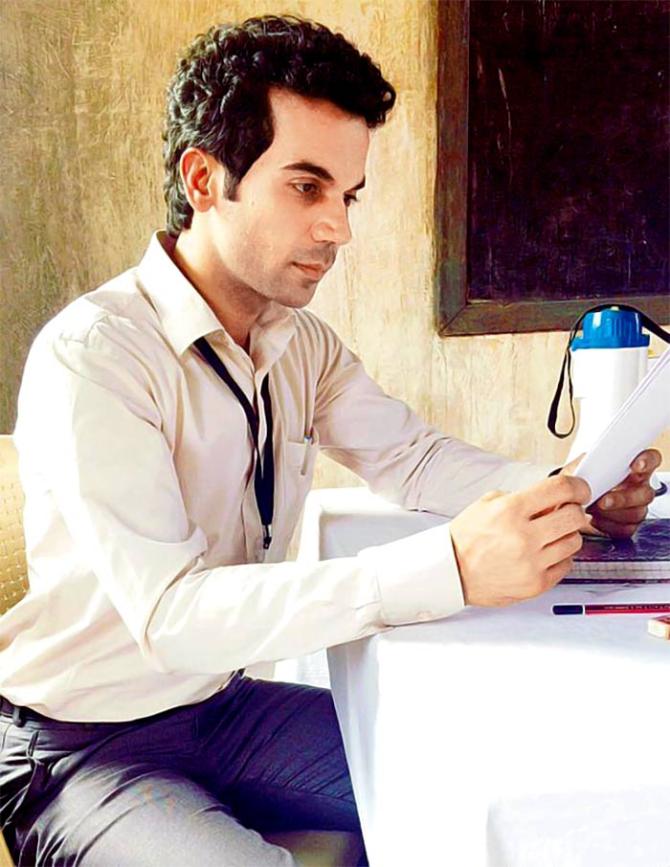 IMAGE: Rajkummar Rao in and as Newton.
On the 70th anniversary of India's Independence, filmmaker Amit Masurkar (Sulemani Keeda) makes a compelling and yet very entertaining tribute to India's democracy.
His film Newton focuses on every Indian's right to vote -- a right that many in big cities take for granted.
Starring Rajkummar Rao, Newton is about a young election officer Newton Kumar (he changed his original name from Nutan to Newton because kids would taunt him in school) who heads to oversee voting in a remote part of Chhattisgarh, where Maoists and security forces compete for the attention of the local people.
The Maoists want the tribals to boycott the election while the police think the election is a farce and do not want to take risks going deeper into the conflict zone.
Newton (played with such sincerity and passion by Rao) wants to make sure that the locals cast their vote, a right given to them by the Constitution.
Newton is a very important film, despite its satirical tones, laced with a lot of humour and irony.
It is a film that should make viewers think about how important their right to cast a vote is.
In addition to Rao, Newton's terrific cast includes Pankaj Tripathi as the small town police officer Atma Singh who becomes Newton's nemesis while also cooperating with him; Anjali Patil as Malko, a local tribal woman who steps in to work with the election team, and Raghubir Yadav as Loknath, a jaded older gentleman and Newton's junior colleague.
Newton premiered at the Berlin Film Festival in February where it won the CICAE Art Cinema award. It also won the Young Cinema jury award at the Hong Kong International Film Festival.
After traveling around the world, Newton opens in India on September 22.
Aseem Chhabra spoke to Masurkar, Rao and Patil in Berlin.
You went to a small little town in the middle of India to make this film. Was this a difficult shoot?
Rajkummar Rao: We were there in March, it wasn't bad weather-wise.
We were in a little town called Dalli Rajhara in Chattisgarh. It's like a little developed village with just one small road.
Where did you stay there?
Anjali Patil: There was a guesthouse, with no TV, no Wi-Fi, almost no network, cockroaches.
Rajkummar: A few better rooms were kept for the actors.
Anjali: The director stayed in a lodge. (laughs)
How long were you guys there?
Anjali: About a month.
Amit Masurkar: The crew was big, plus the actors too.
On top of that, we had a lot of local people working, the entire catering, cars, day labourers who were constructing the set.
We hired a lot of local people as actors as well.
Anjali: It was like a big celebration.
Amit: People were very excited that we had come from Bollywood to shoot.
Unko samajh nahin aa raha tha ki hum chote se shehar main kya chahte hain (They couldn't understand what we were doing in the small town).
And we were like 'Wow, yeh dekho, yeh street kitni cool hai (Look, this street is so cool).'
And so many of them kept saying 'Come to our home and shoot, we also want to act'. Everybody was excited.
It's a mining town. There were engineers. So it is quite cosmopolitan.
That fancy store where Pankaj Tripathi goes towards the end to shop, it is located in the town?
Anjali: Yes, it is the biggest store there.
You can even buy olive oil there?
Rajkummar: Everything.
People see things on TV so you can get everything there.
You can even get Kellogg's cereal.
Amit, let's start from the beginning. At the screening of the film, you talked about reading the Indian Constitution.
Were you looking for inspiration, to make a film about politics and democracy after Sulemani Keeda?
Why would anyone read the Constitution? Who does that otherwise?
Amit: One day, I was thinking and googling words.
I would type random words. One of the words was constitution. So I downloaded the Indian Constitution.
It's a huge document. I didn't have the energy to read the whole thing. But just reading the Preamble, I got goose bumps.
What a powerful piece of writing and imagine the emotions behind the writing.
It's very genuine. I just felt there was such a big gap between the reality and the ideal. Not just in India, but all over the world.
That's when I thought this was a good subject to explore. But to make a film about democracy would have involved politicians, journalists.
It would become a thriller and I didn't want to do that.
I wanted to strip it down to one booth. Ek din ki kahani, voting ki kahani (One day's story, a story about voting) from inside a booth.
Now where do you do it? You can set it in Dadar (central Mumbai) or in Karol Bagh (Delhi), but it won't be that interesting.
In those neighbourhoods, in big cities, people just come during the day, vote and go.
I thought of setting it in a conflict area where there is an entity that doesn't want the election to happen, and the government wants it to happen.
I thought it would be interesting because the Maoists always boycott elections.
They are inspired by Mao and want an armed revolution, the way it was done in China.
That's why I chose the Chattisgarh area because you had a readymade conflict.
Also, the Election Commission is a very efficient and independent body. And it's very important for all parties that the system functions.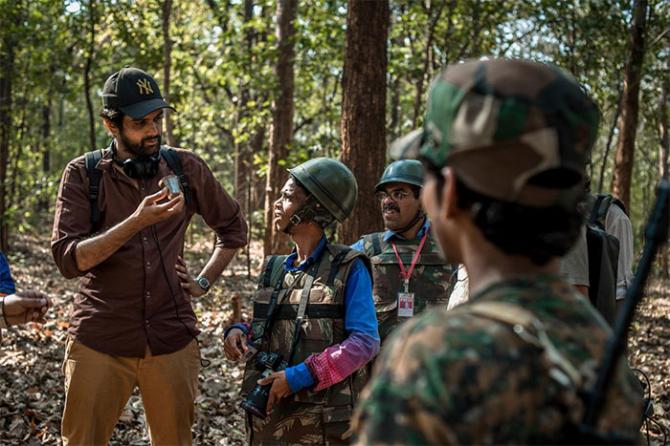 IMAGE: Amit Masurkar explains a shot to the cast of Newton in Chhattisgarh.
Did you meet people from the Election Commission?
Amit: Yes, but I didn't want any affiliation with them.
My assistants went through the entire voting procedure, the manual.
Anyone can go and ask the Election Commission to show you the voting machines and how it works.
They can't lend it to you, but we took pictures, had it measured.
The election process is huge in India -- from Arunachal Pradesh to Kutch, from Kargil to Kanyakumari and Andaman-Nicobar Islands.
What were you trying to say with the film? That it is ironic that these people have the rights and yet they don't understand their rights?
Amit: There were many things I was trying to say and they have come out at different levels.
One is that I wanted to examine the gap between the reality and the ideal.
The second thing is that the film is about somebody, who is obsessed with the ideal, but how he is also flawed.
By flawed, I mean his obsession leads to almost becoming a dictator in the end.
Also, I wanted to show a gray character like Atma Singh (the police officer played by Pankaj Tripathi), a lower middle class guy, who is doing his job but has also witnessed the futility of the system.
I thought Anjali's character was very interesting as well. She is a tribal and yet, committed to the election system.
Rajkummar: She was the balancing force.
Amit: She was the point of view of the people, who were there.
The thing is that I was very conscious of them and us.
How can we be one thing and they be something else?
Even within the Gondi there are so many voices. People ask what do the Gondi people want? It's like asking what do New Yorkers want?
How can you have one response since there are many voices.
Even in the film you will see so many tribal voices.
How big is the Gondi community?
Amit: They are large and spread over Chattisgarh, Maharashtra, MP, UP, Bihar, Telangana, and Orissa -- about 11 million in population.
Raj, was that a wig you wear in the film?
Rajkummar: No, I would get curlers put on every morning for two-and-a-half hours.
Amit: Raj designed the look. He said he wanted to try something new.
Also, with a shirt and pant he would have looked like Shahid or another one of his characters like in Kai Po Che. So he came up with the look.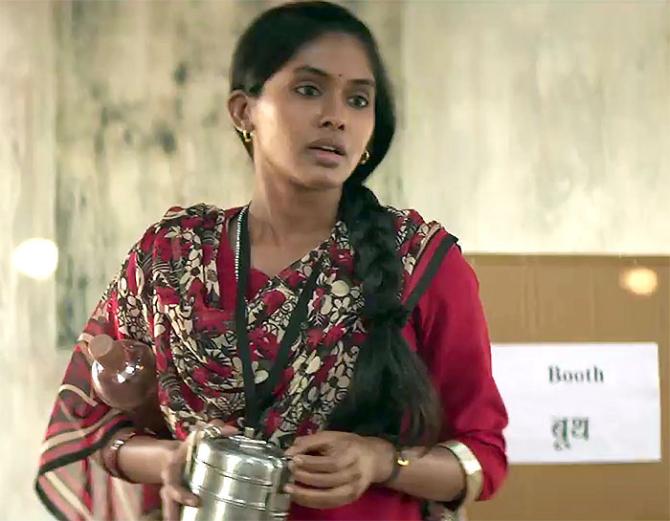 IMAGE: Anjali Patil as Malko in Newton.
Amit, tell me about working with Raj and Anjali. How did you work with them in terms of getting their characters just right?
Amit: I am very careful about whom I cast, so I don't have to work much with them.
We auditioned a lot of people before we cast Anjali. By then I had seen her in the Sri Lankan film With You, Without You, which was terrific.
So I knew she could do this role and it's not that she is constantly speaking in Gondi.
I needed her to speak in Hindi as well. I knew she would get the basic character right.
Also, Anjali had already done Prakash Jha's Chakravyuh, so she had some idea about the region.
She had played a Naxalite in that film. Here we had a language coach for her.
Anjali, did you actually learn the language or just the lines? You are Marathi speaking, so it should have be easier.
Anjali: Just the lines.
It is impossible to learn the language in such a short time.
Even with With You, Without You I learned the essence of the language.
In that you spoke Sinhala right?
Anjali: Yes and Tamil.
For Newton, I sat with the language coach and the tribal people.
Basically, the breathing process is different when you speak a different language.
And they are very relaxed people.
I would write each word with the meaning, how the coach would say it, but as an actor I would not say it exactly like that.
Amit: The coach is a stringer. He also acts in the film.
He has a very nuanced view about the whole situation. He was constantly with Anjali.
With Raj, he's a very malleable actor.
In Newton, he completely transforms himself.
I don't see the Raj I saw in Shahid or Kai Po Che. And he does that in every film.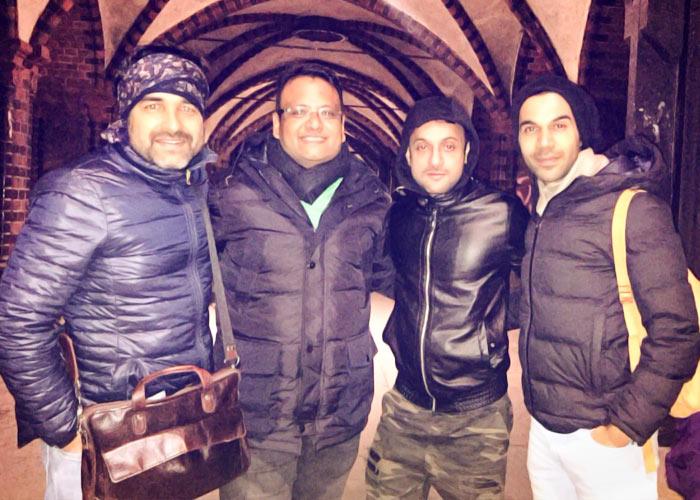 IMAGE: Pankaj Tripathi, Manish Mundra, Rajkummar Rao at the Berlin Film Festival. Photograph: Kind courtesy Rajkummar Rao/Twitter
Raj, you are a trained actor. How do you approach these different roles? How did you become Newton?
Rajkummar: With Newton, I knew the script and thought the idealism was like in Shahid.
That's why I decided to make it interesting by working on the look first.
I was googling a lot of images and somewhere, I always wanted to experiment with my hair.
Newton gave me that chance. Also, Issac Newton had slightly curly hair, so I thought I should try it.
Then, there is a little blink in his eyes.
We had a discussion whether I should do it or not, but then I started doing it.
The first day, I was doing too much, so Amit asked me to keep it subtle.
People shouldn't only think about his blinking.
And that shows a certain personality trait of the guy? A certain nervousness or whatever you want to call it?
Rajkummar: Yes, yes.
And the most important thing is to get the soul right and to believe in what Newton believes in.
And make every moment so truthful that it comes across on the screen.
As a director, Amit gave us so much freedom, even to Pankajji, that you feel a sense of responsibility as well.
You trust the guy and you know he is looking at you at the monitor and he won't let you go wrong.
If you are going wrong, he is there to guide you.
That way the whole process was so much fun.
And there was nothing to do there other than to create your character, no Wi-Fi, no one to talk to on the phone after Amit would call 'cut'.
So we would talk about the film, make jokes, discuss what else we could do.
It was a tough shoot and we had to make it look like a one-day film, matching the light.
There were times when we had an early call and had to get to the set at 5.45 am.
So I would wake up at 2.30 am to get my hair curled.
Amit: We would wrap by 4 pm, because after that, the light starts to slant.
It starts to give a very orange look.
The film is set in the day from 8 am to 3 pm. That you can't shoot at 4.30, 5 pm or before 8 am.
We would put the shift early to wrap by 5 pm.
We were one-and-a-half hours away from the location.
We shot on a private land, but it was on the fringes of the forest. We were far from the city.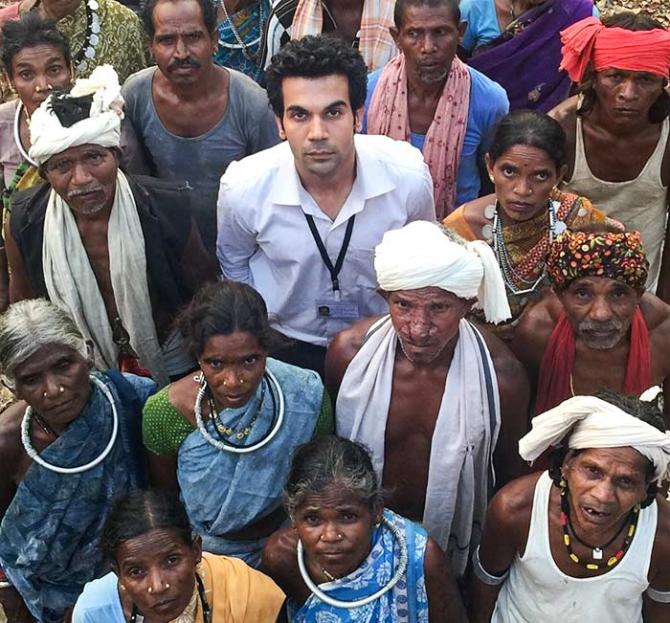 IMAGE: Rajkummar Rao with his co-actors in Newton.
You worked with the police or army in the region?
Rajkummar: We had some paramilitary jawans as consultants with us and the way they focused on the details, how the jawans walked, their body language had to be correct.
Amit: Some of the actors were from IPTA from Raipur and Raigarh.
The rest were guys who had given police exams. They have done NCC and their hair was close cropped so we got them to act.
Plus, we had two consultants -- one of them was an ex-paramilitary commandant who was always there to advise how they could walk.
Every morning this ex-commandant would make the actor soldiers parade, like that character from Full Metal Jacket.
Anjali, tell me how you approached the role, someone who is representing the other side and yet believing in the election process, facing the Maoists every day and opposition to the system.
Anjali: When I read the script, I was concerned because the way Newton and Atma Singh have been written, you see the details of their characters.
But I was not sure about this girl.
From day one, I would ask Amit what is she doing, she needs to have something to define her.
For me, it was a tricky position to be around this very strong male energy. And it probably affected me in a good way.
I had to be aloof and at the same time, belong to the tribals.
Everything, the jungle, Dalli Rajhara, not being able to connect with the outer world that was my way of working.
The reality of me as being Anjali impacted the character.
You spent time there, looking at a reality of India that you probably did not know about.
How did it affect you?
What has stayed with you about that experience with those people who you left behind?
Amit: While shooting one scene, I started crying.
Mayank Tiwari (co-writer, actor and a friend of Masurkar) was interviewing a voter.
It was an impromptu thing. I told Mayank just keep asking questions.
It should look real and let them say what they want.
Mayank asked, 'Will anything change for you after the election?'
And the man said, 'Kuch nahin badlega.' And he had a smile on his face.
He knew nothing was going to change.
For me that was the biggest eye opener -- that the people were also aware.
Rajkummar: I looked at the villagers, they had no electricity and yet, they were always smiling.
They were not bothered about anything. So I learned from these guys that you do not need a lot in life to be happy.
Amit: When I was first writing the script, I was thinking from the point of view of them and us.
From outside, you think they are such simple people. But when you watch them you realise they are equally complex.
Having said that, their lives are simple out of the circumstances.
They are living close to nature, they happen to be different people, it makes them more human.
Anjali: I think there is a lot of exploitation. You see it in the film industry.
Having worked on the film -- the process, the shoot and now doing the promotion -- I don't have the guilt that we did the film and now we are out of it.
We worked with the local people there, we had a good time, and whatever Amit made, the film will stay for the world to see.