Netflix and Amazon Prime are raising their stakes in the game, commissioning original shows and going all out to acquire regional films for their libraries.
Urvi Malvania reports.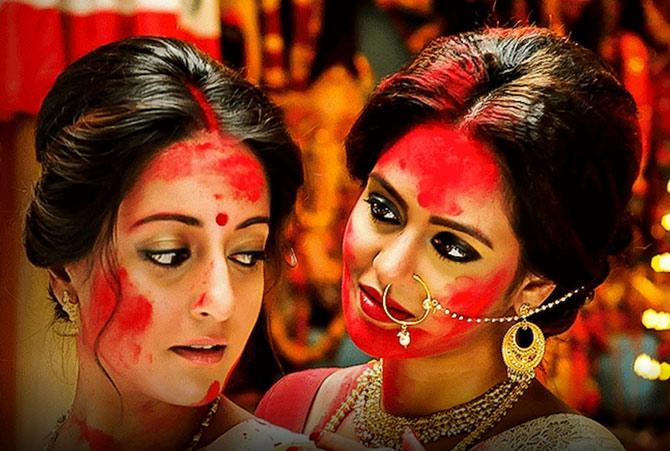 IMAGE: Raima Sen's Hello is a thriller on Hoichoi.
Regional content, be it films or documentaries, comedy or music, has been firing up the Internet in India for a few years now.
Cheap data viewers for regional content have multiplied as have the platforms that offer such content.
There are local digital platforms such as Hoichoi (for Bengali content), language shows on national platforms such as Alt Balaji, Voot from Viacom 18, Hotstar from Star India and on dedicated language channels on YouTube.
Now, Netflix and Amazon Prime are raising their stakes in the game, commissioning original shows and going all out to acquire regional films for their libraries.
Could this sound the death knell for local entertainment platforms or will the entry of big brands help deepen the language market further?
"India is one of the largest Internet markets in the world and we have seen strong growth since our launch, says Jessica Lee, vice president, Communications-Asia, Netflix.
The availability of regional content on Netflix has increased significantly since its launch and the company has doubled its investments in the country this year, which includes budgets for Indian originals across languages. A similar commitment has been shown by Amazon and the rest of the players as well.
Experts say the Indian market appears to be hugely lucrative given the vast number of Internet users and untapped potential, but when over-the-top (OTT) platforms look to grow, the multiplicity of languages becomes a challenge.
However this is also an opportunity; according to the recently released FICCI-EY report (Re-imagining India's M&E sector) rural viewers will make for 52 per cent of the total Indian Internet user base by 2021.
Also, the preference for regional content has been steadily rising with 93 per cent of the time spent on videos is in languages other than English.
With an eye on these numbers, Amazon has signed multiple output deals with Bollywood and regional studios for its Prime Video service in India.
Netflix too has acquired a vast amount of content in various languages since it set up shop in India in 2016.
Voot currently has content in multiple Indian languages including Kannada, Bangla, and Marathi.
Last December, the platform also announced it will be making Seb series in regional languages this calendar.
"Over the past year-and-a-half, we've noticed that almost 25 per cent of our consumption happens in the regional space (example Bigg Boss). So, we are confident there is appetite for originals in regional markets," says Gaurav Gandhi, COO, Viacom18 Digital Ventures.
"And since we are entering the Tamil market in TV, we thought it would be a good idea to complement that with content on Voot in the language as well," Gandhi adds.
Players such as Hoichoi, dedicated to the language consumer, are also looking at originals.
Hoichoi went live in 2017 and the goal is not only to reach Bangla-speaking audiences in India, but expand beyond Indian borders and reach out to the Diaspora as well.
"There are 250+ million Bengalis residing worldwide who do not have access to Bengali movies, be it new or old," says Vishnu Kant Mohta, co-founder and director, Hoichoi. "With the advent of smartphones and digital platforms, the thirst for Web content has increased."
According to Times Internet, Mohta adds, regional languages have surpassed English with a 66 per cent share in overall content consumption and that is the reason behind the big thrust into the country's linguistic minefield. Interestingly, these platforms are all built on a subscription-led model.
Will Hoichoi and other Indian players survive the onslaught of the big brands?
Many believe that good original regional content holds the key here.
Hence, the rush to produce more such shows: OTT player Viu started with two original shows in Telugu followed by a bilingual called Social. It recently launched shows in Marathi and Kannada and will soon be producing originals in Tamil as well.
Zee's recently launched OTT service Zee5 plans to have at least six regional originals a year.
Whatever be the fate of the small OTT players, change is a given.
Experts say the sector will see a spate of alliances and sharing agreements in 2018.
Netflix seems to hint at the same.
"We are focused primarily on content, partnerships and technology, to drive a great experience. Key to our content strategy is becoming a leading producer and distributor of high-quality Indian content," says Jessica Lee.
"Currently," Lee adds, "members can watch local content in several languages on Netflix, including Hindi, Gujarati, Marathi, Tamil and Punjabi, and we will continue to expand this regional offering."
While players like Netflix, Amazon are focused on building strong local libraries, Viacom18 and Zee are also leveraging the extensive television content libraries in multiple languages to promote their online video streaming platforms.
OTT players are also enthused by the growing popularity of language films at the box office.
Be it the blockbuster Baahubali franchise, or the small budget love story Sairat, the movies set the cash registers ringing.
"Regional films are saddled with some basic issues of revenue streams and OTT is a good option to monetise the IP," says one expert.
"For players like Netflix and others, it goes a long way in strengthening a diverse library not only for India, but for international audiences too," says one expert.