'Do you think I am so stupid to turn away Shah Rukh Khan and Ajay Devgn?'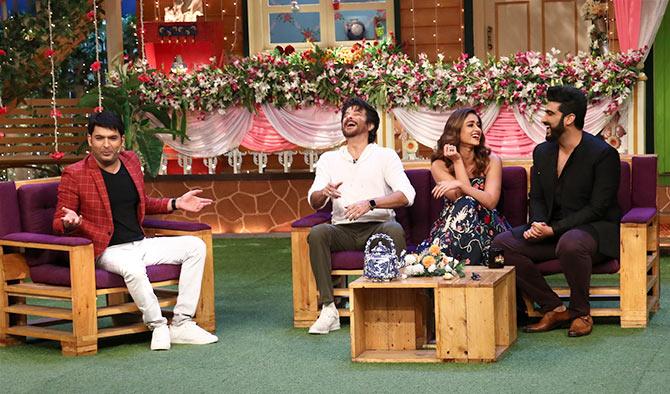 IMAGE: Kapil Sharma with Anil Kapoor, Ileana D'Cruz and Arjun Kapoor as the stars promote Mubarakan on The Kapil Sharma Show.
Kapil Sharma's show The Kapil Sharma Show is on hold.
The television comic is apparently going through some health issues due to which new episodes have not been filmed.
Sony Entertainment Television issued a statement saying, 'Kapil has been under the weather for sometime now, due to which we have mutually agreed to take a short break. However, once he recovers completely, we will start shooting again. We value our relationship with Kapil and wish him a speedy recovery.'
Kapil tells Subhash K Jha what happened.
Where have you been?
Main thoda phisal gaya tha, ab sambhal gaya hoon (I slipped, but now I have regained my balance).
Health issues hain.
I have checked into an Ayurveda clinic for complete detoxification.
They say I have to stay here for 40 days but I won't be able to stay that long. I have a film coming up in November.
The film can wait. What happened to you?
Nothing that some rest and natural healing can't cure.
This was bound to happen.
I was not taking care of myself. I had begun to neglect my health because of overwork.
I'd be travelling back and forth, shooting back-to-back episodes of my show, then shooting for my film Firangi.
I was not eating or sleeping on time. My health was bound to suffer, and it did.
Shouldn't people close to you have warned you that you were overdoing it?
Perhaps I was not listening to people.
Perhaps I was too busy with my professional commitments to stop and take a deep breath.
Now that I am here, I already feel rejuvenated.
It was said that stars were turned away because you refused to shoot with them.
Do you think I am so stupid to turn away big stars like Shah Rukh Khan and Ajay Devgn?
They all knew what my problem was. They all saw how I was suffering. They were all very caring. None of them minded.
Only a section of the media made me sound like this arrogant monster who was using his health as an excuse to turn away stars just to satisfy my ego.
Have you been in touch with the stars who couldn't shoot because of your health?
All the stars have been very supportive.
Arjun Rampal had to go without recording, but he came back because he knew what I was going through.
When Anil Kapoorji came and I was not up to shooting, I decided I will stay on the set and just sit there quietly.
But when he saw my condition, he refused to shoot and told me to take it easy.
The stars have been wonderful.
Why didn't you clarify your position?
Main bahot emotional kissim ka insaan hoon (I'm very emotional).
When I see that things are not going the way they should, I clam up.
I have never bothered with marketing myself.
I never had a PR. Maybe that's why some sections of the media took it on themselves to write whatever they wanted.
I was shocked to hear the things written about me. Most of them were untrue.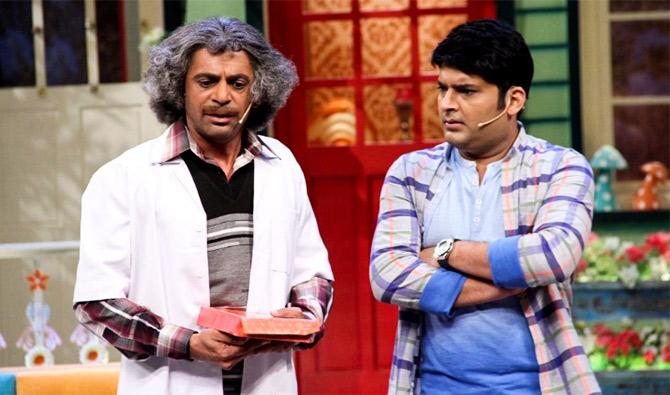 IMAGE: Sunil Grover as Dr Mashoor Gulati and Kapil Sharma on The Kapil Sharma Show.
What about the incident on the flight back from Australia where you allegedly abused Sunil Grover and other members of the team?
I admit there was a problem and I have paid a heavy price for it.
But what was reported was grossly exaggerated and almost entirely fabricated.
It was said I asked that food be served to me first, and that I got angry and threw a shoe at Sunil.
You have known me for some years, do you think I am capable of such behaviour?
If it wasn't true, why didn't you clarify?
Like I told you, when I am misunderstood, I clam up.
But now I realise it was a mistake not to put forward the truth.
A section of the media took advantage of my silence and painted me as an arrogant brat.
All these stories of shoe-throwing and tantrums were started in a section of the digital media.
People from your own team were leaking details.
Main kya bolun? (What should I say?) Maybe I should be more careful about the people I trust.
Would you say the incident broke you emotionally?
It affected me deeply. I started drinking heavily. It was so unnecessary and painful.
Sunil Grover, Chandan (Prabhakar), Ali Asgar are all my friends. How could this happen?
Have you tried getting Sunil back on the show?
Yes. But I think he has other commitments now, like live performances.
But he knows the show is as much his as mine and open to him any time he wants.
Has The Kapil Sharma Show been shut down for good?
No, we have taken a temporary break because my body and mind needed to repair and heal.
What is your message to fans?
I am not done yet. My show is far from over.
We will be coming back stronger than ever as soon I recover.
Please bear with me. Please pray for me.