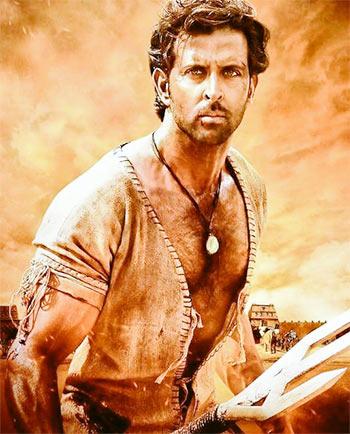 But he has serious competition from Akshay Kumar, says Sukanya Verma, and Rustom.
When two of Bollywood's biggest stars -- outside the Khan club -- compete, excitement is a given.
That Mohenjo Daro is an adventure epic set in the Indus Valley civilisation and Rustom takes inspiration from 1959's publicised K M Nanavati case only adds to the curiosity.
As unique the themes of both these big-budget period dramas may be, the idea of Akshay Kumar and Hrithik Roshan vying for box office attention is fascinating, if not fair.
While they graciously underplay the comparison, sharing healthy camaraderie over the same on Twitter, here's a lowdown on Bollywood's first major face-off of 2016.
The Beginning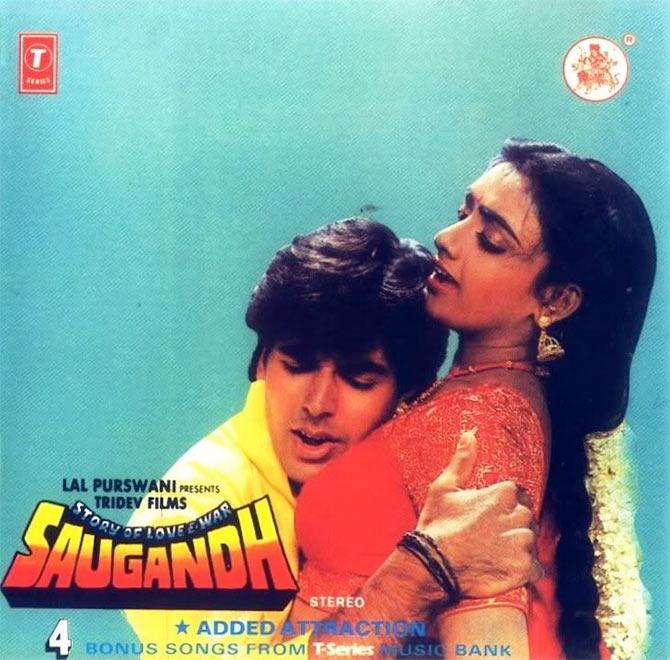 IMAGE: Akshay Kumar and Shantipriya on the poster of Akshay's first film, Saugandh.
Akshay Kumar: In the absence of filmi connections and godfathers, the man slogged hard to find takers.
An attractive face and martial arts expertise only got him as far as a stunt hero of forgettable fare.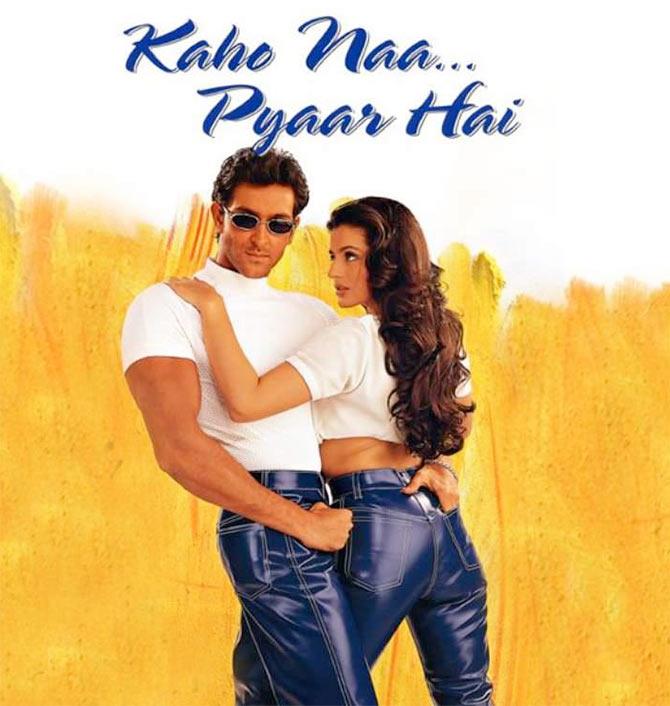 IMAGE: Hrithik Roshan and Ameesha Patel on the poster of Hrithik's first film, Kaho Naa... Pyaar Hai.
Hrithik Roshan: Being born in a film family sure has its perks and his filmmaker father Rakesh Roshan spared no efforts to ensure Hrithik's launchpad Kaho Na... Pyaar Hai was a perfect show reel for his son's talent.
And man, did he justify that faith!
The nation swooned over his Adonis appeal and nimble moves catapulting him right in the heart of A-list stardom.
Of struggle and success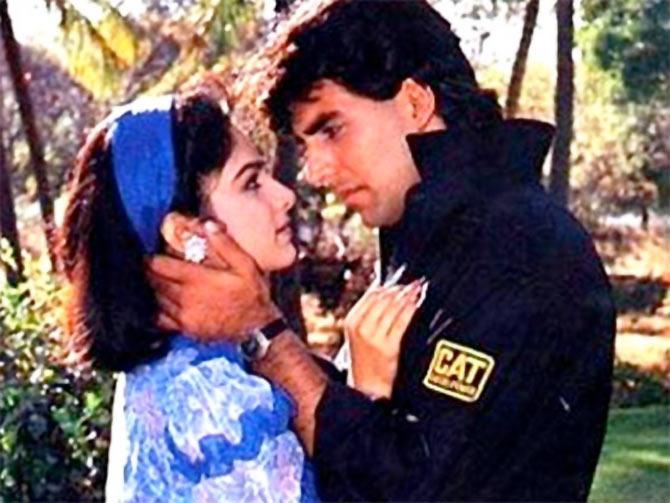 IMAGE: Ayesha Jhulka and Akshay Kumar in Khiladi.
Akshay Kumar: Undeterred by the 'wooden' tag given to him by his harshest critics, Akshay used his USP in action to create a niche, a brand -- the Khiladi. It worked like a charm.
As it usually happens after a string of super hits, it paved the path for better opportunity and guidance resulting in a much more confident, consummate performer.
Fortunately, Akshay understood the fleeting nature of trends and experimented across genres, showing terrific flair in comedy.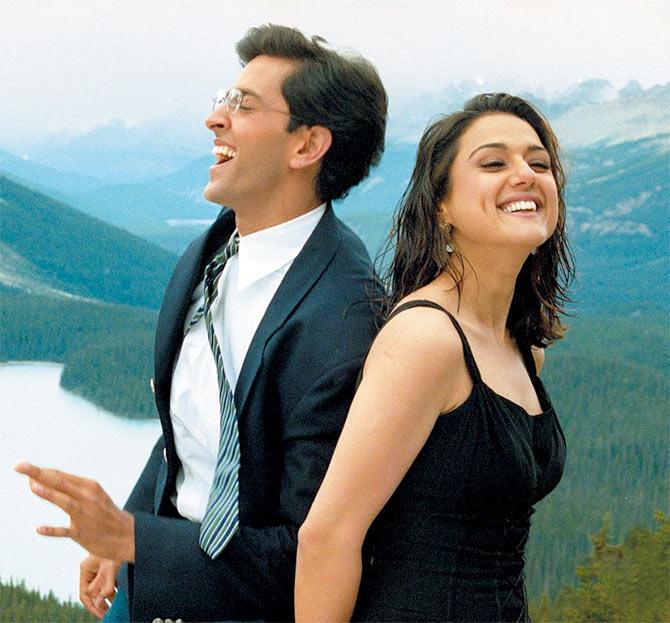 IMAGE: Hrithik Roshan and Preity Zinta in Koi... Mil Gaya.
Hrithik Roshan: Despite an early acknowledgement of his capabilities, things got a bit shaky for Hrithik after his movies failed at a dangerous frequency.
Once again, his father's ambitious home production Koi... Mil Gaya came to the rescue and the hardworking star silenced his detractors in a heartfelt portrayal.
Success is a great motivator and taught him to steer clear of getting into a rut by exploring his craft in a variety of roles.
Modus Operandi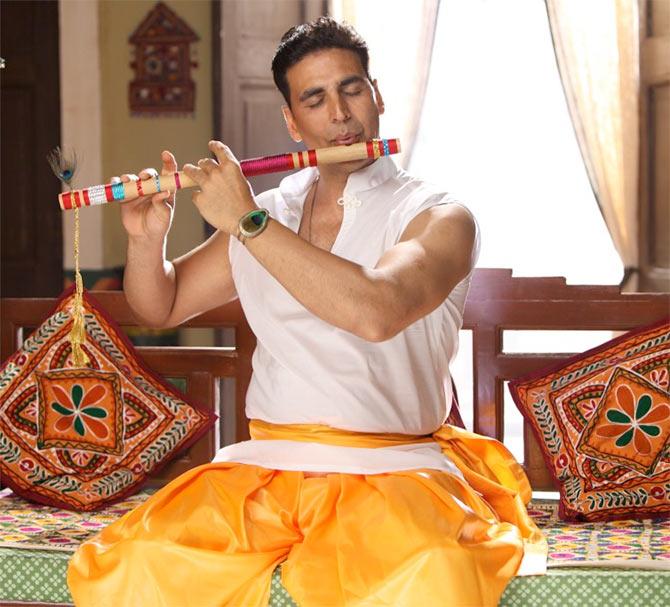 IMAGE: Akshay Kumar in OMG - Oh My God!
Akshay Kumar: Unlike his colleagues, Akshay doesn't follow a 'one film a year' policy. Nor is he as finicky about his choices, evident in a resume dominated by formulaic potboilers.
Nonetheless, he realises the long-term value in taking up projects that drag an actor out of his comfort zone or reveal new facets of his personality.
One only wishes it was the rule and not the exception.
He is instinctive, reasonable and aware of what he brings to the table. But what makes Akki's accomplishment notable is it's independent of big banners, elite filmmakers.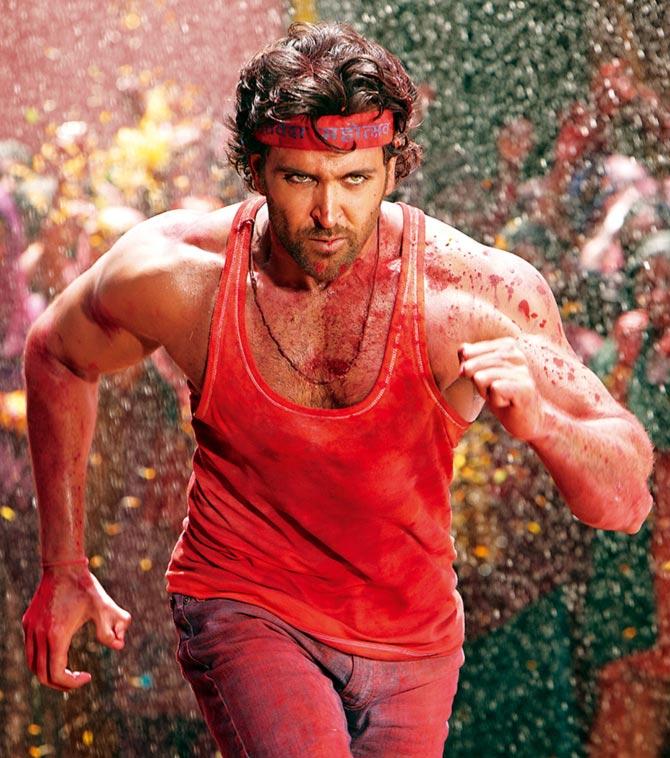 IMAGE: Hrithik Roshan in Agneepath.
Hrithik Roshan: In comparison, Akshay may have a decade's lead, but Hrithik embraced his calling right at the onset.
After the initial miscalculation in signing films, he has adopted a meticulous approach, wherein he prefers to devote himself to one project at a time.
A stickler for perfection, his choices reflect his sensibilities even when doing hard-core masala.
Irrespective of their commercial fate, the quality of Hrithik's work is largely impressive.
The Image Game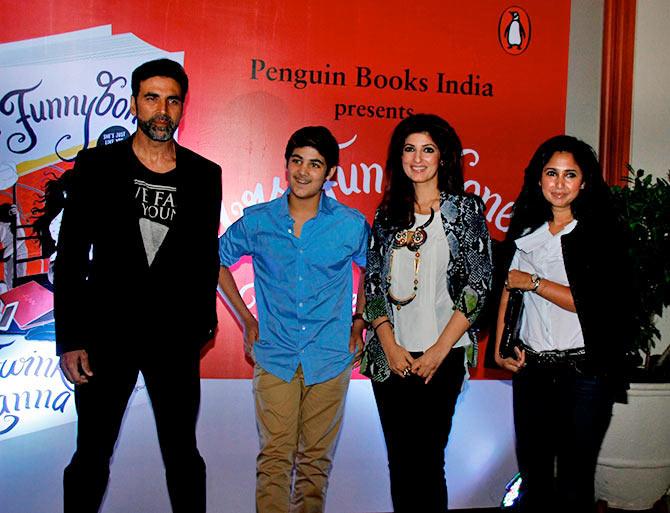 IMAGE: Akshay Kumar, with his son Aarav, wife Twinkle Khanna and sister-in-law Rinkie Khanna at the book launch.
Akshay Kumar: It's been a long journey from Bollywood's active Casanova to content family guy doting on his witty wife, Twinkle and adorable kids, Aarav and Nitara. The 48 year old exudes stability in both his professional and personal space.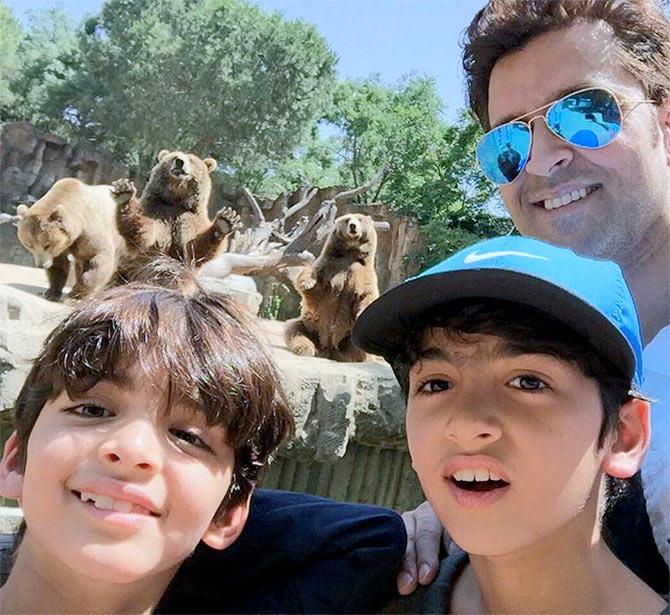 IMAGE: Hrithik Roshan with his sons Hridhaan and Hrehaan.
Hrithik Roshan: The actor's fairy tale didn't end in a happily ever after, but both he and ex-wife Suzanne remain committed to the wellbeing of their cute sons, Hridhaan and Hrehaan.
Recently though, controversy reared its ugly head after a public spat with actress Kangna Ranaut over an alleged romance took a legal turn.
Whether it had a direct impact on his popularity depends on whose side you are. But scandals, if Salman Khan is any indication, don't seem to hurt a star's chances in the slightest.
Status Quo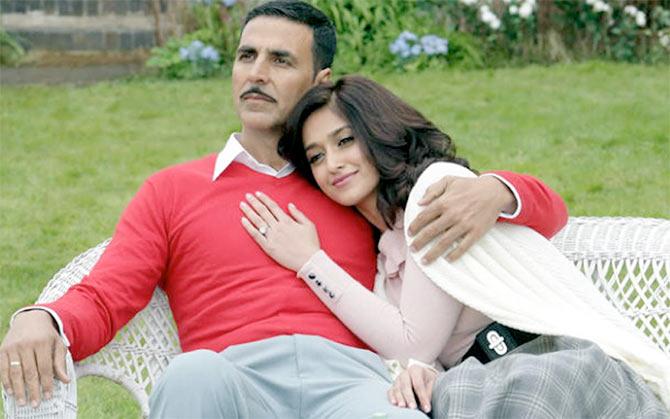 IMAGE: Akshay Kumar and Ileana D'Cruz in Rustom.
When it comes to star power, both enjoy a huge fan base. On Twitter, Hrithik has about a million followers more than Akshay.
But where hits are concerned, Akshay is in a pretty sweet spot right now.
2016 began with a bang for the star with the critically and commercially acclaimed Airlift, followed by the moronic money-spinning Housefull 3.
Even his cameo in the recently released Dishoom grabbed more eyeballs than its stars.
But critics haven't lapped up the histrionics of his cocksure avatar in Rustom.


IMAGE: Hrithik Roshan and Pooja Hegde in Mohenjo Daro.
On the other hand, Hrithik's last release was two years ago. The expensive action caper Bang Bang turned out to be a serious BO underperformer and didn't receive any love from the critics either.
The review to Mohenjo Daro is far from favourable, a far cry from the winning elegance of his earlier collaboration with director Ashutosh Gowariker in Jodhaa Akbar.
There's not much to fault in Hrithik per se, he looks sufficiently robust and persuasive. Mohenjo Daro itself needs to work. If anyone can make that happen, it's him.
Otherwise, he can always fall back on another home production, the upcoming Kaabil, to get back on his feet.