Intensive training and meticulous planning have gone into the making of Dangal, Ranjita Ganesan and Dhruv Munjal find out.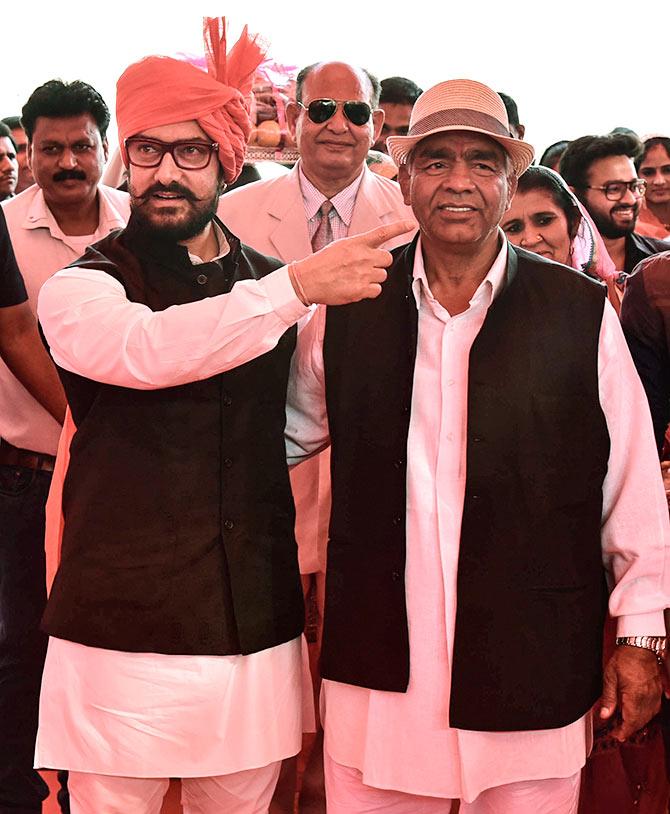 IMAGE: Aamir Khan with wrestler Mahavir Singh Phogat at his daughter Geeta Phogat's wedding.
By the traces of cigarette vapour still clinging to the air, Nitesh Tiwari can tell Aamir Khan had been in the meeting room before him.
"He only smokes around the time of his film's release," says the director of Dangal, Khan's next film slated to release on December 23.

A case of nerves is reasonable.
Much is expected of the sports biopic, about a Haryana wrestler who trained his daughters to become international medal winners, as it is the last of the big Bollywood offerings for the year.
Khan, easily filmdom's most meticulous man, was last seen two years ago in PK.

A few weeks ahead of opening day, Tiwari's team is still considering minor changes in an edit room at Khan's Carter Road residence.
"Creative people are never satisfied," he says, sounding more indulgent than lamentful.

Tiwari uses the term "creative people" often and with a comfort that only someone of advertising legacy can feel.
The Leo Burnett alumnus' co-writers -- Piyush Gupta, Shreyas Jain and Nikhil Mehrotra -- too come from the same realm.

Disney India officials approached Tiwari with the story in 2012, and waited some years for their chosen superstar to make time for the project.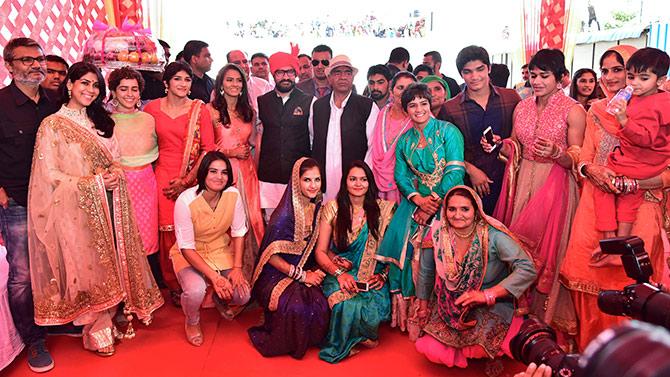 IMAGE: Director Nitesh Tiwari, Sakshi Tanwar, Sanaya Malhotra and Aamir Khan, with the entire Phogat clan at Geeta's wedding.
Meanwhile, Tiwari set off on a 10-day trip to Haryana to meet the Phogats and identify the cinematic potential in their lives so far. He spoke to Mahavir Singh Phogat, his wife, Daya Kaur, the daughters, and their cousins who too are coached by Phogat.

He also visited the sisters Geeta and Babita who were training at the Sports Authority of India facility in Patiala at the time.
As their hostel was off limits to men, he would interview them for hours in the canteen outside. He observed their routine, spoke to their coach, and toured the gymnasiums and training grounds.
"The girls were training on the mat for half an hour at a stretch, and I didn't even want to try those exercises. I would have broken some bones."

While the Internet had offered Tiwari only a few bare-bones articles outlining the achievements of the former wrestler and his daughters, his findings on the ground convinced him the story was a "deadly" one that would make for a rich screenplay.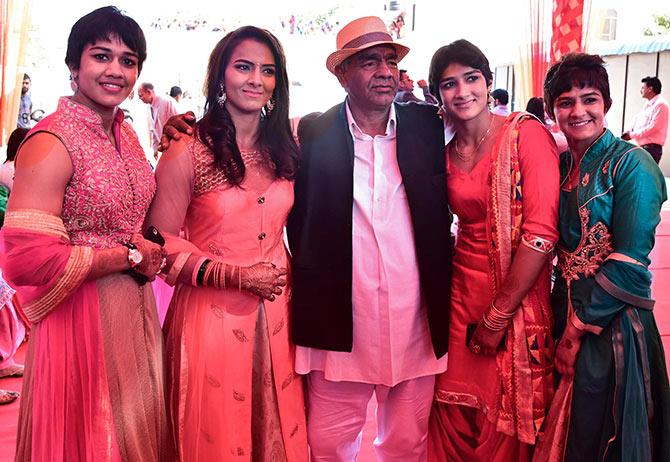 IMAGE: Mahavir Singh Phogat with his daughters Babita Kumari, Geeta, Ritu, Vinesh at Geeta's wedding.
In the Bhiwani district of Haryana, the legend of the Phogats rules.
"Geeta Phogat, the pehalwan?" asks a piercing voice in the middle of a bustling street.
According to the map we're following, the Phogat residence is still about an hour away but men on the streets here, some 30 km from the village of Balali where the Phogats live, manage to deliver pinpoint directions to their house.
"Take a right from Adampur and then travel another two kilometres. The second last house on the left is where the Phogats stay," says a fruit-seller in his thick Haryanvi accent.

Balali typifies India's rustic heartland: the roads are battered, buffaloes are tethered out on the streets, sewage drains languish in the open, ramshackle houses have fading paint on them, and bales of hay lie stacked in different corners.

The Phogat house is a slight oddity. The green paint on the walls of the first floor looks fresh; the tiles inside are plush. A hefty pug guards the entrance.

Phogat is not at home. "Papa had to urgently leave for Mumbai to meet Khan," announces Sangita, the youngest of Phogat's four daughters.

A wrestler herself, the 19 year old looks eerily similar to two of her elder sisters, Babita and Ritu: short hair, chiselled face, almost always dressed in a T-shirt and track bottoms.
The excitement of the film is palpable here. "When we were told that a film was going to be made on our family, it was a surreal feeling," beams Sangita, asking the house help to serve tea.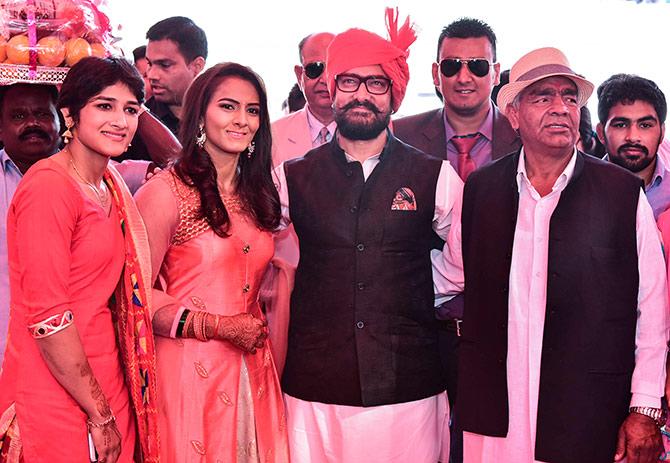 IMAGE: Aamir poses with the bride.
It was sometime in 2012 that Divya Rao, a member of Disney's creative team, approached the Phogats asking them if they would be willing to share their story for a film.

"I remember meeting him (Khan) for the first time. There was nothing superstar-like about him. He seemed grounded," says Sangita.

"I instantly said 'yes' to sharing my story. This subject goes beyond sport; it is also about how much we are willing to do for our girls in this country," says Phogat, over the phone from Mumbai later.

Khan spent a significant time with Phogat, trying to perfect his mannerisms, often striving to peek into the mind that enabled his two daughters to become world-class athletes in a sport traditionally dominated by men.

For Phogat, the time he spent at New Delhi's Chandgi Ram Akhara has shaped much of his life.
Master Chandgi Ram, a 1970 Asian Games gold medallist who was perhaps the first to throw open his akhara to girls, persuaded him to never give up on his daughters.
"Masterji helped me understand that my girls can also give me happiness. They can also do well in sports. And, that's what made all the difference," he says.

Just around the residence is a makeshift akhara where Phogat has spent an entire lifetime attempting to transform his daughters' ardour and intrepidity into world-beating competitiveness.
Even now, he takes to the mud pit twice every day, putting his pupils through their paces -- often with frightening stringency.

"He is very strict. When we were young, all of us used to get beaten up a lot," recalls Sangita.
On the receiving end most of the time was Geeta, who would often become lazy and not fulfill her father's exacting training demands.
"If he would ask her to climb a rope thrice, she would only do it twice. Then all hell would break loose," laughs Sangita.

The Phogat wrestling journey, though, has been far from simple.
In patriarchal Haryana, where women still hide behind dupattas and only reluctantly agree to speak with men, Phogat's methods took enormous time to gain acceptance.
"We used to wear shorts all the time, and the villagers would scoff at us," remembers Sangita. "But Father never stopped us. He only taught us to ignore all the criticism."

When he couldn't find able women competitors for his daughters, Phogat made the girls fight boys in local dangals -- with the girls mostly winning resoundingly.
On occasions, they were turned away by organisers for dabbling in a sport that was meant for men.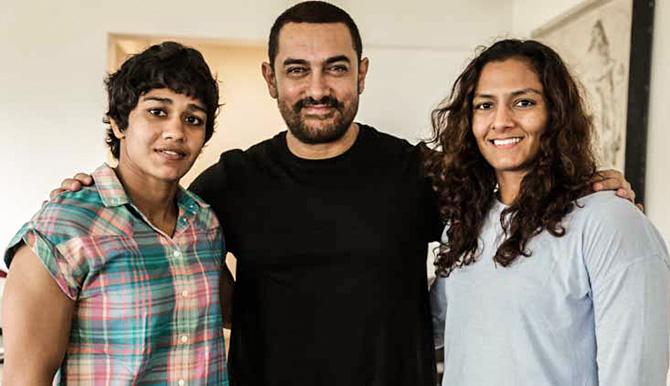 IMAGE: Aamir Khan with Babita Kumari and Geeta Phogat.
Geeta won gold at the 2010 Commonwealth Games and Babita followed in her footsteps in 2014.
It was only after this that they gained the villagers' approval.

"All those lessons made the girls tougher. Such times made them push themselves harder. Look where they are now," says Phogat.

In the event Dangal has any shortcoming, it will not have been for pressures of time.
The film, produced jointly by Disney and Khan, had a long gestation.
"We didn't write it with a deadline. We wrote until we were happy with it," says the filmmaker.

Since the subject could get heavy, it was decided to maintain a layer of humour.
For this, Tiwari and the co-writers worked after-hours at the ad agency and at his home on weekends.

The film will focus on the two elder daughters. Some episodes were built for drama.
For instance, there was a time when nobody from Geeta's contingent won and she won bronze, but was the only one crying.
"When everyone asked her why, she said if 'I go back home, Papa is going to scold me ke gold kyu nahi jeeta (why didn't you win gold)." Tiwari recalls.

Through discussions with various people Phogat's character took shape as a determined taskmaster who is also a softie, though, according to the girls, he would melt once in a while.

The director's favourite character is the mother, played by television star Sakshi Tanwar.
"When a husband does something society doesn't approve of, the wife bears all the brunt. Nobody will tell the pehalwan anything to his face."

After repeated recces, the filmmakers chose to shoot in Punjab rather than Haryana -- it fared better in terms of logistics and security.
Six villages were made to look like a single village. This was because while one location had a pretty school, another had nicer markets, while a third had the best-looking fields, and so on.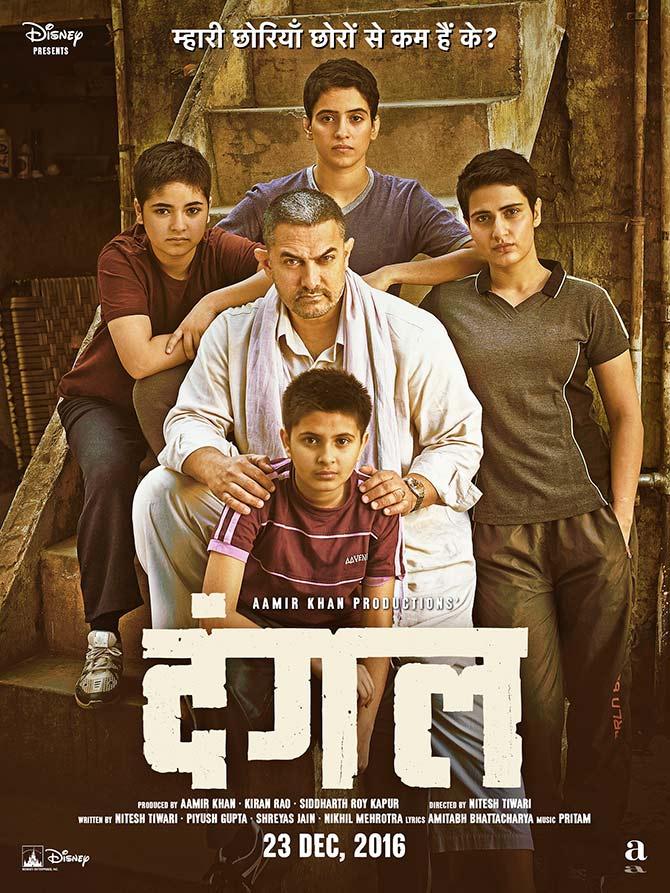 IMAGE: Aamir Khan with his on screen daughter on the poster of Dangal.
They auditioned several national-level wrestlers at the time of casting.
The young women eventually selected to play the Phogat sisters were not experienced wrestlers, but those cast as their opponents are professionals.

When asked who would be the best coach to train the actors, the wrestlers unanimously recommended Indore's Kripashankar Bishnoi.

When Bishnoi, a Commonwealth gold medallist, met the people at Khan's production house last year, he says he was struck by the depth of research they had already done.
"It was not filmi kushti. And I was clear that all rules should be followed."

Bishnoi designed a regimen similar to that of the Indian women's wrestling team, although less intense.
In the seven to nine months of training, there were many bruises, and one cast member even suffered a fracture.

In fact, the coach reckons the girls in the film are in good enough shape to perhaps win a national championship.
A number of Bishnoi's students and referee friends make appearances in the film.

The team learnt enough about the inner workings of the gruelling sport to be able to distinguish between a two-point move and a four-pointer while watching the recent Olympics.
A lot of time was spent choreographing the fights because a story with "a physical and emotional graph" had to unfold on the mat.

Tiwari's hope is that uninitiated viewers will "first understand wrestling and then fall in love with it."
If Dangal succeeds in getting that love in cinemas, perhaps Khan will set the cigarette down.