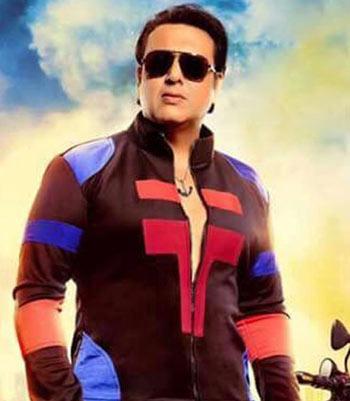 Govinda returns with Aa Gaya Hero.
Welcome back, Govinda.
The actor is all set to make a comeback with Aa Gaya Hero, in which he acts and produces.
Govinda seems disillusioned with the new-age Bollywood.
A lot has changed from the time he was a reigning star in the 1990s and he's not happy with it.
"The energy that was there in that era, where can you see that?" he asks Rediff.com's Jahnavi Patel.
Apart from being the lead in Aa Gaya Hero, you are also producing it. Is there any pressure?
Yes, and by discussing it, I can't take more pressure (smiles).
As a producer, you want your product to reach the maximum people. That has become a system and to work on it has become a necessity.
You have to keep on working, there is no option.
This film started in 2014 and was first called Abhinay Chakra.
I shot the film thrice; this film was made three times.
Why?
It wasn't a question of not liking it. In fact, because I liked it, I shot it again!
What happens is, you think that the film, the subject and thought, is good, but there should be some songs in it.
It was not originally planned, so we had to add that.
People feel it's a three-year-old film, but even Raees was three years old.
Kahaani was also shot earlier, it was such a nice film.
There are many films which are made over a span of many years, like Deewana Mastana and Saajan Chale Sasural were made in three, four years.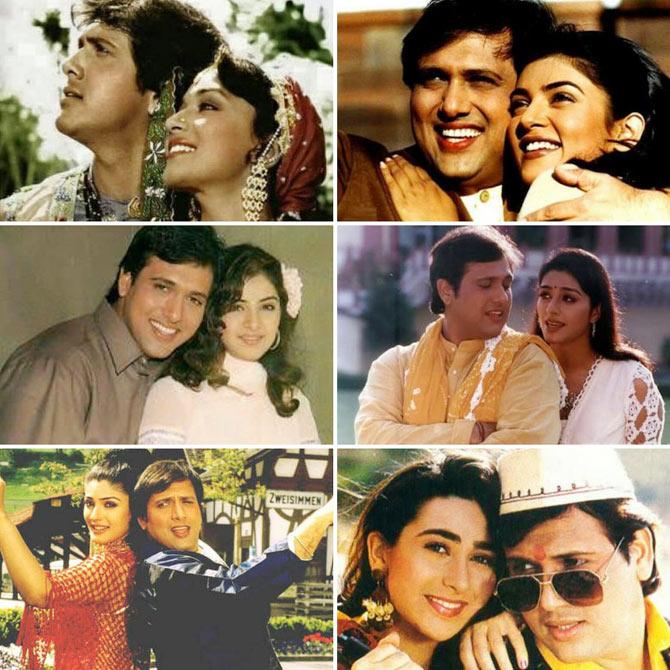 IMAGE: Govinda in his heyday. Photograph: Kind courtesy Govinda/Twitter
That was a different era.
But what has happened to this era?
This era still does not match that one.
The energy that was there in that era, where can you see that?
Now, it's technically very good, a lot of money is spent in making films, which are a one-time watch...
Ye thodi na era hai, ye struggle hai (this isn't an era, this is a struggle).
We can't see any (good) person (actors). Ranveer Singh is good, he is doing hard work.
When you watch films from that era, you will still feel that you can watch them again.
Now what's happening is catering -- khana khila rahe hai.
The films of the 1980s and 1990s have repeat value and nobody knows how much money they made. Today, we talk about box office figures. What do you have to say about this change in trend?
It's that phase when you don't have power as an artist, you try to prove a point where money and looks are involved because you have good technicians to present yourself.
I remember when Dabangg was about to release, the producers said it looked like a Bhojpuri film. They said they cannot put Rs 9 crore, they will put in Rs 5 crores.
Salimsaab (Salim Khan) had to put Rs 4-5 crore more.
Then the Dabangg song because a hit, but they called that also a Bhojupri song.
Then Dabangg became Dabangg.
People put you down sometimes. You shouldn't take it (to heart).
Just work hard and move forward.
Why did you turn producer?
Because I came from politics, they made my re-entry very tough.
It isn't this tough usually, I wasn't even getting finance.
People who had worked with me were not approaching me.
When I approached them, they got scared about their work coming to a halt because the financing places are somehow related to some (political) party.
If Govinda becomes famous as a hero, what if he goes back to politics?
This scares people. They will not show that, but it's there.
Was getting into politics a wrong decision?
Yes. When I understood that, I came out of politics.
That's learning. All of us start from zero. We take the right decision and become a hero.
I took a right decision and came out of politics.
Because of that, my body became fit. I am becoming a hero again.
It took a little time, but my film is releasing.
I am not that kind of a person who can written off. God has been kind.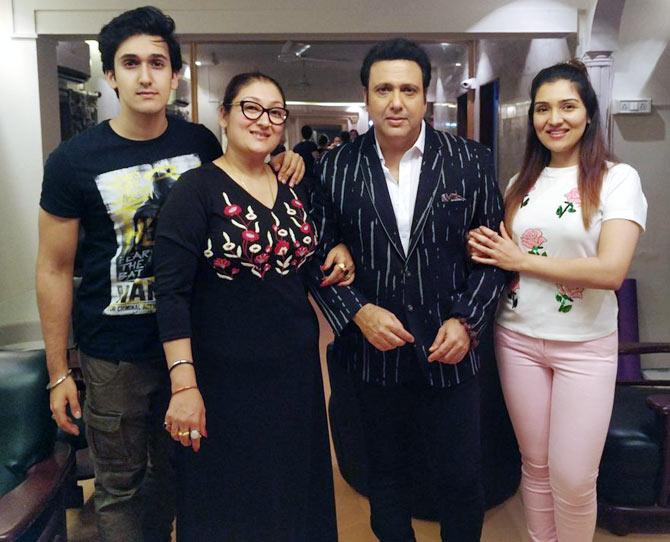 IMAGE: Govinda with his son Yash, wife Sunita and daughter Tina. Photograph: Kind courtesy Govinda/Twitter
You don't want the younger acting brigade to be tagged the 'next Govinda'. Why is that?
When a person who is bhola-bhala (simple), not much educated, from a village joins the film line, nobody gives him that respect.
He falls ill, goes through a struggle, a lot of pain and then becomes Govinda.
Then, in spite of being Govinda, he has to struggle because that's the system of his life.
As the system is ready, he gets into politics.
Main nahi chahta ke ye sab faltugiri kisi ke saath ho (I don't want this to happen to anyone else).
The youngsters today are very good kids and are well read.
They don't think after they work -- they think a lot and then they work and that's very good.
So it is good if they are better than Govinda.
I want my son Yash to do better work than me.
We had sent him to London for studies. He went to the Met Film School.
(When he joins the film industry) nothing wrong will happen to him at the workplace, everything will be right.
I am not jealous of anyone.
I have never been jealous of my character actors also. I praise those whose work is good.
If I feel the other actor is better than me, I work on myself.
When did you have to work on yourself?
This happened only once.
When I didn't get films, my brother told me, 'You aren't getting films, directors, subjects, producers... how will you become a big man? You can't.'
That's when I made my mind to work hard.
I used to get subjects and thoughts from the south industry, which worked on me.
That time I felt I worked more than required.
That innocence was there, so I never even saw what subject was working. I could see only the success.
A lot of people made fun of this. 'Arre yaar, kya Govinda hai. Akkal hi nahi hai. Jo dil mein aaye uske muh se shabd bahar aate hai' (Govinda doesn't have sense. He says whatever comes to his mind).'
People started saying I was too much into puja-paat. There were so many fake stories created.
People used to call and ask me if I am fine.
Now, it's the era of Facebook and Twitter. You can clarify whatever you want.
Varun Dhawan is being compared to you and Salman Khan.
He is David Dhawan's son. David will not take such a risk with him. They are very educated.
When Salman and I entered, we put in a lot of hard work and came up.
He will work hard. He is honest.
Comparing and all, I think people say that because he's built his body like Salman and does roles like Govinda.
But I don't think there are those kinds of people nor are there those kinds of songs.
You mentioned Ranveer Singh being good.
Ranveer Singh does roles which an actor can do. Varun doesn't.
Uski choices bahut hi director ki aulad ki hai. (His choices are that of a director's son).
He will not do a wrong movie.
You will hardly see Varun Dhawan doing a tragic film.
He comes from a very educated background. They know exactly what is happening.
In six years, he hasn't done even two films with his dad. Such a person cannot be Govinda or Salman.
He is well informed, he will make the right moves.
I have no problem with him.
I may or may not do a film with his dad, but I don't have a problem with his son. May God bless him.
You did two films in the past couple of years, Kill Dil and Happy Ending. Your roles were appreciated. Were you disappointed that you didn't get more films after that?
At times you do such good work that you are called a legend.
Then the other actors are scared and confused to work with you.
They will find new and different ways to refuse (working with you).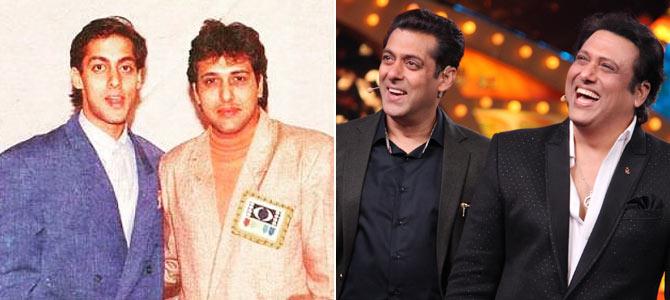 IMAGES: Salman Khan and Govinda in their younger days. Photograph: Kind courtesy Govinda/Twitter. Right: The duo reunite for Bigg Boss 10.
When you hit your low phase after leaving politics, was there anyone from the industry who stood by you?
Salman stood by me.
There were reports about a rift in your friendship.
People love to play on relationships. People are insecure, it's okay, it happens. That is life.
Salman aur main aise hai ki upar se haath nahi mila payenge toh neeche se haath mila denge (Salman and I are such that if we can't shake hands from top, we will do it from below). (Laughs.).
Hum log bahuot khatarnak log hai (We are dangerous people). (Continues laughing.)
When we met choreographer Terence Lewis, he told us that we have a lot of good dancers in the industry, but only Madhuri Dixit and Govinda really enjoyed dancing.
Madhuri ka toh jawab hi nahi. Bakaida hum logon ne shok manaya tha jis waqt uska vivah ho raha tha (Madhuri is incomparable. When she got married, we wept). (Laughs).
She is so pretty and a great actress.
There were reports about problems between Raveena Tandon and you.
Once an actress or any woman is married, it is her personal life. I cannot disturb it.
There is no cold war between Raveena and me.
How important is the box office for you?
Very important. I have worked hard and I pray that the film will create that kind of power.