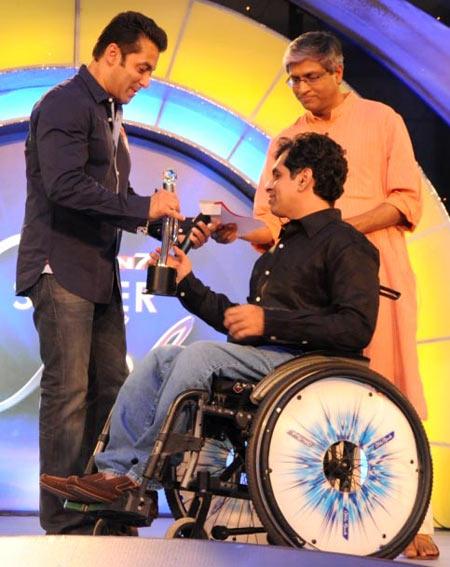 The Taj Land's End in Bandra, Mumbai, saw an amazing display of grit and talent on March 20, when the television channel IBN 7 held its Super Idols of the Nation Awards 2012, recognising the achievements of 11 people who had overcome their disability and helped others as well.

Like Dr Rajneesh Kumar Mishra who teaches robotic surgery, or Shivjit Singh Ragav who looks after people with spinal injuries and N S Hema, who has low vision but has taught 5,000 others with similar problems how to cope and live a normal life. And then there was Kamlesh Patel who danced with both feet on his shoulders. 

They were honoured with a citation and a cash award of Rs 1 lakh.

Actor Salman Khan, who was the chief guest, added Rs 1.11 lakh to the prize money.

Many film luminaries were present: South Indian actress Revathi, director Rajkumar Hirani, producer-director Subhash Ghai and actor Ashutosh Rana.

Mary Barua, whose child is autistic, started a school for children with autism and their parents. For parents to understand what the condition means and to learn to cope with their child's problem was essential, she said, as she asked Salman Khan to be the face of autism in India. He readily agreed.
S Ramakrishnan cannot use his hands or feet and yet runs an ashram for the disabled, a school, a hospital and an ICU for those with spinal injuries in Tirunelveli district in Tamil Nadu. He said that it's not sympathy the disabled want but an opportunity to prove themselves.
Dr Rajneesh Kumar Mishra is in the forefront of robotic surgery in Asia. He has taught doctors from developed countries, performed over 3,000 surgeries on those who cannot afford his treatment, and said that life is not such a challenge if you are willing to work hard and look ahead.
Shivjit Singh Ragav, who runs an institution for those with spinal injuries, recited so many Urdu couplets that the audience could be excused for wondering whether he was a doctor or a poet! He had an explanation for the smile always on his face: "I smile a lot because I counsel those with disabilities. It would depress them if I was crying when I talk to them."
Kamlesh Patel who dances on his hands, and has given almost 1,000 performances, related how difficult it had been to even get an opportunity to perform; a chance meeting with dance master Saroj Khan had given him his first break.
Anjali Agarwal, who has progressive muscular dystrophy, has fought many a battle for the right of access for the disabled through Samarthya, the organisation she co-founded. Now every public building in the national capital has a ramp for the disabled. She said public institutions like airlines that ignored the needs of their disabled passengers were just unaware of what they should do to help.
Others awarded were Malathi K Holla, Sachu Ramalingam, Arman Ali, and Salil Chaturvedi. 
Rajdeep Sardesai, who heads the channel, was the host. Salman Khan added humour to the mood. The event kicked off with two lovely songs by Kavita Seth.