The latest updates from the Tamil film industry.
Ram Gopal Varma has become synonymous with controversies.
The Rangeela director appears to take great pleasure in taking potshots at film personalities.
And his latest target is none other than superstar Rajinikanth.
A picture posted by his heroine in the Enthiran sequel 2.0 Amy Jackson seemed to have triggered this latest storm on social media.
Retweeting a post by Amy, RGV made a series of comments on Rajinikanth that have obviously not gone down well with the superstar's loyal fan base.
'This man by being the biggest star ever completely destroys the notion of looks being important for stardom.'
'He is a bad looker, doesn't have 6 packs, short with a disproportionate body n knows just 2nd half dance movements.'
'Nowhere in world a man who looks like this can be Super Star. I wonder what he did to God that God did this to him.'
And if this was not enough, the director also questioned the Rajini phenomena, which he claimed would baffle the greatest psychiatrists in the world.
'Rajni sir is ultimate proof that no one can ever f****** know why the audience likes what in cinema? The greatest psychiatrists in the world will collapse with the challenging task of explaining the Rajni Phenomenon.'
When angry fans trolled the director, he defended himself saying he was only complimenting the actor.
'Some superdumb fans of Rajnikant dint even realise that I was only complimenting the superstar.'
'The way they are misunderstanding my tweets, Rajni Sir's fans seem to be more dumber than Power Star's fans..Jai Rajni and Jai Power Star.'
***
Rajinikanth's Kabali to release in May or June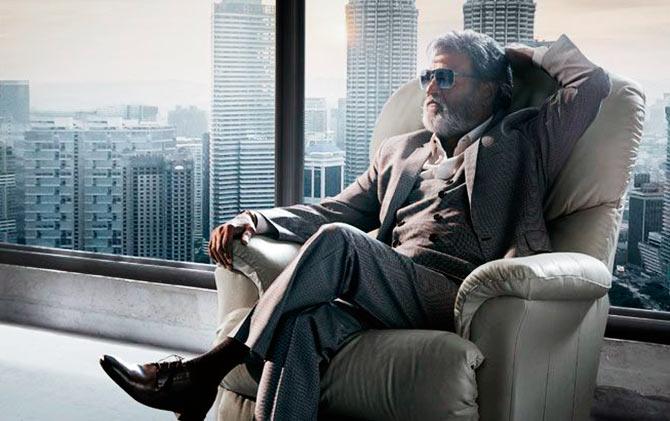 The raging storm on the social media, however, seems to have had little effect on the superstar.
Rajinikanth is busy with the dubbing of his film Kabali, which is expected to hit the theatres in May or June.
The actor confirmed this himself before he boarded the flight to Delhi, where he was honoured with the Padma Vibushan recently.
Directed by Pa Ranjith of Madras fame, Rajinikanth plays an ageing gangster in the film.
Kabali also features Bollywood actress Radhika Apte, Kishore, Kalaiyarasan, Dhansika and Dinesh Ravi.
The film is bankrolled by Kalaipuli S Thanu.