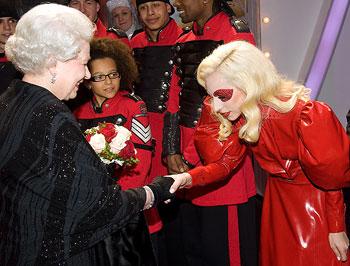 Lady Gaga performed and met the Queen at the Royal Variety Performance in Blackpool.
The Poker Face hitmaker, wearing a red PVC outfit, which featured a 20ft long cloak and Elizabethan-style collar, seemed to have toned down her outrageous style for Queen Elizabeth II.
However the performance had her play a "floating" piano, which was suspended in the air on giant stilts.
'Good evening Blackpool. Let me hear you rattle your jewellery,' the Telegraph quoted her as saying.
She added: 'My father is here tonight and I wrote this song for him, it's called Speechless.'
But the singer declined to reveal her conversation with the Queen.
She quipped: 'That is private'.
The Duke of Edinburgh accompanied the Queen at the Opera House for the event.
Classical singer Katherine Jenkins and Hollywood legend Bette Midler were among the other performers.
The fund collected through the show will be forwarded to the Entertainment Artists'' Benevolent Fund, which supports entertainers suffering from old age, ill health.
Photograph: Leon Neal/Pool/Reuters