'When I went home to Sweden after Bigg Boss, people recognised me as they were following the show!'
'In New York, they were calling out my name on the streets!'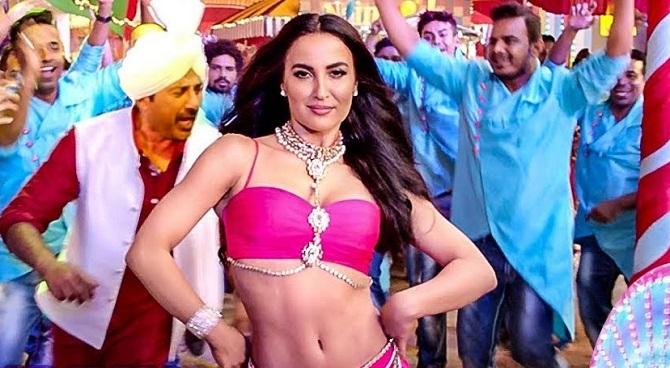 IMAGE: Sunny Deol and Elli Avram in Poster Boys.
Swedish-Greek actress Elli Avram will be seen in an 'item number' -- her first -- in Shreyas Talpade's Poster Boys.
The remixed song Kudiyan Shehar Diyan -- the original featured in the Sunny Deol-Juhi Chawla starrer Arjun Pandit -- was picturised on Elli and those Deol boys, Sunny and Bobby.
Elli tells Rajul Hegde all about her life in Bollywood.
A special song in Poster Boys. Hmmmm....
My other dance songs have been in movies in which I have also acted.
This is the first time I have done a special song.
I was very excited when I was approached for this song. It was a dream to work with (choreographer) Ganesh Acharya.
I was honoured to dance on a remix song with Sunny Deol. The original song was picturised on him with Juhi Chawla ma'am.
Every actor has a signature step, including Sunny.
I found him humble, charming, literally, the cutest.
Actually, I dance with Bobby Deol. We have to do these tapping steps.
During the song, I accidently stepped on my toe where I had a shoebite.
I wanted to scream, but it was in the middle of the take, so I just continued.
After the take, I cried a lot because it was hurting and bleeding.
The team took good care of me. After bandaging it, we continued shooting.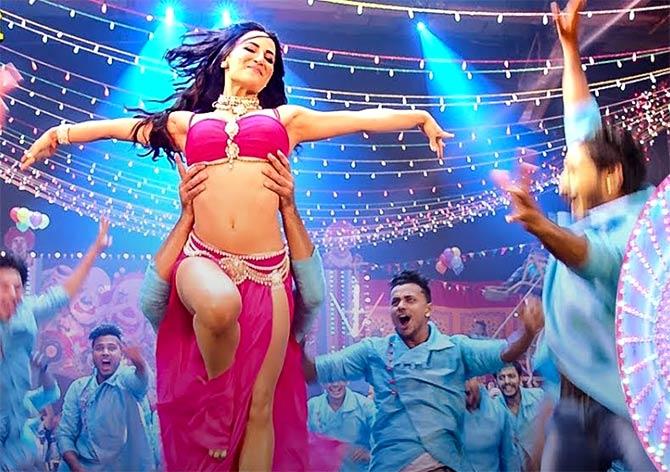 IMAGE: Elli in Poster Boys.
Four years in Bollywood and not too many films. How come?
I have been getting offers ever since I finished Bigg Boss, but I am very choosy.
I don't have any stress about doing a lot of movies. I would rather prepare myself, focus on building myself and doing projects that excite me.
Do you think roles are hard to come by because you are a foreigner?
People have that perception. But that happens with Indian actresses as well. It's up to you to prove yourself.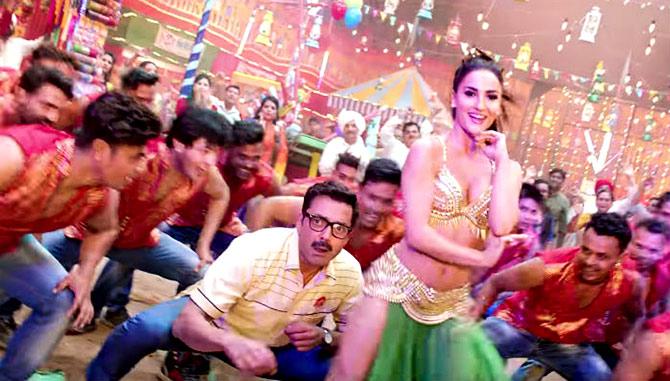 IMAGE: Bobby Deol and Elli in Poster Boys.
You speak decent Hindi unlike many foreigners. Does that surprise people?
Every time I start communicating in Hindi, people are amazed.
I picked up a lot of Hindi during Bigg Boss. I stayed there for 10 weeks.
After that, I continued to speak in Hindi with my staff and people around me.
Hindi classes did not help. I learn by practicing the language.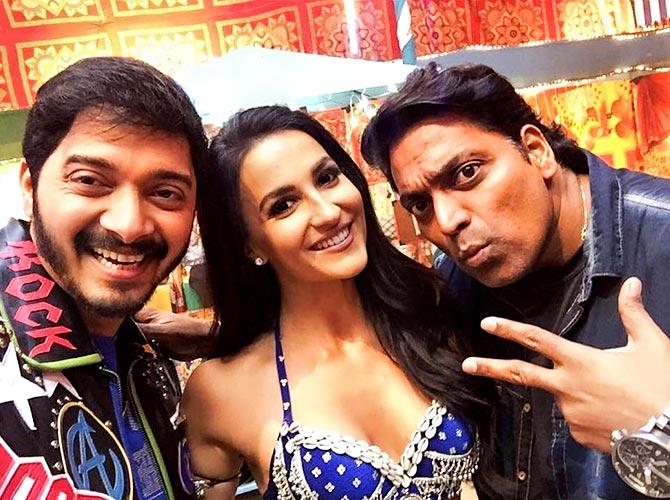 IMAGE: Poster Boys director Shreyas Talpade, choreographer Ganesh Acharya, Elli. Photograph: Kind courtesy Elli Avram/Twitter
How has life changed for you?
Drastically!
My entire life has changed. So many people know me and I have so many fans.
When I went home (to Sweden) after Bigg Boss, people recognised me. They were following the show!
People know me all over the world because Indians are all over and they watch Bigg Boss.
In New York, they were calling out my name on the streets!
When I went to Dunkin' Donuts, someone immediately said, 'Ellie!'
That was amazing.
And, of course, I am getting good work and doing films that I enjoy.
SEE: Elli sings Kudiyan Shehar Diyan.
Video: Afsar Dayatar/Rediff.com
Tell us about your family.
My father is Greek, my mother is Swedish.
My close friends in India say maybe I was Indian in my previous birth because of the ease with which I have connected with things here.
I have been into music, dance and acting since childhood because it is in my family.
My mother is a theatre actress and singer. She had done films when she was younger. My father is a musician.
Why India?
I was five years old when I saw a Bollywood song on a Swedish television channel. I was so mesmerised by it.
I watched my first Bollywood film -- Shah Rukh Khan's Devdas -- when I was a teenager.
That day I looked at Paro and wanted to be like her.
It's my dream to get a role in a Sanjay Leela Bhansali film, like Paro.
That is why I wanted to learn Bollywood and classical dance, like what Madhuri Dixit did in the film. I love it!
The expressions come from the soul. That's Bollywood to me.
SEE: The poster boy on Elli's wall...
Video: Afsar Dayatar/Rediff.com
What made you come to India?
After watching Devdas, I was on the lookout for a Bollywood dance school.
After three years, I found this academy in Sweden where they teach Bollywood dance.
Later, I auditioned for a dance group and became a part of it. We would perform all over Scandinavia on the weekends. It was a lot of fun.
I did not want to have regrets of not trying my luck in Bollywood, so I decided to give it a shot.
I didn't pack my bags immediately. I prepared first because my parents have always taught me to have a plan.
I went to Stockholm university and learnt the Devanagari script and basic Hindi, to read and write.
I had full support from my parents. I wouldn't be here if it wasn't for them.
We contacted some family friends in India and I came here.
I was so happy to be in India. It was exciting to have chai! (smiles)
There was no stress about entering Bollywood.
Slowly, things happened and I managed to achieve my Bollywood dream within a year.
How did that happen?
My first assignment was (to model for) Jashn saris with photographer Jeetu Savlani. I was very excited to wear saris and anarkalis.
He asked if I had come to India for modelling or acting. I told him acting.
He told me he would get a lot of requests for new faces for films, and would let me know.
One day, he called me and said there was a script and the role was perfect for me, because it was the role of an NRI.
In Mickey Virus, I play an Indian from Dubai.
That's how my Bollywood journey began.
Salman Khan was very fond of you in Bigg Boss. Has he offered you any films?
Have you seen me in any of his films? Please ask him this question! (smiles)
I am very grateful for the love and support he gave me during Bigg Boss. It gave me a lot of visibility.
We did a shoot for his Being Human brand. That was so much fun.